The anatomy of a great sports biopic includes a few crucial ingredients. It requires a unique and well-executed story with emotional stakes beyond winning and losing contests. And more often than not, athletes are entertainers; but projecting their stories onto the big screen necessitates careful consideration and treatment.
The 2013 sports biopic "Rush" does exactly that. Centered around the story of two rival Formula One drivers, the movie captured our imaginations, ripped at our heartstrings, and left us completely enthralled. It also set a new standard for cinematic excellence – against which all future sports biopics should be measured. In many ways, "Rush" incorporates the best elements of other iconic sports biopics, and avoids common pitfalls.
At its core, "Rush" centers around the tempestuous rivalry between Formula One drivers Niki Lauda and James Hunt. Lauda, played by Daniel Brühl, demonstrates incredible technical skill, making him one of the greatest open-wheel drivers of his era. Hunt, played by Chris Hemsworth, is a charismatic lady's man and a daring, but reckless driver. Both end up joining the two top teams: Lauda joins Scuderia Ferrari; Hunt joins McClaren Racing. After establishing this history, the movie zeroes in on their harrowing pursuit of the 1976 F1 Championship, which is where the drama begins to build.
The drama of "Rush" takes place against the backdrop of a decade when the excitement over open-wheel road racing was at its peak. According to Kevin McConway, Professor of Applied Statistics at the Open University, in the decade leading up to 1976, drivers had a 0.35% chance of dying each time they competed in a Grand Prix. Lauda and Hunt's pursuit of the championship culminates in an incident that would change the course of careers, and hasten the sport's implementation of safety reforms. Ultimately, the movie's dramatization of the 1976 season's finale at the Italian Grand Prix features more twists and turns than the asphalt Formula One tracks they raced on.
Rush of Adrenaline
By definition, racing and boxing blockbusters are reservoirs of drama and suspense due to the inherent risks involved. Professional drivers must be aware of the potential for disaster that lurks around every sharp turn. "Rush" confronts this head-on in an adrenaline-filled 123 minutes of runtime.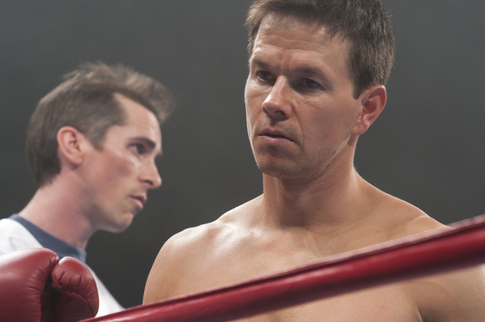 Danger is also dramatized in "The Fighter," the award-winning movie about up-and-coming boxer Micky Ward (Mark Wahlberg). The element of suspense comes into play with the character of Dicky (Christian Bale), Micky's older brother and trainer who battles drug addiction. Similar to "Rush," the dual character study of protagonists gives "The Fighter" an edge.
Then there's the newer "Ford v Ferrari," which also stars Bale. The movie addresses the Ford Motor Company's efforts to end Ferrari's reign of dominance in the 24 Hours of Le Mans race. The central character-driven tug-of-war in "Rush" is a far more visceral and emotional than the battle between automakers in "Ford v Ferrari." In the latter, substantial screen time is devoted to covering the engineering of a revolutionary race car. By contrast, "Rush" spends time underneath the hood of its protagonists' cars in an effort to explore their psyches.
The point of view shots utilized by director Ron Howard during spine-tingling racing sequences gives "Rush" a retro '70s aesthetic and captures the brutal reality of Formula One cars sitting nine inches off the ground and whizzing by one another at 150 miles per hour with so much detail, you can practically smell the burning rubber. It perhaps will come as no surprise that "Rush" was nominated for Best Picture at the Golden Globes.
Lauda and Hunt as Arch-Enemies
Beginning with the opening scene, the emotional core of "Rush" is the adversarial relationship between Lauda and Hunt. Hunt's fixation with living dangerously served as a perfect foil for Lauda's shrewd, disciplined worldview. Rivalries as consequential as Hunt and Lauda's don't come to the big screen very often. As a result, ancillary subplots are hollowed out in favor of keeping the focus on the psychology of their relationship and the effect they had on each other's behavior. Conversely, "The Fighter" does not present Mickey Ward with an equal antagonist.
Lauda and Hunt's competitive juices were a volatile brew that boiled over the lines of competition on August 1, 1976. The subsequent scenes chronicling Lauda's agonizing rehabilitation after he regains consciousness are a gut punch that inspires his transition into a courageous fan favorite. It's an emotional turn you don't see coming.
Cinematography and Acting
The cast of "Rush" is brilliant. Hemsworth and Brühl are bespoke fits for their respective roles. Despite getting snubbed by the Oscars, Brühl was nominated for Best Supporting Actor at the 2013 Golden Globes.
The creative minds behind "Rush," director Ron Howard and screenwriter Peter Morgan gave life to a unique drama without relying solely on heart-pounding action and special effects. Howard is a visionary director, and Morgan is renowned for his work on biopics such as Oscar-winning, "Bohemian Rhapsody" and Netflix's "The Crown."
Howard and Morgan's dramatization of one of the most intense big screen sports rivalries of the 20th century is strengthened through their immaculate cinematography, which puts you in the cockpit amid roaring engines at death-defying speeds.
Ultimately, memorable sports biopics come in a variety of forms, but "Rush" is the product of a perfect confluence of surreal events, cinematography, writing, acting, on-screen brilliance, and characters who meld together to form the quintessential sports biopic.