Looking to spark meaningful and much needed discourse around the myriad of LGBTQ issues facing young people today, Imagine Dragons singer Dan Reynolds created the inaugural LOVELOUD music festival in 2017 after receiving countless letters and emails from young fans who confronted these challenges in their everyday lives and looked to the Grammy-winning band for inspiration.
Featuring a message of unconditionally love, understanding, acceptance along with acts like Neon Trees and Krewella, LOVELOUD 2017 was an unmitigated success and earned kudos from organizations like GLAAD and attention from high profile media like Vanity Fair.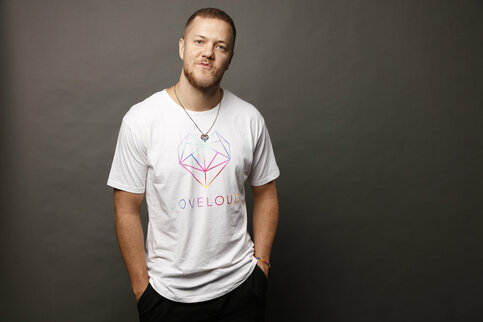 So it should come as no surprise that LOVELOUD returns this year on July 28th in Salt Lake City with even an even larger lineup and a more emphatic expression of LGBTQ support. This year's talent features Zedd, Mike Shinoda of Linkin Park, Grace Vanderwaal, and others including, naturally, Imagine Dragons.
Proceeds from ticket sales of this year's festival will benefit local and national LGBTQ charities including Encircle, Trevor Project, Tegan and Sara Foundation and more.
Turn Up the Love Series
In the run-up to this year's LOVELOUD, Reynolds has also been filming the Turn Up the Love series; one-on-one conversations with LGBTQ luminaries such as Shangela, Carmen Carrera, Kalen Allen, Alexis G Zall and more.
You can catch the first two episodes with Shangela and Carmen Carrera below and be sure to check the Turn Up the Love series homepage here for new videos as they're released.
#TURNUPTHELOVE and Win with the AT&T THANKS App

For fans outside the Salt Lake City areas hoping for a chance to attend LOVELOUD 2018, look no further than the AT&T THANKS app. By submitting a photo or video expressing how you yourself #TURNUPTHELOVE via the app, you will be entered for a chance to win a VIP trip for two to LOVELOUD 2018 on July 28th. But hurry, because the contest ends Monday July 9th!
For official rules and details, download the AT&T Thanks app on your iPhone here or your Android here.
#LOVELOUDCONTEST with Grace Vanderwaal
For the more musically inclined, you can also upload a video of your own original song to Instagram or Twitter using the hashtag #LOVELOUDCONTEST for a chance to not only attend LOVELOUD 2018, but to also perform onstage! We'll let Grace Vanderwaal tell you more:
For official contest rules and details, visit here.
Not content just being a rockstar and organizing life-altering festivals, on June 25th Reynolds also released Believer, an HBO documentary series that chronicles the dichotomy between his support of the LGBTQ community and his own Mormon upbringing. You can check out the Believer trailer below and HBO subscribers can watch the documentary here.
Be sure to check back here for more LOVELOUD 2018 coverage as July 28th draws near.

Advertisement