Sharp Objects premiered on HBO July 8 and it's about to be your newest TV obsession: it's a character drama, but also a murder mystery. Each week, DIRECTV is going to break down the latest episode. We'll examine what we know so far and what new questions arise as the story unfolds.
Disclaimer: I'm writing these as I watch each individual episode. I also haven't read the Gillian Flynn book on which the show is based. As a result, these weekly posts are spoiler-free except for the episode they pertain to (and ones that came before).
The first Sharp Objects episode is titled "Vanish," a word we see protagonist Camille Preaker (Amy Adams) has carved into her arm. This St. Louis journalist is sent to her hometown of Wind Gap, Missouri, to write a story about two murdered teenage girls, Ann and Natalie. The trip is dredging up a lot of demons for Camille: She's a high-functioning alcoholic who struggles with personal issues, something her editor, Frank (Miguel Sandoval), hopes she can start to conquer on this journey home.
Five Things We Know So Far
Ann Nash was killed several months prior to when the series begins, strangled with a clothesline and dumped in a creek. Nash's father, Bob (Will Chase), looks like a suspect. He's edgy and defensive when Camille visits him and his alibi for the day Ann was murdered is weak.
Ann disappeared during a 10-block bike ride to her friend's house. She wasn't raped; her father thinks it was a gay man who used to live in town. But that could also point to non-sexual motives on the killer's end.
Bob also says that Ann was smart and "gave [the killer] hell." That may be true, but that doesn't necessarily mean that the killer wasn't someone Ann trusted. This is a small town, after all – and her father mentions how smart she was. How does a smart girl get snatched up like that? (Perhaps by someone she knew.)
Natalie Keene is our second victim – and her brother, John (Taylor John Smith), is also a person of interest in the murders. We don't get much sense of him and the first suspects are usually a little too obvious in a show like this, but you never know. Keep your eye on that one. He pings my radar more than Ann's father.
Camille's mother, Adora (Patricia Clarkson), makes an off-hand comment about knowing the two girls. Perhaps it's because she has a daughter their age, Camille's half-sister Amma (Eliza Scanlen), but maybe it's more.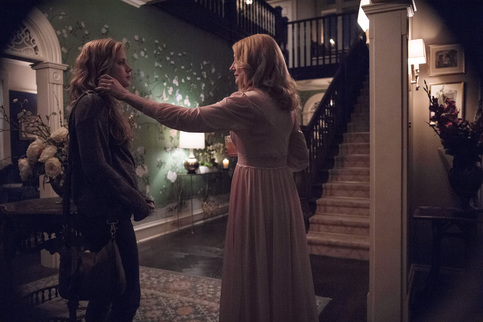 Five Unanswered Questions
Interspersed with Camille's return home are flashbacks to her teen years. We find out that her younger sister, Marian (Lulu Wilson), died when Camille was about Amma's age. What happened to Marian? Does her death simply inform Camille's present state, or does Marian's death possibly have something to do with the present day murders?
One of Camille's other teenage flashbacks shows her finding a cabin in the woods with pornography on the walls. Is that simply a place where obnoxious teenage boys used to hang out, or is the shack something more sinister?
Another flashback is of cheerleader Camille being chased through the woods by a bunch of boys. She looks legitimately afraid, which feels quite ominous. Is this significant of a high school assault? Another note: Camille's hair is long in this flashback. When did she cut it all off? Is that part of her self-harm, perhaps in response to a traumatic event such as rape?
When Camille arrives in town, she tells Chief Vickery (Matt Craven) that her mother "married out of her maiden name about 30 years ago." We later see Camille's stepfather, Alan (Henry Czerny) at Marian's funeral in a flashback. Camille seems to be implying that "Preaker" was her mother's maiden name until she married Alan. So who/where is Camille and Marian's father? If the two girls were born out of wedlock, that would have been quite the scandal in a small town, especially when the mother came from a wealthy family. It might be nothing, but I'm very curious about Camille's paternity and where that man is now.
Ann Nash was dumped in a creek in the woods, but Natalie Keene's body is found in broad daylight in an alley just off of the town square. That's a big difference – and it makes me wonder if the "serial" talk is a red herring. What if the murders are unrelated? Serial killers tend to stick to the same method, so perhaps the two girls were killed by different people.
Telling Quotes
Camille: "The only real industry's hog-butchering, so you've got your old money and your trash."
Frank: "Which one are you?"
Camille: "Trash… from old money."
That quote tells you a lot about Wind Gap succinctly.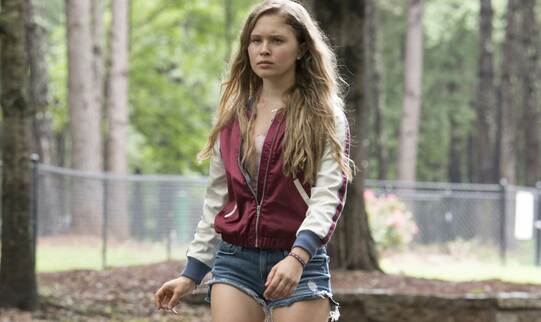 Amma: "You know how [mother] is. I'm just her little doll to dress up."
Camille: "Easier to go along."
Amma: "You never did, though. Mama says you were incorrigible… I'm incorrigible too. Only she doesn't know it. We're alike. I knew we would be."
There is something seriously disturbing about Camille's mother. It almost feels like Amma is her replacement for Marian. But this quote is also very telling about Amma. She seems to have built up her older half-sister into a legend, and seems to fancy herself Marian 2.0 at home and Camille 2.0 out in the world. Leading a double life like that may mean she's just a typical rebellious teenager — or it could mean a lot of other things in the context of the show.
Dig into the drama with us – Sharp Objects airs Sundays at 9pm on HBO
TV critic by way of law school, Andrea Reiher enjoys everything from highbrow drama to clever comedy to the best reality TV has to offer. Her work can be found at The A.V. Club, Entertainment Weekly, PopSugar, Variety and more. Her TV heroes include CJ Cregg, Spencer Hastings, Diane Lockhart, Juliet O'Hara and Buffy Summers. TV words to live by: "I'm a slayer, ask me how."