Half-Life 2 was officially released in 2014, and sixteen years later, fans are still anxiously anticipating its sequel.
Half-Life 3 has become something of a myth across the internet – a meme rooted in the idea of vaporware, a software that will likely never come to fruition. Similarly, the first-person shooter video game Duke Nukem Forever was also highly anticipated. And after more than a decade of developmental limbo, it debuted in 2011 and failed to live up to its hype. Indeed, developer Valve has yet to make any headway on a third entry in the seminal shooter franchise – until now.
Enter Half-Life: Alyx, the latest installment of Valve's legendary series, following Half-Life: Episode One and Episode Two, which hit shelves in 2007. It has taken 13 years to develop, but Half-Life Alyx finally has a release date and will be available next month.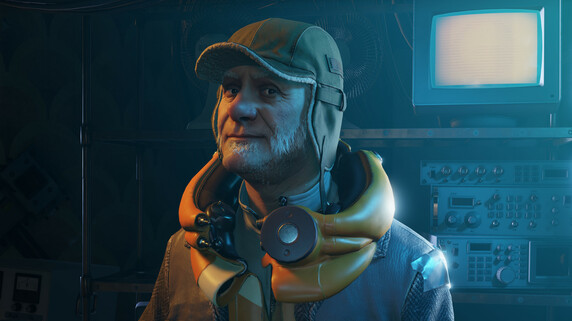 So, what do you need to know about the new Half-Life? To start, the game will be VR-exclusive, meaning that you'll have to play it with a virtual reality headset.
According to Valve, the game is set somewhere between Half-Life and Half-Life 2, and it will put players in control of Alyx Vance as she fights against the inter-dimensional alien threat known as the Combine. She and her father, Eli Vance, are trapped in a dystopian metropolitan area called City 17. Together, they must work to jumpstart a band of resistance fighters – the very same that Half-Life protagonist Gordon Freeman commands in Half-Life 2. It isn't clear if we'll see Gordon in this game, but it might just be Alyx's 15-minutes of fame.
More like 15 hours. Valve reports that you'll be able to play for up to 15 hours, with time for 2-3 bathroom breaks. Yes, you can save and restore at any moment in time, the way you would in previous Half-Life games. But ultimately, Half-Life: Alyx was designed to keep players in VR for long periods of time.
With the third installment of the series, fans finally have the opportunity to return to a world that has dominated the genre for years. Half-Life: Alyx promises to be epic, with its enhanced atmospheric environments and VR capabilities. Never have you ever been so close to the world beyond the screen.
This entry won't focus solely on shooting. As Alyx, you'll participate in plenty of puzzle-solving mixed with combat segments, all of which work together to form an engaging story within the Half-Life universe. Virtual reality offers some very interesting opportunities to push the franchise forward, as well.
While most of your concerns revolved around shooting at everything in your way to progress in the older games, Half-Life: Alyx will give you control over Alyx's bodily autonomy (by way of her hands, especially) to make you feel like you're actually her. This means you can lean into cover, peer out from behind buckets to see if the coast is clear, and even see what it's like to be attacked by the menacing parasitic creatures known as head crabs from a first-person view. You'll be able to load and reload a gun and shoot it as though you would in real life, which adds a bit more levity to the situation, making it feel much more dire for Alyx in the heat of the moment.
Aside from taking important strides forward for the Half-Life series, Half-Life: Alyx also represents something important for the world of VR. Too often, virtual reality experiences are seen as short, bite-sized gimmicks with little gameplay. Half-Life: Alyx is a "full" Half-Life campaign that just happens to take place in virtual reality. Because of that, it may finally spur other developers on to create massive worlds like these within the medium to explore, as this entry could very well prove it's worth it (and meaningful) for fans to be able to explore fully-realized worlds they've been playing through for years.
Currently, Half-Life: Alyx is projected to launch on March 23 on PC. Mark your calendars if you're ready to be a part of Gordon Freeman's resistance.