Whodunnit, and why, and will whoever knows get away with it — or get a close-up on TV? When her husband Karl (MATTHEW MODINE) goes missing, Sue Buttons (ALLISON JANNEY), an underappreciated suburban wife, gets a taste of being a local celebrity as she embarks on a city-wide search in small-town Yuba County, California, to find him. In an effort to prolong her newfound fame, she stumbles into hilarious hijinks as her world turns upside down, dodging a wanna-be mobster (AWKWAFINA), a relentless local policewoman (REGINA HALL), her half-sister (MILA KUNIS) — a local news reporter desperate for a story — and her husband's dead-beat brother (JIMMI SIMPSON) along with his sidekick (WANDA SYKES), who all set out to uncover the truth behind the disappearance.
Directed by TATE TAYLOR (The Help, Get On Up, Ma), BREAKING NEWS FROM YUBA COUNTY is a dark comedy about how attention, fame, and hijinx are a real killer combo.
WHODUNNIT — AND WHY?
BREAKING NEWS IN YUBA COUNTY presents a rich tapestry of satire, sass, sympathy, and mystery as a collection of memorable characters seek to find what happened to Karl Buttons. Its stellar cast work with subtle humor even as they portray caricatures of media, or who the media thinks their audience is.
Across seven features in just over a dozen years, director TATE TAYLOR has built a career that crosses genre: From Oscar-winning period-piece comedy-drama (The Help) to telling the story of musical legend James Brown biopic (Get On Up) to psychosexual suspense dramas (The Girl on the Train), modern-day horror parables (Ma), and action thrillers (Ava). But several things tie Taylor's diverse films together: A heightened but human approach to the way people relate; extraordinary female characters brought to life by some of the greatest actresses working in Hollywood today; an appreciation for and nurturing of creative and cohesive ensembles; and that rare and uniquely nimble approach from one genre to the other.
Now Taylor has brought these elements together for a dark and humorous dissection of America's fixation on fame, notoriety, and victimhood, even while there is actual marginalization happening just out of view. Set in fictional Yuba County, California (but filmed near Taylor's home in Natchez, Mississippi), BREAKING NEWS IN YUBA COUNTY began as a Black List screenplay by writer Amanda Idoko (TV's "The Mayor" and "The Goldbergs," Apple's "Central Park," the upcoming Dead Dads Club and Plastic Man) that pushed more than a few envelopes.
"The BREAKING NEWS script was so audacious, and as a writer, Amanda didn't care about who she was offending," says Taylor appreciatively. "Right off the bat, it was very real and very raw, and very offensive, which made me smile. I read it and thought, 'I cannot believe what I just read! Did that just happen?' I was excited to bring that to the screen."
Idoko's script comes to the screen via an amazing journey: The young Bronx-born screenwriter, daughter of Nigerian immigrants, was a pre-med student who switched gears at Cornell University after falling in love with theater and the performing arts. She adapted the script from a play she wrote, and when her first screenplay BREAKING NEWS IN YUBA COUNTY was selected for the Black List in 2017, producer Franklin Leonard chose the acclaimed screenplay for his upcoming slate.
"I love stories in which ordinary people make bad decisions that snowball into chaos and misunderstanding, so I wanted to write something fun and entertaining," says Idoko. "I like ensemble stories as well, and I love crime comedies and dark humor — they're the movies I love to watch, like the Coen brothers' Burn After Reading, as well as films like Nightcrawler and Gone Girl."
Says Allison Janney, "The story is a satire of our current culture in the United States, which is centered so many ways on the media obsession with violence, self-help therapy, and even body image. That's actually what my father said! And I agree with that, and I think it's about our obsession with media in all forms."
Mila Kunis, who plays Sue's half-sister Nancy, a hungry-to-make-it local reporter, says that BREAKING NEWS IN YUBA COUNTY is funny, dark, serious, and lighthearted all at once.
"The movie deals with what suddenly having attention does to a person who hungers for it," says Kunis. "The story is very left of center, a little bit quirky, and not what you expect it to be. It's also not something that can fit easily into a box, which to me is always exciting. Every scene has layers upon layers."
Regina Hall, who plays sharp, straight-shooting, no-nonsense Det. Harris, appreciated the characters in the story.
"I loved the whole world of this film," says Hall. "When I read the script, it was all of these unique characters in this seemingly normal world which really has so much running underneath it. It's a smart, witty, funny character-driven story filled with nuances. It takes on the idea of fame and self-worth, and how it's 'reality-versus-distorted reality."
Awkwafina, who adds unpredictability to Mina on top of greed and a gift for gab, saw the focus clearly.
"The story is definitely symbolic of what the media represents to some people," she says. "I think today, the media is said to be your friend, but there is also kind of an uglier side to it."
The role of the sex-and-money-obsessed Leah is played by Bridget Everett, who sees one aspect of the story as a battle between being alone … and being notorious.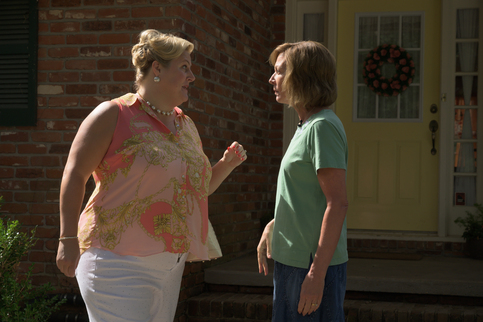 "I think the themes of this film are loneliness, survival at all costs, and learning to fight or having the fight in you,' says Everett. "People often now want notoriety at almost any price."
"The story is so self-aware, while at the same time, the tragedy in it is that the media doesn't guarantee you a better life," says Norris (The Help, Ma, Ava). "It doesn't guarantee you a character of more substance, or better relationships. And at the end of the day, you still have to have the gumption to punch through to get what you want. This movie is brutal and funny and honest, and has layers about how we perceive each other and our culture."
Adds Taylor, "One of the key themes for me is, the way people try to avoid becoming irrelevant. We all know we're guinea pigs in this experiment called social media. With everybody's need to be liked and friend-ed, a lot of people are feeling left behind, and the question becomes, how do we deal with that?"
The themes are even reflected in the film's visual, as the BREAKING NEWS IN YUBA COUNTY production team approached Sue Buttons' world with an eye toward how moral and ethical ambiguity gets filtered through obsession.
"It was one of the first comedy scripts in a long time that I had read that was truly funny out of the gate," says Production Designer Bruce Curtis (Bernie, Everybody Wants Some!!). "I laughed out loud while reading it, and I immediately saw the whole film in my head."
"A lot of people can relate to Sue, in terms of that kind of a loneliness around people," says Idoko. "Everyone just wants to be seen and to be loved and the lengths that people go to be seen can be intense. I feel like everyone is going viral, or wants to. I think that social media has definitely had an impact on the way that we connect."
"You feel like you recognize things a little better after taking this journey," says Norris. "Sue Buttons has found herself in a place where life hasn't really worked out, and so she's triggered to figure out what her dreams are, in often funny and brutal ways."
Adds Taylor, "It's fun, it's crazy, it's violent — but with Allison Janney as Sue Buttons, there's a pathos to it. Your heart breaks for her."
BREAKING NEWS IN YUBA COUNTY also puts a female-led and diverse cast front and center. That aspect of Idoko's script is something that appealed to Franklin Leonard, and it was there in the script from the beginning. "As a woman and a person of color, I want to see myself in the kinds of movies I love, and allow others to see that representation in these worlds, since that's so rare," says Idoko.
"I feel like in a lot of movies, they're skewed so white and male, and when it comes to comedies like this, I feel like those aren't the only people making messed up decisions!" Idoko laughs. "So it was important to me to make this world look like the real world. We don't get to see a lot of movies that have this kind of tone, and that was crucial to me, to make sure the story was playing out in a very realistic landscape, and a landscape different from the ones we usually see at the movies."
Producers Jake Gyllenhaal and Riva Marker helped bring Idoko's words to the screen through their company Nine Stories, knowing that Taylor's talent and the energy he creates amongst people on-set would be perfect for the film.
"Tate Taylor always builds an incredible camaraderie on screen and off," says Marker. "Dinners at his home almost nightly, a true sense of togetherness when working on his films. It was a collaborative, spirited shoot — a lot of friendships were made, and a lot of goodwill to work together again."