When Matt Reeves' "The Batman" makes its big-screen debut in 2022, it will be the 13th live-action film featuring Gotham's legendary Caped Crusader. However, when Batman's cape-and-cowl hero debuted in Detective Comics Issue #27, 81 years ago, he was merely intended to be part of an anthology. Now, as he has become a cornerstone of the DCU, Batman has evolved into a great many things, including our most favorite title of all: the "World's Greatest Detective."
Unlike previous big-screen adaptations that have failed to capture the sleuthing side of the titular character, Reeves' comments make it sound like "The Batman" is shaping up to be a hard-boiled murder mystery noir revolving around Batman's (Robert Pattinson) rogues gallery including The Riddler (Paul Dano), Catwoman (Zoë Kravitz), The Penguin (Colin Farrell) and Carmine Falcone (John Turturro). That would be a departure from previous live-action iterations of Batman, which have emphasized his billionaire status, his gadgets, or his brute strength and combat aptitude.
In an early scene from 2016's tentpole, "Justice League," a skeptical Barry Allen (Ezra Miller as the Flash) asks what exactly Bruce Wayne's (Ben Affleck) superpower is. Wayne shrugs and bluntly responds, "I'm rich," as they hurtle away in his new edition Mercedes. Unfortunately, it's a moment that sells Batman short and encapsulates his big-screen portrayals.
Batman isn't the only comic superhero bereft of super gifts, nor is he the only wealthy one, but what truly separates him in other mediums is his genius-level intellect. He's often depicted as a supreme criminologist, routinely outsmarting his opponents. There are seventy years of comic book arcs that hammer this point home, however, a select few demonstrate his investigative skills best.
Mysteries of Gotham City
"The Long Halloween" is widely recognized as one of the most highly-acclaimed Batman detective stories ever published. It's a mystery so sprawling that it is being adapted into a two-part animated film. The story revolves around a shadowy 'Holiday Killer' who strikes first on Halloween and every month on a holiday over the course of a year, eventually igniting a gang war. Meanwhile, suspects range from Catwoman to members of the Marrone and Falcone crime families, and even Harvey Dent. Most of these villains serve as a red herring to the true culprit, who is even able to evade Batman's suspicions.
DETECTIVE Issue #988 and #989 are part of an arc that had Batman returning to his detective roots to uncover another Gotham conspiracy. The arc begins in #988 with Batman on the scene of a murder telling Commissioner Gordon, "Lately, I may have gotten over my head. I need to reset. Bottom line, this is a mystery and I'm a detective."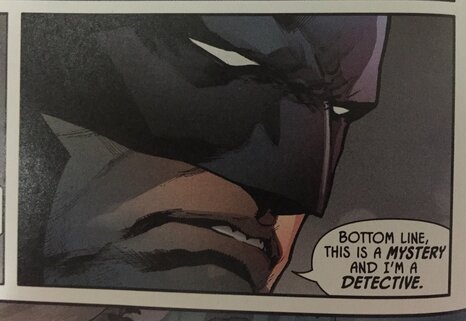 Gordon also notes Batman taking interest in the case of a murder victim.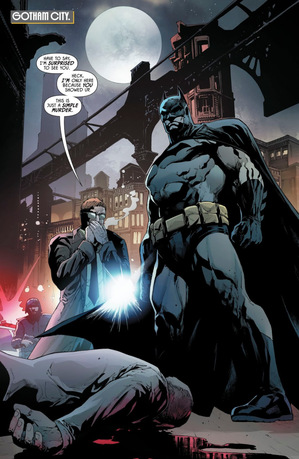 Later, Batman and Alfred are shown bouncing clues off of one another while Batman is depicted deciphering the identity of the murder victim through modest details. More specifically, writer James Robinson demonstrates the complexities of Batman's mind by having him rapidly explain to Alfred how the clues gathered about the victim fit into the puzzle and formulating complex conclusions for readers.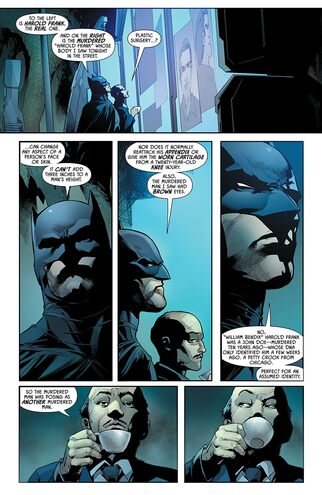 DC comic book writer Doug Moench's book, "The Forensic Files of Batman" is written from the perspective of Batman as he compiles research and studiously reviews two dozen case files from his first two years of fighting Gotham's criminals. "Forensic Files" is devoid of action-packed illustrations, but it's an extensive examination of Batman's technical understanding of criminology and the gritty detective work he puts in when he isn't cracking skulls with his fists.
Moench depicted a more cerebral, investigative Batman in his own writing. In the panels of 1994's "Creatures of the Night" Vol. 1 Issue 0, Moench takes time to illustrate how the 'World's Greatest Detective' meticulously investigates the scene of a shooting after Commissioner Gordon's detectives have inspected every inch of the area. His Batman mocks detectives for missing obscure details he's noticed, including seven cigarette butts and an empty matchbook in a location one block away that would make a perfect lookout, as well as dried mud that he takes samples of. This Batman is essentially a one-man CSI unit.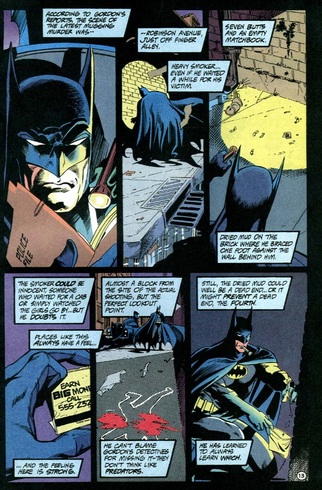 The Batman as Criminology Expert
Batman isn't restricted to protecting Gotham's streets, either. In published team-ups with super peers, his curiosity and intellect is pivotal in their efforts to defeat cosmic foes. In Grant Morrison's "JLA", the Caped Crusader uncovers the true identities behind a group of benevolent aliens who arrive on Earth called the Hyperclan after they fool the entire Justice League.
Twenty years ago, "JLA: Tower of Babel" was introduced as a four-issue storyline based on the discovery of dossiers created by Batman detailing how to defeat every superhero associated with the Justice League, in case they turned and became a menace.
In fact, Batman is so renowned as a detective that in various stories, R'as Al Ghul often refers to him as "Detective" as an acknowledgment of his exceptional deduction skills.
Portrayals of Batman as a connoisseur of criminology are shown sparingly in live-action adaptations such as Nolan's more grounded "The Dark Knight," the aforementioned "Justice League," Tim Burton's "Batman" or anything else released in between.
The version of Batman that exists on comic book panels demonstrates a transcendent acumen for solving mysteries. For comic book purists, these stories embody the Batman they hope future filmmakers will deploy in a world that will allow the character to stretch those atrophied detective muscles.