---
DIRECTV: You've interviewed the biggest stars in the UFC. Is Conor McGregor the best promoter in the business?
Megan Olivi: I would say he is. He just knows what to say and how to say it and when to say it. He knows how to promote himself and promote a fight against whoever he's competing with. He is the master of it, for sure.
DIRECTV: What is the best kind of match up? Is it one with stylistic differences when a puncher is fighting a grappler? Or are two knock out artists going head to head more intriguing for fans?
Megan Olivi: That's kind of the great thing about the UFC. You can have any style match up and it's going to be an intriguing fight. I think that sometimes a match with two knock out artists will turn into a grappling match and I think that's what makes our sport really unique. You can have individuals with the same skill sets, the different skill sets, and you never know what is going to happen. The recipe is always going to be different and I think that's why people tune in. When you think you know what's going to happen, usually something else happens.
DIRECTV: The three times McGregor has lost, he's been submitted. As a masterful take down artist, is Khabib Conor McGregor's worst nightmare?
Megan Olivi: I don't think any athlete walks into the Octagon having a fear of anything. I think they're aware that, of course, if you're fighting Khabib you know that he's got this tremendous wrestling pedigree and skill set. But I don't think McGregor is looking at this match as his worst nightmare. Conor has been working on his own grappling skills, his take down defense, and I think that as a mixed martial artist you have to expect that, "Hey, if Khabib is a good wrestler, I'm probably going to end up on the canvas at some point." I don't think that any of our athletes, and especially Conor, look at any of these matches like "Oh, this is how I could lose." You need supreme confidence in your abilities and your skill sets to step into the Octagon.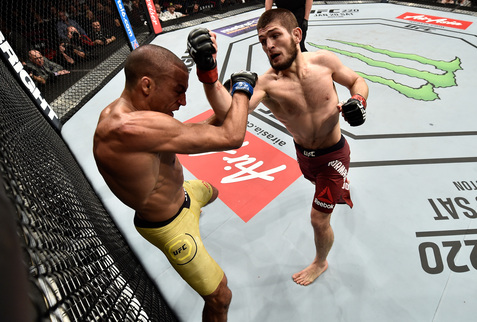 Khabib Nurmagomedov (right)
I do think that this match might not be as clear of a striker/wrestling match up as we're expecting. We've seen Khabib compete on his feet a lot more than people realize. But I do think Conor's has learned a lot from his losses and I expect him to be as prepared as possible for this one.

Advertisement
DIRECTV: How do you think Conor's almost two year lay off from the Octagon will affect him?
Megan Olivi: Just because we haven't seen him compete in the Octagon doesn't mean he hasn't been training. He certainly has. There's also something to be said about competition in general. McGregor had that Mayweather fight last August, so it's not like it's been two years with zero competition. I think it's more of a mental approach. Are you used to these bright lights? Have you been practicing in your down time? Are you going to have that competitive fire? I think the answer is yes to all of those questions for Conor, so the time away from the Octagon isn't necessarily going to affect him. We've seen fighters that had injuries, and were off for 18 or 24 months, come back like they didn't miss a beat. I don't think you can diminish the fire that's inside McGregor, and that's really what matters when you step inside the Octagon.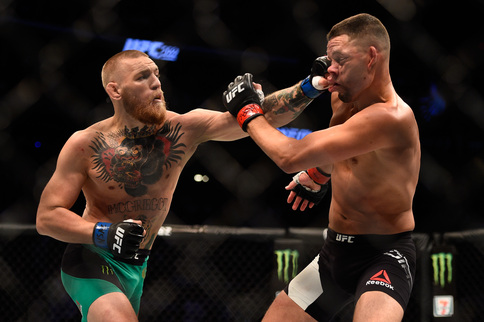 Conor McGregor (left)
DIRECTV: Khabib told you in one of his interviews that faces never lie. That you can see who a person is by looking into their face in the Octagon. Have you read anything into Conor or Khabib's faces that gives you a hint as to who has the advantage in this fight?
Megan Olivi: No, and I see everybody before they fight. I see them before they walk out on their way to the Octagon. I see them on their return. And honestly I think that's sort of like an old wives' tale. Now certainly, opponent to opponent, they might sense the way that their opponent is breathing, or the way they're holding their body, but that's a difference sort of interaction.
I've seen people throw up back stage, they're so nervous, I mean veterans of the game, and then go out there and have the performance of the night. I don't think peoples' emotions necessarily determine how they're gonna perform because some people are excited and that excitement leads to an adrenaline dump. Some people are nervous and they use that to fuel their fire. Some people look like they're about to go to sleep and they compete as well as anybody else on the planet. So I personally don't think there's much you can take away. Like I said, opponent to opponent, maybe there's a little bit they can read that we're not sensing. Otherwise I don't know if I believe that there's anything that we, on the side lines, can see.
DIRECTV: Cris Cyborg will fight Amanda Nunes in UFC 232. It's gotta be one of the most highly-anticipated match ups in the UFC history. What do you think about this cross division match up to unify belts, and how do you see the women's game evolving in the next few years?
Megan Olivi: I think it's tremendous. They're two of the best mix martial artists on the planet, male or female. It's a really intriguing matchup. One that we've wanted to see for a really long time, and it's great that they both want to test themselves against one another. They are two of the best representatives for women's mixed martial arts because they are at the top of their game, but they've never stopped their own personal evolution in terms of their skill sets. They're always pushing the envelope as to where they can get better, how they can get better, what they can improve upon. They look better and better with every outing. I think this is a great example of high-level women's MMA and I think it's gonna be a really fun matchup.
---
Don't miss UFC 229: Khabib vs McGregor, Saturday October 6th, live on pay-per-view!
More UFC 229
DIRECTV Exclusive Interview with UFC President Dana White