A new month means new movies and series to stream, and at Netflix, May is no different. Get ready for an array of original content and new titles coming to the streaming platform, oh so soon. Read on to see what you can stream on Netflix this May.
New and noteworthy movies
Two brand new films, one a documentary, focus on the strength and resilience of women in very different ways.
In this much-anticipated action drama Netflix original, and just in time for Mother's Day, Jennifer Lopez (Hustlers, Selena, Out of Sight) takes center stage as an ex-assassin who comes out of hiding to protect the daughter she left long ago. Pursued by dangerous men, she'll stop at nothing to keep the girl safe. Gael García Bernal, Joseph Fiennes and Omari Hardwick co-star.  
Premiering at this year's Sundance Film Festival, this shocking new documentary — from director and producer Nancy Schwartzman — follows investigative journalist Rae de Leon as she traverses the United States "to uncover and examine a shocking pattern" that the filmmaker and crew hope to end with this unsettling look at the American justice system. 
"Young women tell the police they've been sexually assaulted, but instead of finding justice, they're charged with the crime of making a false report, arrested, and even imprisoned by the system they believed would protect them." The hope is that this documentary will lead to real change and law amendments when it comes to deceptive evidence in sex crime cases. 
Classics, critic's picks and fan favorites
Take your pick of three great movies — or why not watch them all this month?
Directed by George Lucas of Star Wars renown — and the movie that launched the careers of Harrison Ford, as well as stars Richard Dreyfuss and Ron Howard — American Graffiti is an enduring classic. Set in Modesto, California in the summer of 1962, the film centers on a group of teenagers as they spend their last night together before heading off to college or joining the military. With an iconic rock and roll soundtrack and its focus on youth culture, it's a powerful portrait of the early sixties. 
If you haven't seen Pitch Perfect yet, here's your chance! Based on the nonfiction book Pitch Perfect: The Quest for Collegiate A Cappella Glory by journalist Mickey Rapkin, the hilarious romp through college life and social dynamics stars Anna Kendrick (Camp, A Simple Favor, Into the Woods) as Beca — the newest recruit to the Barden Bellas, her school's all-female a cappella group. The vocal stylings and comedic timing of Rebel Wilson, Brittany Snow, Anna Camp, Adam DeVine and more make this perfect for a fun movie night in. 
Based on the best-selling memoir by Jeannette Walls and starring Academy Award-winner Brie Larson (Room, Captain Marvel, Scott Pilgrim vs. the World) as the author, The Glass Castle chronicles the poverty, hunger and emotional abuse she and her siblings endured throughout their tumultuous upbringing and into adulthood. Woody Harrelson and Naomi Watts take on the roles of Walls' parents, while Max Greenfield and Sarah Snook co-star.
Brand new shows, specials and limited series
From comedy to period pieces and a healthy dose of action, May is packed full of Netflix originals for every taste to watch whenever you feel like.  
This brand new reality series from Netflix takes a look at love and relationships through the eyes of matchmaker and dating coach Aleeza Ben Shalom, whose mission is to find the perfect match for Jewish singles across the U.S. and Israel. With "a stellar track record of landing basherts, or soulmates, for her clients," she uses her expertise and "shidduchim — a centuries-old matchmaking practice rooted in Orthodox Jewish tradition" to guide and bring people together. 
"The series hails from the producers of Indian Matchmaking," says Netflix, "and features the same heartfelt exploration of the ways cultural and religious identity intersects with love and dating."
Bridgerton fans, come hither; your ladies doth await. This limited series from "steamy drama master" Shonda Rhimes serves as a prequel and goes back to the start of Charlotte and King George III's relationship, revealing past romance and secrets that may impact the way you see the present. With a fresh, young cast of newcomer talent, this narrative spans eight episodes — but will they be enough to quell your need for Bridgerton until they release season three? 
If you loved To All the Boys I've Loved Before, get ready to fall for XO, Kitty — the first-ever Netflix television series that's a spin-off of a Netflix original film! The show follows baby sister Kitty (Anna Cathcart) as she sets out for a year abroad in South Korea to study at the same boarding school that her late mother attended — and reconnect with her long-distance boyfriend, Dae, who she met in To All the Boys: Always and Forever. Cute, fun, K-pop: What's not to love?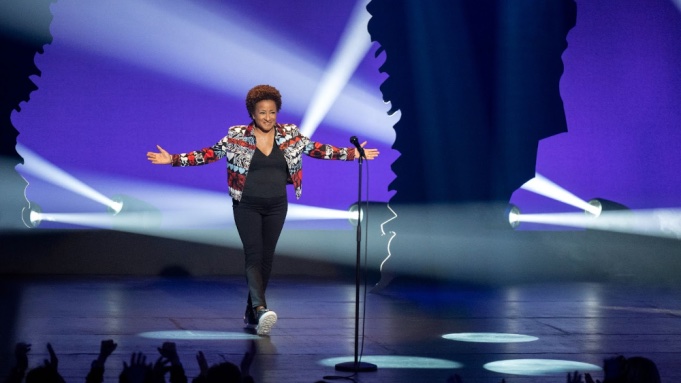 Filmed at Philadelphia's Miller Theater in early February, long-time comedian Wanda Sykes' hour-long stand-up special is coming to a screen near you this month. Dealing with a range of issues, "from the challenges of raising Gen Z teens to the dilemmas of being a liberal in a hyper charged political climate," Sykes the social commentator is ready for a strong follow-up to her smash-hit, Emmy-nominated 2019 special Not Normal.
FUBAR is a military acronym that stands for "fucked up beyond all repair," and that might just be all you need to know about Arnold Schwartenegger's (The Terminator, Total Recall, Twins) hotly anticipated comeback. The Netflix tagline alone could be enough to make old-school action fans drool: "A CIA operative on the verge of retirement discovers a family secret and is forced back into the field for one last job." But hopefully not the last for Arnie. 
How to Get Netflix with DIRECTV
You can access Netflix with your internet-connected gemini device. Simply access APPs through the APP store on your device and add Netflix. You can even pick up shows where you left off using the Continue Watching feature.