Sometimes a sweepstakes sounds too good to be true – Round-trip air fare for two, door to door limo transportation, two nights at a 4-star hotel, and a football packed weekend topped off with tickets to Super Bowl LVII in Glendale, AZ. For Rigoverto from California, this dream weekend all became a reality when he won the Big Game Giveaway Sweepstakes, a contest open exclusively to DIRECTV customers.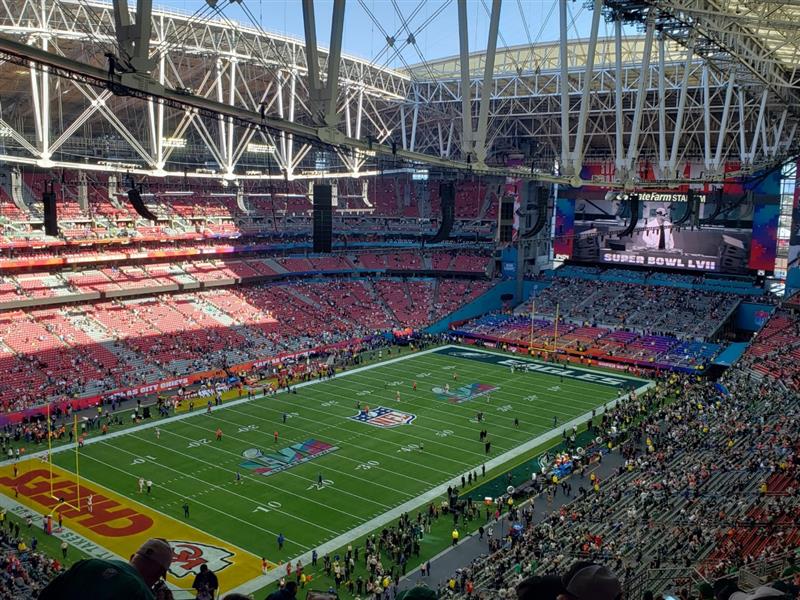 Rigoverto and his guest had a great view of the stadium for the big game.
Rigoverto has been a DIRECTV customer since 2016 and entered the sweepstakes for a chance to go to the Super Bowl, never expecting that he would win. "I always thought it would be great to see the Super Bowl in person." As a Raiders and 49ers fan, he wasn't going to be able to watch his favorite team in the Big Game, but it was an easy decision for him who to root for. "I'm a football fan in general…When the Eagles beat the 49ers, I knew I would be rooting for the Chiefs at the game."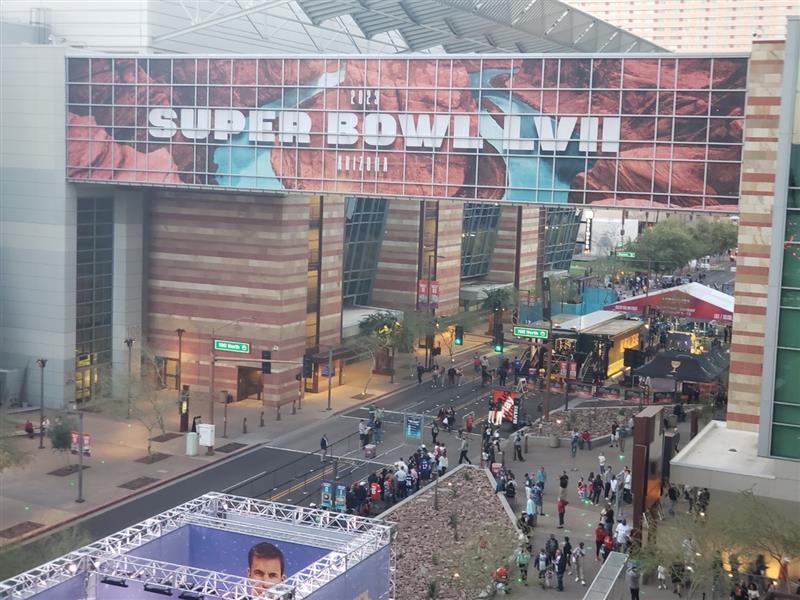 For the week before the Super Bowl each year, the host city puts on a football fan fest known as the NFL Experience.
Rigoverto's big weekend kicked off with a limo to the airport. Hailing from a small town in California, with the closest airport an hour away, the ride was an unexpected luxury. Upon landing in Phoenix, another limo was ready to transport Rigoverto and his guest, his nephew, to their hotel in downtown Phoenix, their home base for the weekend.
Up next were the fan festivities. The NFL Experience is a staple of Super Bowl weekend every year, and is a football lover's dream come true, with player meet-and-greets punt, pass & kick competitions, and even a chance to snap a picture with the Lombardi trophy all on the lineup.
Relive the Big Game weekend with DIRECTV and a Ronald McDonald House Charities family. 
After a good night's rest in a luxury hotel, gameday started with a limo ride to the stadium to get there in time for all of the pre-game festivities. Once Chris Stapleton hit the final note on the National Anthem, it was time for kickoff. The game was an all-timer and it couldn't have been more exciting for Rigoverto, who said, "The Super Bowl itself was the greatest memory, to be there in person was fantastic and watching the halftime show was great!"
Getting out of the game can be a hassle, but not when you're shuttled around in a limo. Rigoverto's trip ended with a flight home the next day and a luxurious limo ride back to his front door. All in all, it was an unforgettable weekend.
"Thank you DIRECTV! You guys are great for setting this all up!" – Rigoverto
This is only one of many sweepstakes that DIRECTV customers can enter. But to win, you must first be a DIRECTV customer. Subscribe now to start watching and winning.