DIRECTV is on the ground reporting from the most exciting SDCC 2018 panels, trailer drops, and breaking news. For more Comic-Con coverage, click here.
---
I went to the Good Place, and I didn't even have to die.
I'm talking about the excellent immersive experience based on NBC's The Good Place, currently running at San Diego Comic-Con.
Just across the street from the bustling madhouse of the convention center, a picture-perfect facsimile of the colorful neighborhood from The Good Place rises like an oasis of pleasantness. Smiling people, seemingly plucked right out of the world of the show, greet you as you approach. Along the outer wall, videos of cute animals and serene landscapes play, soothing guests waiting in line to enter. There's even a giant, thoroughly 'grammable fork sticking out of the ground, as if it plummeted from the sky.
But this activation is about much more than just the visuals. NBC did a meticulous job recreating the comedic sensibility of The Good Place, drawing you into its world bit by bit, and ultimately making you feel like you are an important part of the show's mythology.

Advertisement
Before I could enter the Good Place, I had to fill out a brief questionnaire to determine my eligibility. Just like in the show, you're asked things like "Did you ever reheat fish in an office microwave?" or "Have you ever paid money to hear music performed by California funk band The Red Hot Chili Peppers?"
(To my eternal shame, I answered "yes" to both questions. But they still let me in.)
This data and my name was then loaded into an RFID wristband, and I was transported directly to the afterlife—after a short wait in line, like you do.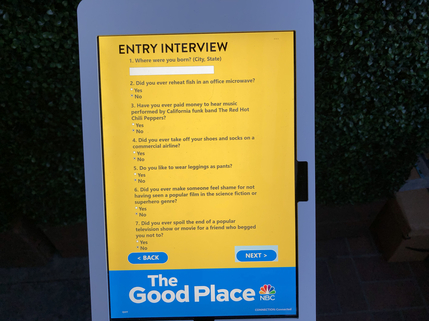 Generating a score
Once there, my group was welcomed to our new eternal home by a genuinely hilarious video starring Michael (Ted Danson) and Janet (D'Arcy Carden). The duo informed me I had died in a Comic-Con related stampede, but luckily, I was now in a special Comic-Con edition of the Good Place, where, among other things, Jar Jar Binks never existed. It felt good to be home.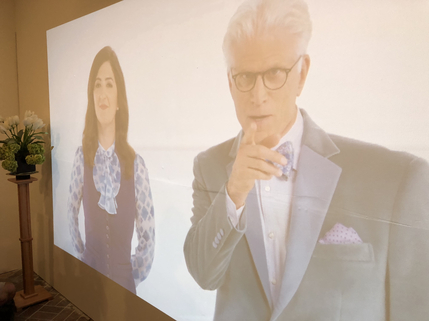 Welcome to the "Good" Place
As the video ended, two large doors opened behind us, revealing a spitting image of the town square from the show, full of joyful Good Place residents, all super excited to meet their new neighbors.
At first, everyone was all smiles and hugs. I was introduced to a man named Gary, who scanned my wristband and determined that we were soulmates. Gary showed me around, pointing out the endless free LaCroix and the shrimp merry-go-round I could ride.
Then things took a turn. I had my wristband scanned by a woman named Martha, who said I was her soulmate. She kept calling me "Nathaniel," which I knew was not the name I entered on the questionnaire, because my name is Aaron. The shrimp merry-go-round made me dizzy. Worst of all, I noticed none of the LaCroix were Pamplemousse flavored. I started to wonder… could this actually be the Bad Place?
Shrimp-Go-Round
I was then approached by yet another soulmate, who seemed genuinely shocked when I said I already had two. Gradually, the other Good Place residents around me started to fidget, as if they all knew some deep secret. Then, with little warning, they lost their minds.
The kindly mailman ripped his shirt off. A nice woman who had been offering us yogurt started running around screaming. Another woman jumped up on a bench with a bullhorn and yelled at us to run. As I'd begun to fear, we'd been trapped in the Bad Place the whole time.
And so we ran. I made it out with my soul intact and a branded shrimp-shaped stress ball to squeeze my Bad Place tension away.

Advertisement
So, what will your experience be in the SDCC Good Place? My own experience with a highly detailed immersive activation like this can't possibly encapsulate all the potential outcomes. There were several characters I never got the chance to speak to, all with unique backstories and personalities that add to the world. I'm sure if I went back again tomorrow, I'd have a totally different, equally fun experience.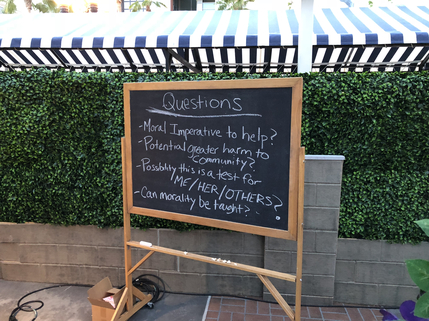 Chidi's chalkboard
Ultimately, NBC's The Good Place experience is well worth the wait. And not just because you get a squishy shrimp at the end (though it doesn't hurt).
The SDCC Good Place experience is running 7/19 through 7/22 at the Outdoor Gaslamp Peninsula. Not at SDCC? Catch up on The Good Place on DIRECTV