The NFL season is winding to a close, which means the NFL playoffs (and Super Bowl) are just around the corner. The NFL playoffs 2022 start on Saturday, Jan. 14 and finish with the Super Bowl on Feb. 12.  The postseason will consist of 14 teams, seven from each conference (AFC and NFC) with the number one seeds starting with a bye.
Start planning ahead for the NFL playoffs by memorizing the NFL playoff picture, mapping out schedules, finding out how to watch and more with this helpful guide.
NFL Playoff Schedule
Conference Championships
Sunday, January 29
AFC championship
San Francisco 49ers vs. Philadelphia Eagles – 3:05 p.m. ET – CBS/Paramount+
NFC championship
Cincinnati Bengals vs. Kansas City Chiefs – 6:40 p.m. ET – FOX
Past Games and Outcomes
Wild Card Weekend Schedule
Saturday, January 14
Seattle Seahawks at San Francisco 49ers – 4:30 p.m. ET – FOX, FOX Deportes 
*49ers win 41-23
Los Angeles Chargers at Jacksonville Jaguars – 8:15 p.m. ET – NBC, Peacock, Universo
*Jaguars win 31-30
Sunday, January 15
Miami Dolphins at Buffalo Bills – 1 p.m. ET – CBS, Paramount+      
*Bills win 34-31     
New York Giants at Minnesota Vikings – 4:30 p.m. ET – FOX, FOX Deportes
*Giants win 31-24 
Baltimore Ravens at Cincinnati Bengals – 8:15 p.m. ET – NBC, Peacock, Telemundo
*Bengals win 24-17 
Monday, January 16
Dallas Cowboys at Tampa Bay Buccaneers – 8:15 p.m. ET – ESPN/ABC, ESPN2, ESPN+, ESPN Deportes
*Cowboys win 31-14 
Divisional Weekend
Saturday, January 21
Kansas City Chiefs vs. Jacksonville Jaguars 
*Chiefs win 27-20
Philadelphia Eagles vs. New York Giants
*Eagles win 38-7
Sunday, January 22
Cincinnati Bengals vs. Buffalo Bills
*Bengals win 27-10
San Francisco 49ers vs. Dallas Cowboys
*49ers win 19-12
NFL Playoff Picture
Clinched Playoff Spot
Out of Contention
Super Bowl LVII
Super Bowl 2023 (also referred to as Super Bowl 57 or Super Bowl LVII) will take place on Feb. 12, 2023 at State Farm Stadium in Glendale, Arizona. Watch the game, the Super Bowl halftime show and of course, the commercials, live on FOX at 6:30 p.m. ET.
How to Watch NFL Playoffs?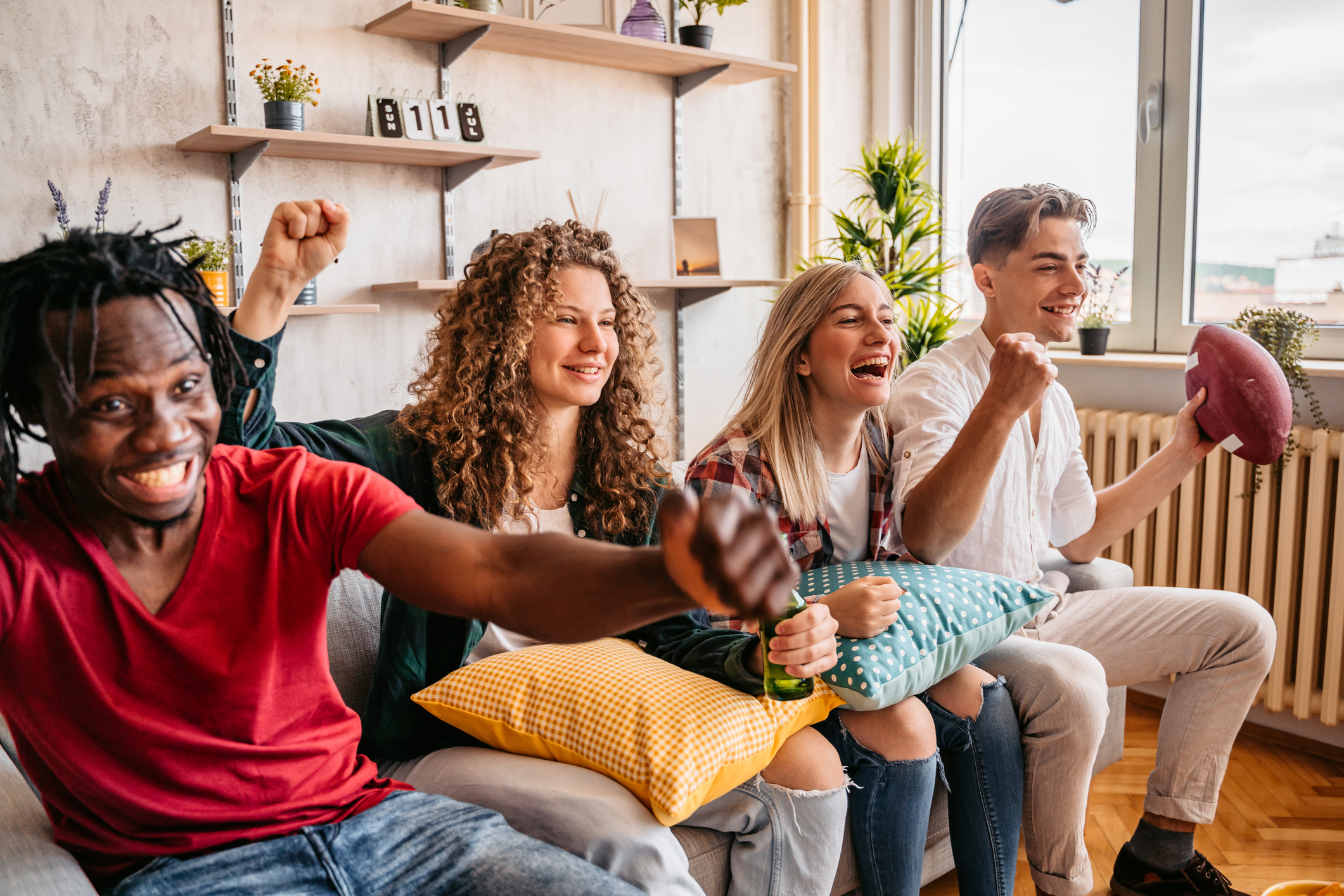 From Wild Card Weekend through the Divisional and Conference Championships all the way to the Super Bowl, the games can be found on different channels including CBS, FOX, or NBC. Find full tune in info above.
Top NFL Playoff Questions
Find all the answers you need to the most pressing questions surrounding the exciting NFL postseason. 
How many teams make the NFL playoffs?
Each postseason, 14 teams make it to the NFL playoffs. This includes seven teams from the AFC and seven teams from the NFC.
Who is in the NFL playoffs?
The Kansas City Chiefs, Philadelphia Eagles, Buffalo Bills, San Francisco 49ers, Cincinnati Bengals, Minnesota Vikings, Los Angeles Chargers, Tampa Bay Buccaneers, Baltimore Ravens, Dallas Cowboys and New York Giants have clinched their spots in the NFL playoffs. See the full NFL playoff picture above.
When do NFL playoffs start?
The NFL playoffs kick off on Saturday, Jan. 14 and finish with the Super Bowl on Feb. 12.  
How do NFL playoffs work?
Seven teams from each conference (14 total) make it to the NFL postseason. This includes four division winners and three wildcard teams. The top seeded team from each conference will receive a bye week to begin the postseason and will also get home-field advantage. Each winner from the postseason games (division/conference championships) will move forward, while the losing team is eliminated. The playoffs will culminate with the final game, Super Bowl LVII on Feb. 12.
When is the NFL draft?
The 2023 NFL draft will take place Thursday, April 27 through Saturday, April 29. Check out the NFL Draft 2023 Guide. 
Get DIRECTV to make sure you can watch the NFL playoffs and beyond.
NFL Updates