Westworld wrapped up its mind-bending second season on June 24, and if you've managed to work through all the twists and turns from the finale, we have a treat for you. HBO has released a behind-the-scenes video about creating the special effects in Westworld, giving viewers a look into the crazy high production value of the sci-fi adventure drama.
"Have you ever seen anything so full of splendor?" was a repeated line in season two, and it also works as a commentary on what show creator Lisa Joy calls the "magical" special effects team.
"We have the best visual effects team in the business — and our hope is to never use them," says co-creator Jonathan Nolan with a laugh. "We do wind up using them a lot, so the goal from the beginning is to try to put as much reality into the camera as we can — go to the right places, shoot the right landscape, bring the actors with you, not fake it."
As Nolan points out, California and Utah already provide the incredible backdrops for the various Westworld parks, but the visual effects team takes the existing scenery to a whole new level. In this video, there are some stunning before-and-after shots that reveal what the visual effects team does to the already-beautiful vistas and landscapes.
"You can't tell what's real and what's not real," says Joy, which is the perfect way to describe the entire Westworld experience.
On-set VFX supervisor Bruce Branit says that while Westworld is a science fiction show, the acting, writing, and photography are the most important things, so the VFX team sees its job as to support and supplement those things and then get out of their way.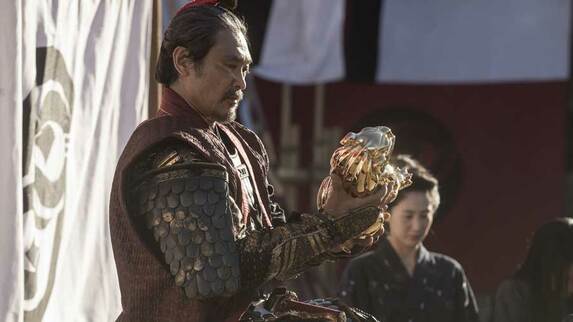 But the VFX team isn't only in charge of changing the scenery. Case in point: One of the biggest visual effects of the season was the death of the Shogun in episode five. The video has a very cool segment showcasing how much went into the moment where Akane (Rinko Kikuchi) severed his head with her hair stick. Their fun nickname for the prosthetic head and shoulders was "the Pez dispenser." Dark.
Another huge moment was the tiger chase in episode three, which, as it turns out, was partially created by a stunt performer in a blue outfit acting as the tiger that was stalking Emily (Katja Herbers).
"Being able to fully realize this full CG creature and have it be something that was so impactful was just awesome," says VFX supervisor Jay Worth.
"It's nothing short of magical," adds Joy.
We couldn't have said it better ourselves.
Rewatch all of HBO's Westworld on DIRECTV.