It's been a year or so since we've seen what's flying into Westeros and the new Game of Thrones trailer brings us right back to the very chilly moment we left off. First things first, WATCH IT NOW.
Ok. Now take a deep breath. Watch it again. If you do it one more time, we won't tell anyone, promise. The trailer provides a glimpse into all remaining storylines and eludes to some very intriguing new ones.
The Starks take the lead (rightfully so) in catching us up and reminding us of the previous journey's that led them home. They are battening down the hatches at Winterfell as we hear Arya (Masie Williams) setting the tone, "I know death. He's got many faces. I look forward to seeing this one". Later we see a shot of Sansa (Sophie Turner) on the walls moved by the sheer sight of the dragons flying overhead. We also have Bran (Issac Hempstead Wright), now the The-Eyed-Raven proclaiming, "everything you did, put you where you are now. Where you belong…home". "Chilling" doesn't quite cut it to describe the shivers we got after hearing these quotes.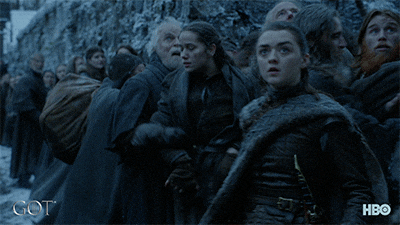 On the Lannister front, we also catch a few glimpses of Cersei's (Lena Headly) iconic grin (backed by the Mountain, of course) at Kings Landing. Clearly cooking up something down south while everyone else is mustering up north. Speaking of, Jamie (Nikolaj Coster-Waldau) declares, "I promised to fight for the living. I intend to keep that promise" over a shot of him in the middle of a serious firefight. Tyrion (Peter Dinklage) can be seen briefly looking very very concerned.
Daenerys (Emilia Clarke), the Unsullied and her dragons are on the move towards Winterfell. We see them standing in the snow, poised and ready. Then Jon Snow (Kit Harington) tells us what we're really in for. "They're coming. Our enemy doesn't tire. Doesn't stop. Doesn't feel." Speaking of which, the final sweeping sequence of the trailer is Podrick Payne (Daniel Portman) standing next to Brienne of Tarth (Gwendoline Christie), a look at Jorah Mormont (Iain Glen) facing an enemy in the darkness.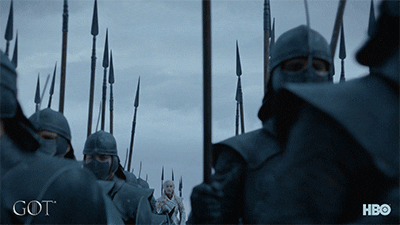 Finally, we see the faint fires from the distance and two rotting horse legs step into the scene. Probably the Night Kings purview.
There loaded Ironborn ships with a golden army aboard, which are likely the group that Euron Greyjoy (Pilou Asbæk) is bringing to the fight. There is also the peoples champion, Tormund Gianstbane (Kristofer Hivju) lurking around with Beric Dondarrion (Richard Dormer) and his flaming sword. Lord Varys (Conleth Hill) comforting some scared citizens, Gendry (Joe Dempsie) is back doing his part making weapons and Grey Worm (Jacob Anderson) and Missandei (Nathalie Emmanuel) kissing each other good luck. The Hound (Rory McCann) and Samwell Tarly (John Bradley) show up. Everyone alive has a role to play in this final showdown.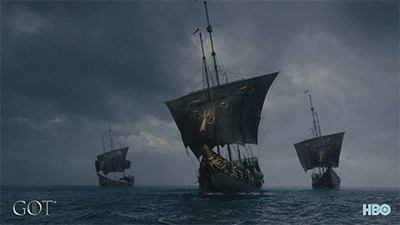 It appears that all of Westeros is on a collision course and will fight in the "Longest consecutive battle sequence ever committed to film…" according to EW! Ok, gonna go watch this ONE more time.
The final season.
4.14
Join the conversation about your favorite movies, sports, music, games and TV shows, here.