Assemble the boardroom because America's favorite dysfunctional, back-stabbing family is back! 
HBO's critically acclaimed, Emmy award-winning series Succession will kick off its fourth and final season with the premiere airing on March 26 at 9 p.m. Early trailers promise the return of the sibling sparring we've come to know and love as the future of Logan Roy's (Brian Cox) Waystar RoyCo hangs in the balance.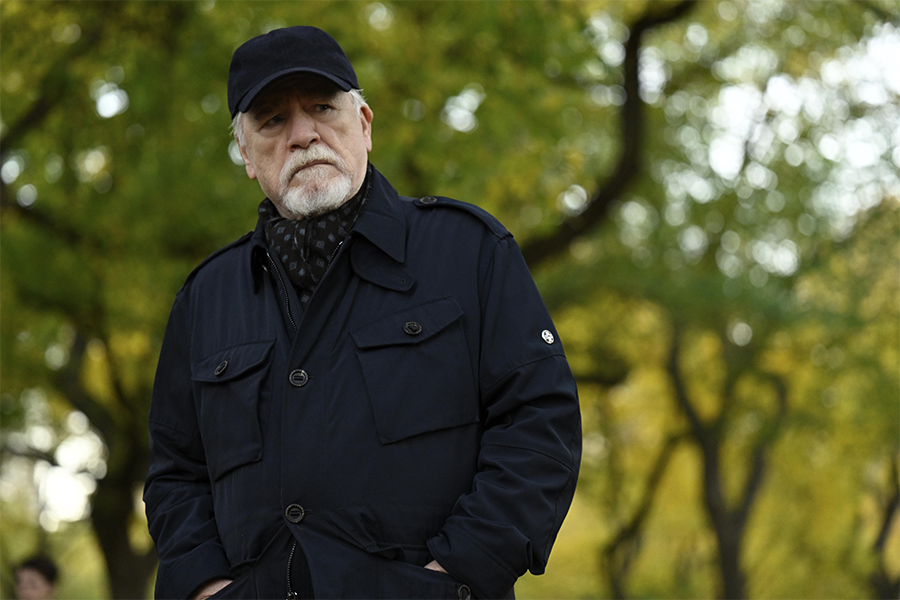 But it's been forever since we've seen Kendall (Jeremy Strong), Shiv (Sarah Snook) and Roman (Kieran Culkin) go head to head in hopes of landing a leadership position in their father's media firm! And Succession is nothing if not maddeningly complex. With three seasons of double crossings, political maneuvering and complicated storylines, we're looking back at the show's pivotal moments and everything we know about what is sure to be an epic series finale.
Spoilers ahead!
How Did We Get Here?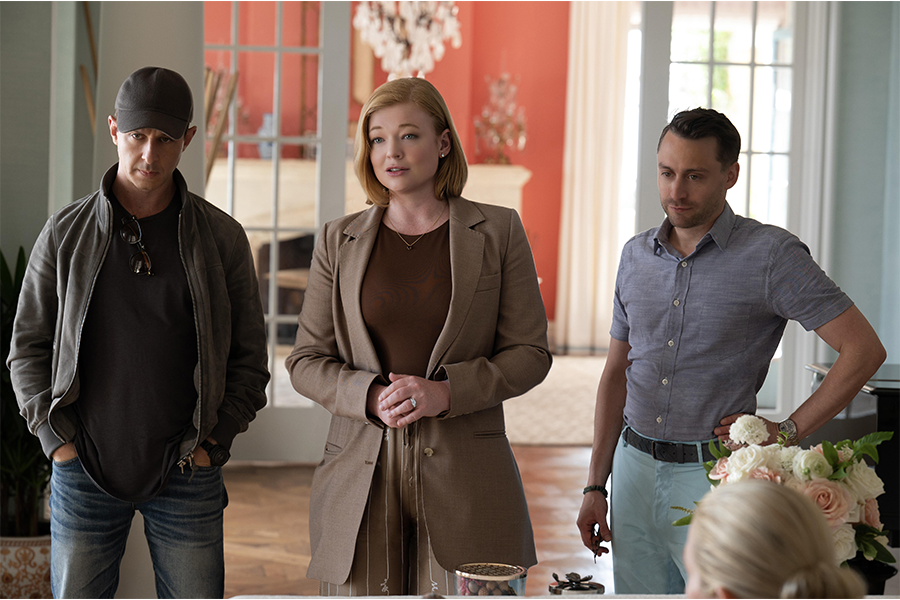 Season 3 ended with, perhaps, Succession's most shocking season finale yet, as Kendall, Shiv and Roman had their oversight of Waystar RoyCo revoked. The trio joined forces hoping to block their father from selling the firm to streaming giant GoJo's CEO Lukas Matsson (Alexander Skarsgård), only to have Logan tipped off at the last moment by Shiv's husband, Tom (Matthew Macfadyen). A double cross for the ages! 
Now on the outs, Season 4 looks to have the unlikely team of siblings working together in one last effort to take down their media titan of a father. But how did we get here? Save the 30 hours of bingeing in favor of our three-season Cliff's Notes.
Season 1
Season 1 starts with media mogul Logan Roy's three youngest children vying for control of Waystar after Logan suffers a stroke — kicking off a succession crisis at the company. 
Tom's punching bag, cousin Greg (Nicholas Braun), is far removed from the family's wealth and control but works to integrate himself into the company. When Tom gets drawn into a cruise ship scandal within Waystar, he enlists Greg to destroy the evidence. 
As Logan's health improves, Kendall tries to wrest control of him by calling for a vote of no confidence — which goes horribly wrong when Logan's other son, Roman, cowers and sides with his father. A last-ditch effort by Kendall to create a hostile takeover of the company also goes up in flames when he gets high with a young caterer at Shiv and Tom's wedding and accidentally kills him when their car crashes off a bridge. The first season wraps up with Logan blackmailing Kendall into dropping the takeover. 
Season 2
Season 2 begins with Kendall being reduced to Logan's mouthpiece and fixer. Tom has been named head of Waystar's news division, and Shiv quits her job working for Senator Gil Eavis (Eric Bogosian) when Logan teases her with the possibility of her running the firm. Roman and Gerri (J. Smith-Cameron) start a delightfully messy fling. 
New mergers are in the works until the cruise scandal breaks, complete with embarrassing (and hilarious) Senate hearings. Looking for an out, Logan picks Kendall as the fall guy for the controversy. At the very last second, Kendall comes forward with a double cross of his own and reveals to the world that his father knew exactly what was going on with the cruise scandal (and, of course, cousin Greg has the receipts).
Season 3
Season 3 begins with Kendall, now fairly unhinged, scrambling to bring Roman and Shiv to his side after publicly accusing his father. Gerri is named interim CEO while Logan waits for the heat to die. 
Meanwhile, Tom is preparing for possible jail time while Greg tries to sue Greenpeace —long story. Kendall throws himself a bonkers 40th birthday, where Roman and Lukas are finalizing a deal for Waystar to buy GoJo — until Roman accidentally sends his dad a dick pic in the middle of a meeting. And another great meme is born!
In Tuscany, Kendall confesses the death of the caterer to Roman and Shiv, and the siblings team up to claim veto power and oust their father. Only Tom, burned by Shiv, whose idea of dirty talk included telling her husband she doesn't love him, tips Logan off about the move. Now Roman, Shiv and Kendall are all iced out of Waystar. 
Phew! A lotta twists and turns! We needed more time to get into Kendall's epic rap in Season 2! 
Everything We Know About the Final Season
March 26 will mark the beginning of Succession's final season. While HBO is keeping story details close to their vest, the logline gives us a few clues: 
"The sale of media conglomerate Waystar RoyCo to tech visionary Lukas Matsson moves ever closer. The prospect of this seismic sale provokes existential angst and familial division among the Roys as they anticipate what their lives will look like once the deal is completed. A power struggle ensues as the family weighs up a future where their cultural and political weight is severely curtailed."
With the entire main cast set to return and HBO confirming that the new season will, once again, consist of 10 episodes, Succession's final season promises to be one you won't want to miss.
How to Watch 'Succession'
The season four premiere of Succession is on March 26 at 9 p.m. on HBO. 
To watch Succession and many other hit HBO shows and movies, get DIRECTV PREMIER package to ensure you have access to the premium channels anytime you want. 
HBO on DIRECTV
HBO can be found on channels 501-511 and on demand on channel 1501. Learn more. 
HBO on DIRECTV STREAM
HBO can be found on channels 501-511 on DIRECTV STREAM. Get Max Now