Female superhero films have been on the rise lately, and Birds of Prey is no exception. In fact, the movie asks the question, why have just one female superhero when you can have five? Sure, not all of these women are superheroes in the traditional sense, but hey, not all heroes wear capes.
So, here is your guide to the kickass women of Birds of Prey (and the Fantabulous Emancipation of One Harley Quinn), from their comic book origins to their role in the latest DC Universe movie.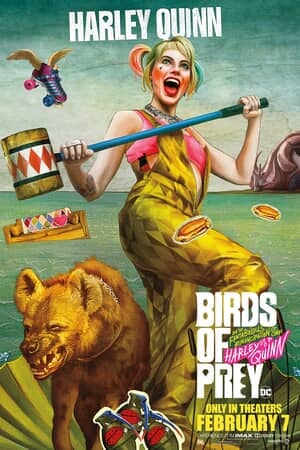 Harley Quinn
Harley Quinn (Margot Robbie) first appeared in Batman: The Animated Series in 1992. In the comics, a psychologist named Dr. Harleen Quinzel works at Arkham Asylum and falls in love with the Joker. Eventually, she becomes his accomplice and girlfriend, but their relationship is fraught with abuse. The Joker repeatedly hurts Harley – emotionally and physically – but is convinced that he loves her, and keeps coming back for more.
After the DC Rebirth in 2016, Harley becomes an antihero. Liberated from the Joker's abusive relationship, she pursues a fickle romantic relationship with Poison Ivy.
In Birds of Prey, Harley is thrown out by the Joker and taken in by an elderly man named Doc. As she recovers from her relationship with the Joker, she takes up roller derby and becomes involved in Gotham's crime scene. She saves young thief Cassandra Cain (Ella Jay Basco) from crime boss Roman Sionis (Ewan McGregor).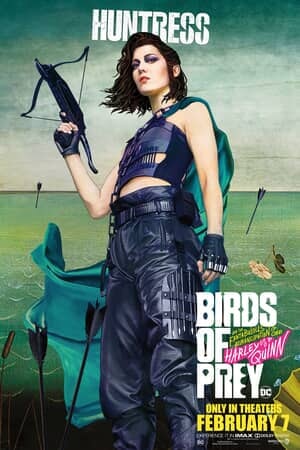 Huntress
Helena Bertinelli (Mary Elizabeth Winstead) is part of Gotham's biggest Mafia family. First introduced in the comic books in 1989, she is kidnapped and raped at a young age. Later in life, she witnesses the mob target her parents, which leads her to become the vigilante Huntress, determined to end Gotham's Mafia families.
In 2000, her origin story is revamped. In the new version, her vigilantism stems from seeing her family murdered at the age of 8. Then, in the New 52 reboot, Huntress becomes Helena Wayne from Earth 2, masquerading as Helena Bertinelli. Eventually, Bertinelli returns from being presumed dead and begins working for the spy organization Spyral. For the DC Rebirth, Huntress goes back to working with the Birds of Prey.
For the film, Huntress aligns with the original version of the character — an orphaned vigilante who is determined to avenge the death of her family by taking out Gotham's crime families once and for all.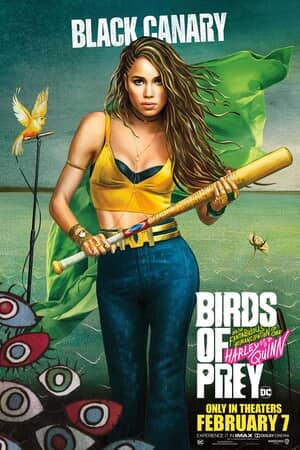 Black Canary
Black Canary (Jurnee Smollett-Bell) is the oldest Birds of Prey character, having debuted in 1947. Her origin story is also the most complex. In the 1980s, Dinah Drake-Lance and her husband, Larry Lance, a Gotham Police detective, have a daughter named Dinah Laurel Lance. Laurel is put into suspended animation after she is cursed with a sonic scream that she can't control. When Dinah is dying of radiation poisoning, her memories are transferred to her daughter, and Laurel is brought out of suspended animation to fight as Black Canary.
In 1986, the memory-transplant origin story is discarded in favor of making Laurel the present-day Black Canary, who takes over the identity from her mother, Dinah. She eventually meets the Green Arrow (Oliver Queen) and becomes romantically involved with him.
In Birds of Prey, it is Laurel who is Black Canary. We know this because she mentions her crimefighting mother, left to die by the police. By the end of the movie, Laurel forms the Birds of Prey vigilante group with the other women.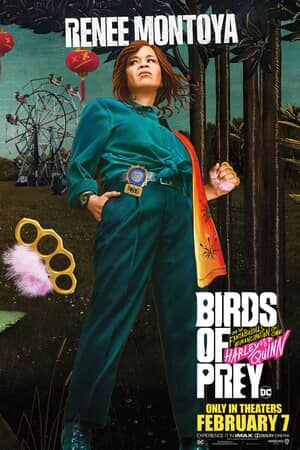 Renee Montoya
In Batman: The Animated Series (1992), Montoya is a Gotham City Police officer who partners with Harvey Bullock. They work together for years until Two-Face outs her as a lesbian and tries to frame her for murder.
Even though Montoya (Rosie Perez) is eventually cleared of all charges, her life is in chaos and she eventually quits the Gotham police force. For a bit, she spirals out of control and takes to alcohol. Finally, she pulls herself out of a funk and begins fighting crime again.
In the post-New 52 continuity, she is Harvey's partner again. In the DC Rebirth, Montoya continues to work for the GCPD and also becomes romantically involved with Kate Kane (Batwoman).
In the film, she is suspended by the police department because of her obsession with catching Sionis (despite not having any evidence of his criminal activities). This leads to her joining the vigilantes and eventually starting the Birds of Prey group.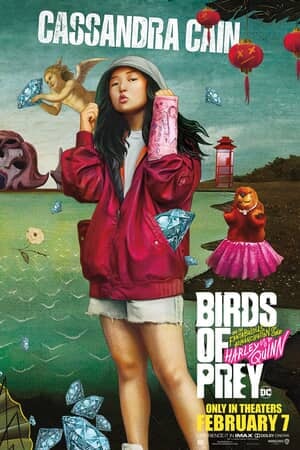 Cassandra Cain
This young superhero first appears in the 1999 comics as the daughter of assassins David Cain and Lady Shiva. For her entire life, she is not exposed to humans as a means of training to become an assassin. She is socially awkward and illiterate as a result.
In the New 52 reboot, Cassandra is a member of the League of Batgirls. Raised by a single father, Cassandra adopts his crimefighter identity when he passes. She continued to use it in the DC Rebirth, fighting alongside other young Gotham vigilantes in a group called the Outsiders.
In Birds of Prey, these various backgrounds are completely abandoned. Cassandra is a young street thief whom the other women protect from Sionis. Afterward, she becomes Harley's protege.
Birds of Prey is in theaters now.