True crime has been around for decades. Truman Capote's In Cold Blood, a nonfiction thriller about the murder of a small-town Kansas family, was a hit, inciting a craze for real-life crime narratives. Today, the true crime genre encompasses a huge swath of literature, TV, and film. As we gear up for Halloween, we wanted to take a look at the real-life monsters all around us and why we find them so engrossing.
The True Crime Saga
In the 1980s and 1990s, true crime had a home on Court TV, a few shows like Unsolved Mysteries and 48 Hours, and the occasional Lifetime movie. But today, there are cable news outlets, TV shows, multiple podcasts, and even entire channels devoted to the true crime genre.
Investigation Discovery, the all-crime all-the-time cable network, isn't just a popular TV channel. In 2016 it became the most-watched ad-supported cable network among women ages 25 to 54, and it has grown every year since. For seven years straight, ID has also been the No. 1 cable network (ad-supported or pay) in total day length of tune in for viewers 25-54. Once someone tunes in to true crime, they stay tuned in.
This popularity is largely what spurred Jonathan Katz, president and CEO of Katz Networks, to buy Court TV and bring it back to viewers. (The cable channel became truTV in 2008.)
"Crime is definitely having a moment as a genre … and yet, there was no daily court coverage on television for years," Katz tells the 2019 TCA summer press tour audience. "And so, about a year ago, we started investing millions. And we bought the Court TV brand, intellectual property, website, historic 100,000-hour library and then turned around and built the team, the infrastructure, the newsroom, the studio, to help support live gavel-to-gavel coverage of the most compelling trials in America."
It isn't just non-scripted cable channels who have jumped on the true-crime bandwagon. HBO recently released several true crime documentaries. Its programming president, Casey Bloys, wants that to continue. He also credits HBO's The Jinx with helping launch today's true crime craze.
"I think it's fair to say [The Jinx] kind of restarted the true-crime resurgence. So it's something that we did, and I'd like to [continue to] be a part of that," says Bloys, adding, "I think crime has always been kind of fascinating for humans."
But just what is it that makes true crime must-see TV for so many?
Playing Detective
When speaking with creators of true crime programs, several theories emerge as to why American audiences can't seem to get enough of their grisly offerings.
HBO's Bloys says crime, in general, has always held a special fascination for audiences. Many of today's true crime conventions can be traced directly to the Victorian era, when readers devoured Sherlock Holmes stories along with gripping, gory newspaper coverage of Jack the Ripper (these papers were known as Penny Dreadfuls, inspiring the Showtime hit). Unlike Holmes's villains, Jack the Ripper was never caught — but people loved to concoct theories as to the serial killer's identity.
Audience theorizing is a major part of true crime's appeal. ABC News correspondent Sunny Hostin, who is about to launch her own true crime show on Investigation Discovery, says that it's partly about "being armchair detectives."
Executive producer Terence Noonan adds, "I think the armchair detective is definitely something. People want to go along. They want to try and solve the crime."
Playing it Safe
True crime producers also note that watching and reading grisly stories is a safe way for people to experience worst-case scenarios.
"[Viewers are] obsessed with seeing the worst of humanity and sort of seeing the boogeyman and what's behind the corners. And I think in some ways, it may make people feel better sometimes," says Hostin.
Lifetime's executive vice president of original movies Tanya Lopez weighs in on the vicarious thrill offered by crime fiction.
"More often than not, true crime is crazy people doing crazy things," Lopez notes. "This kind of storytelling allows our audience to step out of their everyday life and go on a ride. It's always more fun to think your own life is not as crazy as the one you are watching."
But Lopez adds that it can also be about making an emotional connection to the subject matter.
"True crime usually involves more than one person, often a woman. I'd rather her not be the victim but the victor or the survivor. The movie should end with hope at the end, or a feeling like justice was served. That is an important emotion for our audience," says Lopez, when asked about how Lifetime goes about choosing its movie topics.
Making a Connection
That emotional connection is key to true crime's enduring popularity. And it's something the new Investigation Discovery series Truth About Murder with Sunny Hostin definitely aims for. In it, Sunny Hostin, a former prosecutor and Senior Legal Correspondent for ABC news, strives to uncover the truth in difficult cases — while respecting the real people involved.
"We chose stories that we wanted to tell from small towns, where Sunny could really speak to the victims. And I think people really connect to that because it's sort of in their backyard," says Noonan.
Hostin herself adds, "That's something that I personally wanted to look for. We see all of these sensationalized cases, and everyone follows them, but there are murders that happen right next door. [To] women especially. Domestic violence generally, unfortunately, leads to murder. It's an epidemic in our country, and there are women that are trapped in relationships that they don't want to be in. They're trapped in homes and you never know what's happening to your very neighbor. We looked for cases like that, cases where people don't have voices, families that don't have voices. I wanted to give voice to those stories."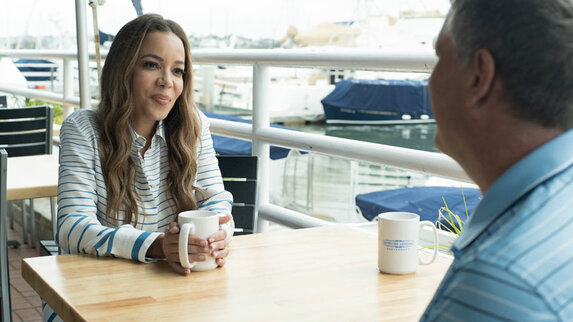 Hostin is no stranger to crime. She told the TCA summer press tour that when she was seven years old, her uncle was attacked and stabbed in front of her. He survived the initial attack but later died from complications. Given her history, she hopes she can help both the victims on TV and the viewers at home if they're struggling to pick up the pieces after a violent crime.
"I try to approach every single story … as a person who has been victimized also. I know what they're going through. I know how it feels. And it's helpful to me," says Hostin. "I find sometimes that you see journalists and they have this … distance between themselves and their subjects."
Hostin seeks to close that distance. She adds, "Empathy is an interesting thing. They have shared their pain, and we take it on sometimes. I certainly take it on. But I think that this show is very different because of that. I'm very, very proud of it … because it celebrates justice and it celebrates survival."
Learning Something
While many true crime programs may seem sensational, producers do want to educate the public.
Julie Grant, a law school professor and Pittsburgh prosecutor who is also an anchor for the newly-launched Court TV, believes in covering lesser-known trials to keep viewers informed.
"Part of why I love what I do being a legal journalist is because you can teach people," Grant says. "One of the most rewarding things is when we engage with viewers on social media and they say thank you so much for what you taught me today, that segment where you went into the rules of evidence and you explained why that item of evidence was being admitted into the court case, or why it was excluded… We are teaching and giving folks something that they wouldn't get anywhere else."
Vinnie Politan, a former New Jersey prosecutor, wants to help viewers understand the roles that attorneys play in these trials.
"There's a difference between Jose Baez representing Casey Anthony and Jose Baez being somehow responsible for the death of a child," says Politan. "We try to explain that through our experience and allow the viewer to make that separation. But it's difficult. It's difficult because the viewer sees this passionate defense for someone who has done something indefensible … the perception of the viewer and the public is much different than the reality. And I think that's part of our mission."
Whatever the reason, true crime is not going anywhere as a genre. Just recently, Lifetime announced documentaries or movies about R. Kelly, Jeffrey Epstein, and the college admissions scandal; Oxygen is premiering a two-hour special about the Manson family murders; and Investigation Discovery has announced Mind of a Monster, a new series that delves into the psyches of America's most notorious serial killers, beginning with Ted Bundy. To say nothing of Quentin Tarantino's new film Once Upon a Time in Hollywood, which offers a (fictionalized) take on the Manson family murders.
Whether due to the allure of detective work, voyeurism, emotional catharsis, or mere education, the genre is not slowing down. As Lifetime's Lopez says, "Audiences can never get enough of crime and true stories."