Formula One has taken off in the United States over the last several years, and it seems like it is here to stay. Before 2021, there was only one F1 race in the US, the Circuit of the Americas in Austin Texas, but that is no longer the case. In May 2022, F1 put on the Miami Grand Prix, drawing in 2.6 million US viewers. And now, the sport is making its way out west for the inaugural Las Vegas Grand Prix.
Find out race information – from the course layout to the weekend schedule, as well as how to watch the F1 race live on November 18, 2023, right here.
FORMULA ONE LAS VEGAS GRAND PRIX 2023 RACE INFORMATION
Race: Formula 1 Heineken Silver Las Vegas Grand Prix 2023
Date: Saturday, November 18, 2023 (Sunday, November 19 for viewers in eastern and central time zones)
Time: 10:00 p.m. PST (1:00am EST)
Location: Las Vegas, Nevada, USA
Track Type: Street course
How to Watch: ESPN
HOW TO WATCH THE FORMULA 1 LAS VEGAS GRAND PRIX
Fans in the United States will be able to watch the inaugural Las Vegas race on ESPN (channel 206 on DIRECTV). Keep reading for more information.
WHAT IS THE LAS VEGAS GRAND PRIX?
The Las Vegas Grand Prix weekend takes place from November 16-18, 2023, with the official race taking place on the night of November 18. And as you can expect from Vegas with all its neon and bright lights, it's going to be one heck of a show.
For the last year or so, the city has been preparing for its first F1 race by constructing an entire racecourse in the busiest, most bustling part of the city: the Las Vegas Strip.
This initiative is similar to the NASCAR Grant Park 220 race that took place earlier in 2023 in Chicago. F1 didn't just want to host another race in the United States; 2023 Formula One World Championship Limited wanted to immerse the sport, and this event in particular, in the city. As Las Vegas Grand Prix CEO Renee Wilm explained:
"We understand there's going to be inconveniences, whether it's laying asphalt or shutting down The Strip for the track, but we're doing it for the betterment of the entire area."
F1 is currently working to build the Las Vegas Grand Prix Foundation charity with the goal of contributing funds to organizations "devoted to improving the lives of residents in Southern Nevada, in particular organizations seeking to alleviate hunger in our communities."
WHY IS THE LAS VEGAS F1 RACE SO LATE?
While it's true that F1 has become more popular in the United States, the majority of the sport's fans reside in other countries around the world, from the UK, Italy and Germany to Australia, Brazil and Japan.
By having the race start at 10pm PST, it allows fans in Europe to watch the race early in the morning and fans in Australia and Asia to catch the race live in the afternoon to evening.
FORMULA ONE DRIVERS COMPETING IN THE VEGAS RACE
The 2023 Formula One drivers are ready to hit the Las Vegas Strip, and fans are counting down the days until the event is here. These are the racers fans can expect to see out on the course this November, organized by Formula One teams and their current rankings.
RED BULL RACING
No. 1 Max Verstappen (Netherlands)
No. 11 Sergio Perez (Mexico)
MERCEDES 
No. 44 Lewis Hamilton (United Kingdom)
No. 63 George Russell (United Kingdom)0
FERRARI
No. 55 Carlos Sainz (Spain)
No. 16 Charles Leclerc (Monaco)
MCLAREN
No. 4 Lando Norris (United Kingdom)
No. 81 Oscar Piastri (Australia)
ASTON MARTIN
No. 14 Fernando Alonso (Spain)
No. 18 Lance Stroll (Canada)
ALPINE
No. 10 Pierre Gasly (France)
No. 31 Esteban Ocon (France)
WILLIAMS
No. 23 Alexander Albon (Thailand)
No. 2 Logan Sargeant (United States)
ALPHATAURI
No. 22 Yuki Tsunoda (Japan)
No. 3 Daniel Ricciardo (Australia)
ALPHA ROMEO
No. 77 Valtteri Bottas (Finland)
No. 24 Zhou Guanyu (China)
HAAS F1 TEAM
No. 27 Nico Hulkenberg (Germany)
No. 20 Kevin Magnussen (Denmark)
LAS VEGAS STREET CIRCUIT OVERVIEW
Starting on the corner of Harmon Avenue and Koval Lane, the Las Vegas Strip Circuit is a 3.8-mile (6.12 km) course that drivers will race around for a total of 50 laps, totaling out at 192.66 miles or 310.05 km.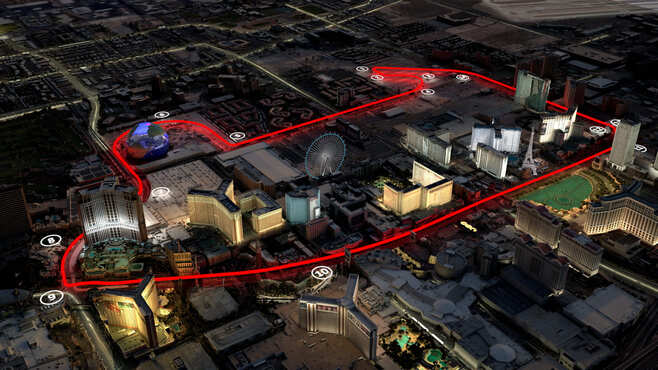 Image Source: Formula1.com
The track has 17 turns traveling around some of the most famous sights on S. Las Vegas Boulevard and beyond including the newest landmark, the Sphere, as well as 3 straightaways and 2 Drag Reduction System (DRS) zones.
Experts expect racers to reach top speeds of around 212 miles per hour (342 km/hour).
F1 VEGAS WEEKEND SCHEDULE
The main race will take place Saturday night in Vegas, but the whole weekend will be plenty busy with practice, qualifying rounds, entertainment, fan experiences and more. Here is a view of the weekend schedule for the Heineken Silver Las Vegas Grand Prix:
WEDNESDAY, NOVEMBER 15
Opening Ceremony: Starting at 7:30pm PST
THURSDAY, NOVEMBER 16
Practice Session 1: 8:30-9:30pm PST
Practice Session 2: 12:00-1:00am PST
FRIDAY, NOVEMBER 17
Practice Session 3: 8:30-9:30pm PST
Qualifying Round: 12:00-1:00am PST
SATURDAY, NOVEMBER 18
Official Race: 10:00pm PST
HOW TO STREAM OR WATCH F1 IN THE US
You can catch F1 races, including the Las Vegas Grand Prix 2023 race live with DIRECTV on ESPN. And to make your Formula One experience at home even better, you can also watch practice and qualifying rounds throughout the whole weekend.
DIRECTV customers can watch all the best sports content, including the Las Vegas F1 Grand Prix and more. For the Vegas race, tune into ESPN on channel 206. And for more F1 and other sports coverage, make sure to also check out ESPN 2 (Ch. 209).
You can also record the races to your DIRECTV DVR, so you never have to miss the action, even if it's taking place while you're asleep. DIRECTV makes it so the sports content you want is available whenever you want it.
Find out more about the CHOICE™ Package to enhance your live sports experience today.
Frequently Asked Questions
How can I watch Formula 1 in the United States?
F1 fans in the United States can catch Grand Prix races and more F1 content on ESPN and its family of networks, such as ESPN2, ESPN3, ESPNEWS and ESPN+.
When is the F1 Las Vegas Grand Prix?
The Las Vegas Grand Prix takes place on Saturday, November 18, 2023, at 10:00pm PST (Sunday, November 19, 2023, at 1:00am EST)
How many laps is the Las Vegas Grand Prix?
The Las Vegas Grand Prix will consist of 50 laps around the 3.8-mile (6.12 km) Street Circuit, for a total of 192.66 miles (310 km).
The content is featured on https://www.directv.com/insider/ is editorial content brought to you by DIRECTV. While some of the programming discussed may now or in the future be available affiliates distribution services, the companies and persons discussed and depicted, and the authors and publishers of licensed content, are not necessarily associated with and do not necessarily endorse DIRECTV. When you click on ads on this site you may be taken to DIRECTV marketing pages that display advertising content. Content sponsored or co-created by programmers is identified as "Sponsored Content" or "Promoted Content."