The All-Star Flyaway Sweepstakes offered one lucky winner an unforgettable 3-night stay in Seattle, Washington during MLB All-Star Week to witness the excitement of the Home Run Derby and All-Star Game in person. The Midsummer Classic showcased the best players from the American and National leagues going head-to-head in the marquee event of the week – and leading up to the game, the host city put on several exclusive events. The grand prize covered all the details, including round-trip flights, limo transport between all locations, access to the Fan Fest, and a special gift of All-Star Week merchandise as a souvenir. Winner Richard Apollo from New York was excited to bring along his wife, Karen, and their three sons, all of whom play baseball, for the family trip of a lifetime!
When Richard got the call that he had won, he was thrilled – "I've been a customer for over 25 years […] I couldn't have imagined this". He shared that his three sons have grown up playing little league, travel, high school, and now college baseball, but had never been to the All-Star Game or Seattle. DIRECTV made their experience even more special by customizing their itinerary to connect them to their youngest son's baseball tournament in Arizona following their sweepstakes experience.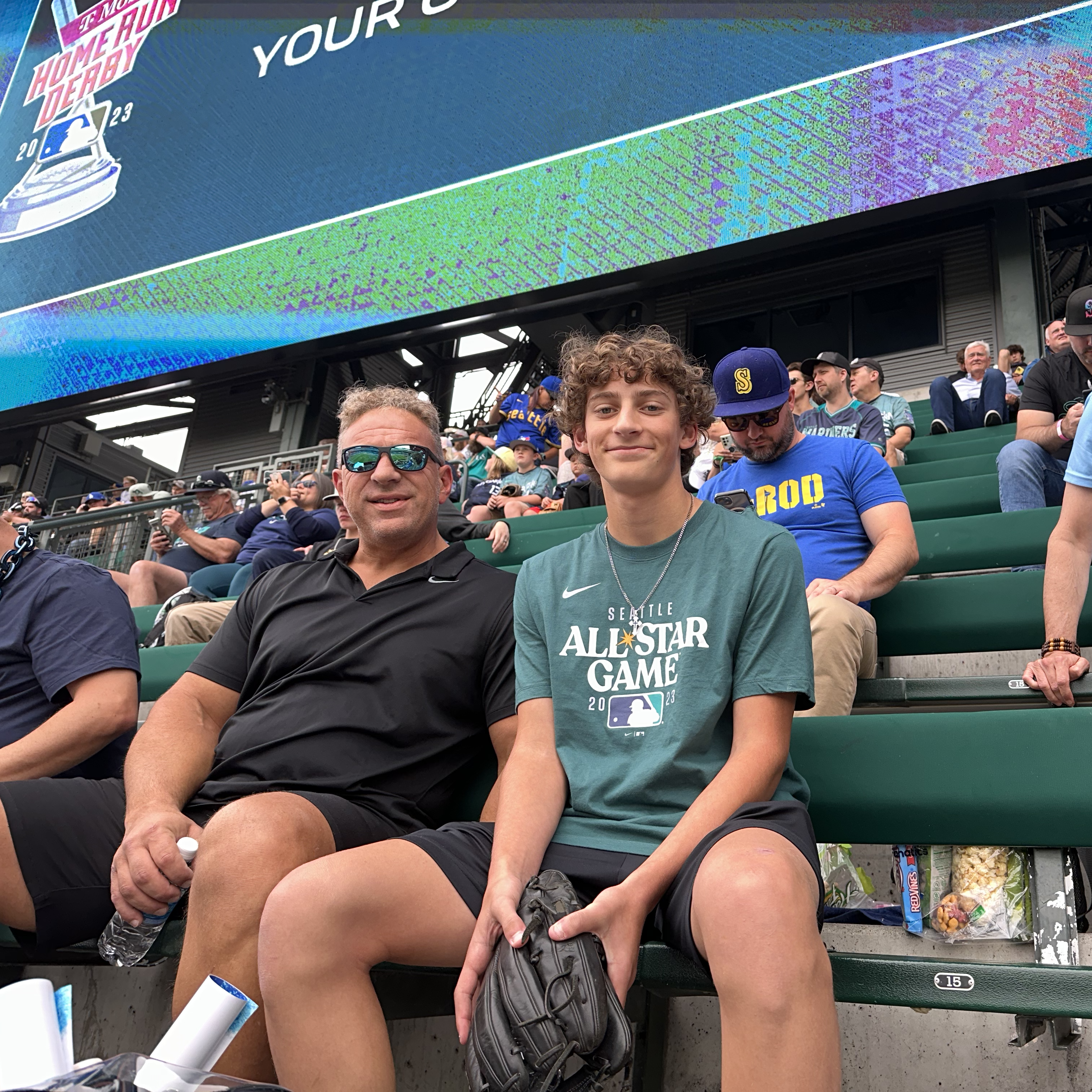 Richard and his youngest son enjoy the Home Run Derby
The evening before the Home Run Derby, the Apollo family arrived at the Hyatt Regency in Downtown Seattle via a flight and door-to-door limo service from their home in Long Island. The real action began the next day, when Richard and his youngest son attended the Home Run Derby at T-Mobile Park. They witnessed hundreds of home runs and all the excitement of professionals pushing their skills to the limit. Richard said they felt like "true VIPs" and "loved hearing the crack of the bat on every swing". The Seattle skies were clear and sunny, and the whole city was pumping with excited baseball fans from all over the country – a truly perfect day!
The following day was even more action packed for the Apollo family, when Richard, his wife, and their sons attended the Fan Fest at Play Ball Park. From historical memorabilia, displays of new baseball technology, exclusive merchandise, and interactive activations, there was something for every fan – and all three sons even got to show off their skills at the pitching cages. Following lunch at the Fan Fest, Richard's two older sons were ready to attend the All-Star Game. The American and National League teams competed in an exhilarating 9 innings, with the National League team coming out on top for the first time since 2012.
Overall, the Apollo family had a blast in Seattle, and would do it all over again in a heartbeat. They took advantage of everything the city had to offer for a truly memorable family vacation. Their week was capped off by continuing on to their youngest son's baseball tournament in Arizona, before heading back to their home in New York. At the end of the trip Richard said, "We couldn't thank DIRECTV more for this, any opportunity to get out of our ZIP code and experience other places is so appreciated!"
Check out the video of Apollo family's All-Star Flyaway Sweepstakes experience here: