Every good superhero story needs a dastardly villain. Or two. In Birds of Prey, the latest DC Universe movie starring Margot Robbie as the colorful, unpredictable Harley Quinn, there are two villains that Quinn and her intrepid band of fellow crimefighters must thwart to keep Gotham City safe: The Black Mask (Ewan McGregor) and his henchman, Victor Zsasz (Chris Messina).
Here is everything you need to know about the Birds of Prey villains, including their comic book history and how they figure into the world of Harley Quinn.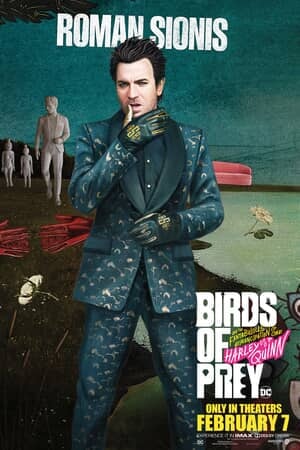 Roman Sionis/Black Mask
Roman Sionis is a crime boss in Gotham City, first appearing in the Batman comics in the mid-1980s. He is the son of Gotham socialites who run in the same social circles as Bruce Wayne's parents, Thomas and Martha.
Shortly after his birth, Roman is dropped on his head. As a child, he develops very violent tendencies, and takes to ruthlessly killing animals on his family estate. He bitterly resents his parents for hiding their true identities, choosing instead to hide behind the facade of normality to impress their high-society friends. It is this hatred of masks, coupled with his sadistic enjoyment of torture, that leads to the inception of Roman's villainous alter ego, Black Mask.
Later, Roman is struck by lightning and is reborn. He makes a skull-like mask from the shards of his father's black casket and becomes a crime lord. He quickly assembles a gang of villains known as False Face Society, and together they terrorize Gotham. Eventually, Batman figures out the Black Mask's identity, and the two face off at Roman's childhood mansion. In a blaze of fire, Roman's mask is burned onto his face.
The Black Mask spends some time at Arkham Asylum after that, but eventually escapes and resumes his role as crime boss. Next, he targets Catwoman's friends and family, before Poison Ivy traps him.
In The New 52 reboot, Roman and the Black Mask are two sides of the same person. In DC Rebirth, he is still a crime boss, but aligns himself with the Penguin, Great White, and the Riddler. On television, it is not Roman Sionis but rather his father, Richard Sionis (Todd Stashwick), who appears on Gotham as a villain. He is only on the show for two episodes, however, because Tabitha Galavan (Jessica Lucas) stabs him to death after he declines to work with her and her brother, Theo (James Frain).
In Birds of Prey, the Black Mask is the main villain controlling Gotham's underworld. He is the one who orders the hit on the Bertinelli family, which is how the Huntress Helena Bertinelli's (Mary Elizabeth Winstead) crimefighting persona is born. Roman, along with Victor Zsasz and the False Face Society, try to take out Harley and her friends, but the heroes ultimately emerge victorious.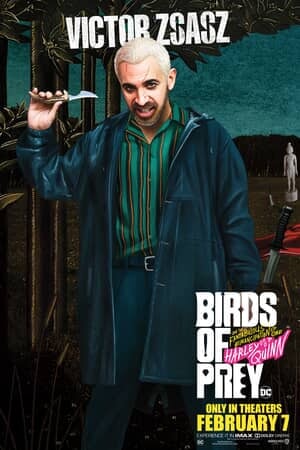 Victor Zsasz
In the film, Black Mask's most trusted henchman is Victor Zsasz, a psychopathic serial killer who first appears in the Batman comics in the early 1990s. After his parents die in a boating accident, he falls into a deep depression and gambles away his family's fortune to the Penguin –– a move which exacerbates his depressive state.
One night, he decides to commit suicide by jumping off the Gotham Bridge, but is stopped by a homeless man who tries to rob him. Zsasz stabs the man with a knife, and suddenly feels fulfilled by the act of killing. Thus begins his serial killing. He is known for slitting the throats of his victims, and marking a tally on his own body for each victim he kills.
[nc-inject-adv]
Zsasz is in and out of Arkham Asylum over the next few years. Every time is is caught, he is imprisoned by authorities, only to then escape and resume his evil acts. In 2009, Zsasz is recruited by Black Mask and partakes in ruthlessly kidnapping children.
In DC Rebirth, Zsasz briefly appears when Batman investigates a series of murders linked to Zsasz. He also joins a gang of villains led by Killer Moth. On TV, Zsasz joins Gotham in the season one episode "Penguin's Umbrella," and regularly appears until the series ends.
In Birds of Prey, Zsasz is revealed to be the hitman who murdered Helena Bertinelli's family. The Huntress eventually avenges her family by killing him in a showdown at an abandoned amusement park.
Birds of Prey is in theaters now.