It is an overused trope of the boxing world that all fighters emerge from a rugged, hardscrabble upbringing and—by dint of their own indomitable will—literally fight their way free of want. This is not always true, though it often is. A more enduring fact of every fighter's life is the haunting demands of the gym and the almost talismanic trappings of the "sweet science": the patient application of the hand wraps, the impenetrable presence of the heavy bag, the shadow boxing, the speed work, the road work at dawn, and the dogged pressures applied by trainers and managers and promotors, all stakeholders in a young fighter's fledgling star power. The supposedly infallible formula, dutifully followed by the best fighters, is that the harder they work, the greater their future glory. Like the myth of the man chiseled from unbeatable odds, hard work alone is no guarantor of ring success. It is that most mercurial of qualities—talent itself—that is a decisive factor between the ropes. Without it those lonely hours of self-abuse in the dusty, dark-lit boxing halls may add up to disappointed dreams of elusive belts never won. Boxing is nothing if not an unforgiving trade, and fighters must pummel the demons of doubt with every thudding blow to the bag. Their handlers—their crew—and the attendant media, are like paid psychologists hired to help sustain a fighter's confidence through the hard hours in the gym.
All images courtesy of Joe Scarnici, Getty Images
Wednesday, July 25, 2018
On Saturday, July 28th, SHOWTIME Championship Boxing will air a title unification bout between WBC Lightweight Champion Mikey Garcia (38-0, 30 KO) and IBF Lightweight Champion Robert Easter, Jr., (21-0, 14 KO). Today is media workout day. At a small gym in downtown Los Angeles, half a dozen boxers will climb into the ring alone, at separate times, bobbing and weaving for the media, working themselves into a light lather, while photographers wield their lensed wands, and videographers compile the raw files on which some will detect weakness and others hidden strength. All while a stone-eyed trainer glares at his prodigy from a disapproving distance, unhappy with this glamour day, but knowing it is a necessary evil of the fight game.
Later the fighters, the main attractions and the undercard boxers, will decamp to the luxe JW Marriott hotel, where they will appear sequentially in a hotel conference room for promotional photos for SHOWTIME Championship Boxing. The settings couldn't be more disparate or jarring. But it is all part of the journey to fight night.
12pm, City of Angels Gym, Downtown Los Angeles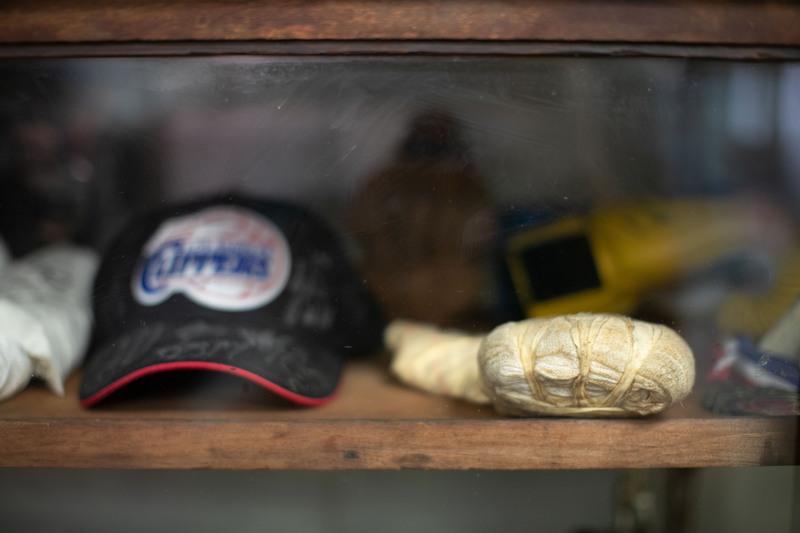 A trophy case at City of Angels Gym contains a strange talisman, the curdled wraps of a legend of yesteryear, the hardened tape highlighting the missing fingers of an anonymous slugger. The shelves of the office at the gym are lined with rolls of hand wrap and different colored gloves. A recycling bin contains discarded training gloves. A well-thumbed history of legend Roberto Duran called, "Hands of Stone," sits alongside an image of Cassius Clay, leaning on the ropes during a training session early in his career, before he become globally known as Muhammad Ali.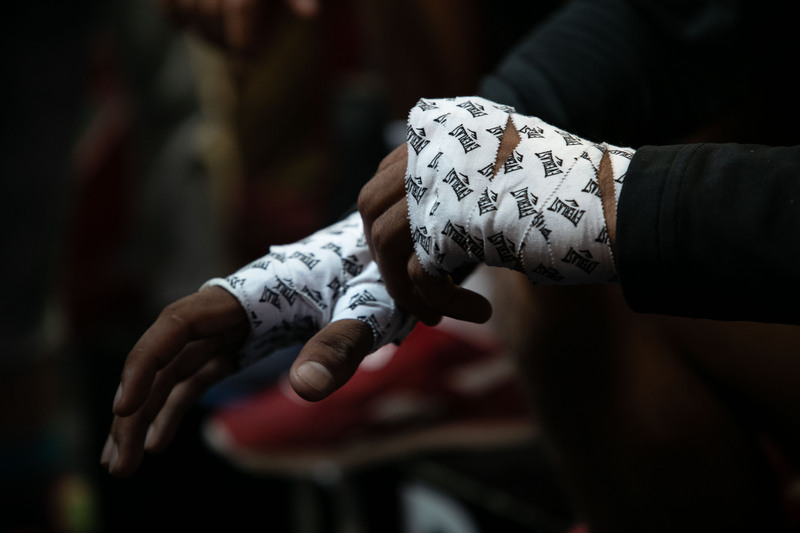 The freshly wrapped hands of Karlos Balderas before he enters the ring to shadow box. Figures close to Balderas believe he could be the next face of boxing.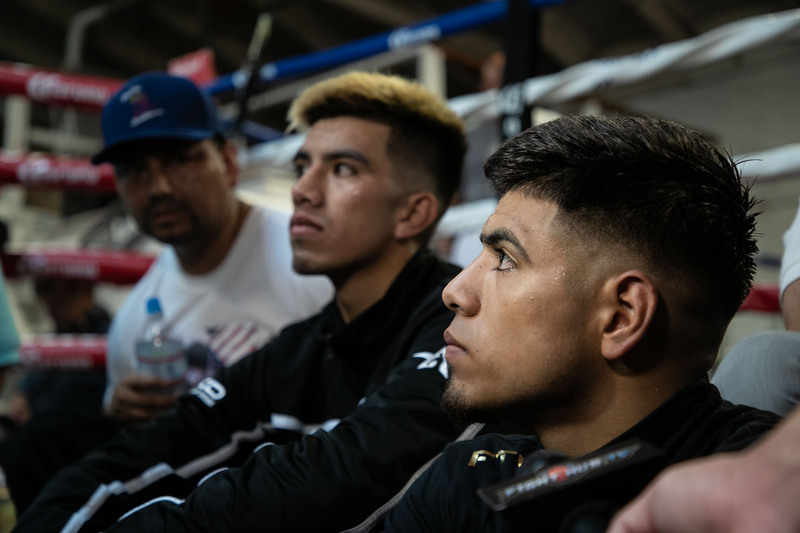 Olympic boxer Karlos Balderas (5-0, 4 KO) and his team take questions from the media. Balderas fought in the Rio Olympics, and is one of ten Olympians signed by legendary promoter Richard Schaefer for his new promotional brand, Ringstar.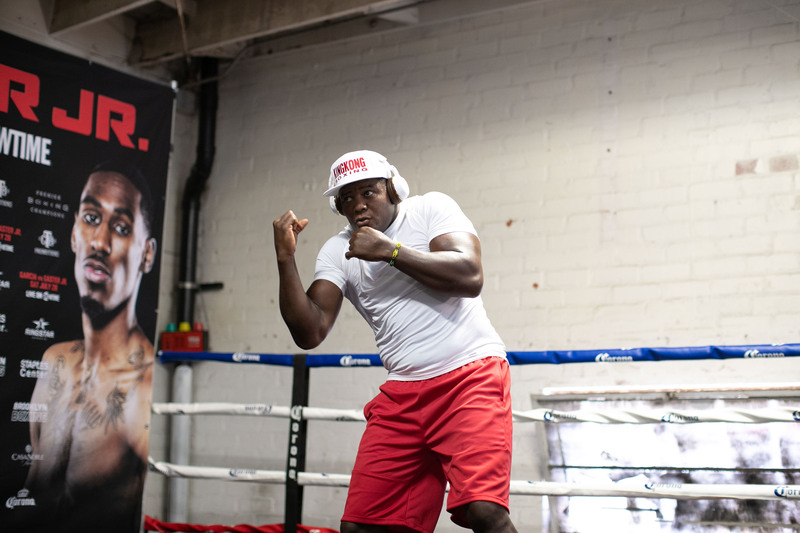 Heavyweight Luis Ortiz (28-1, 24 KO) probes the air with uppercuts, imagining his opponent on Saturday night. The longtime Cuban professional and former WBA interim heavyweight champ, was one good punch away from taking the WBC heavyweight crown from unbeaten Deontay Wilder, who Ortiz hurt badly in the 7th round. Wilder survived and won with a 10th round TKO. Now Ortiz, aged 39 but rumored to be older, is back on the road to a title fight. Saturday he faces Romanian Razvan Cojanu (16-3, 9 KO), a 6'6" bruiser with a 50 percent knockout to win ratio.

Advertisement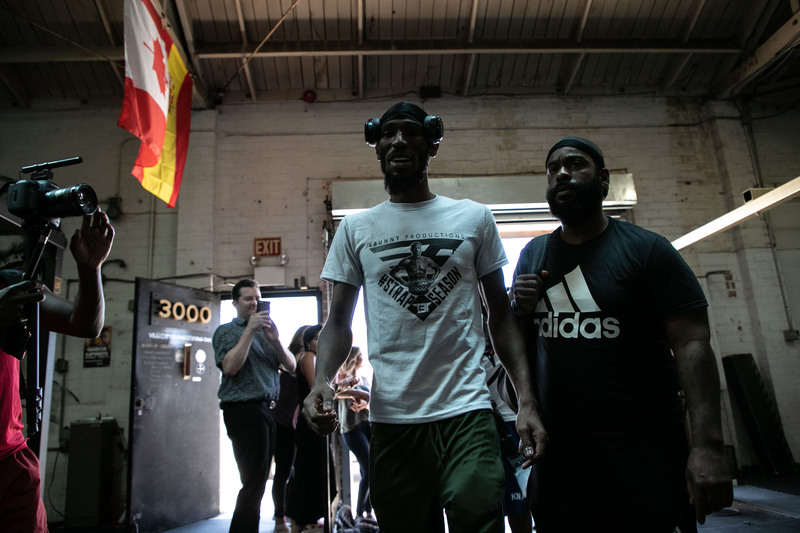 Easter enters the gym with his trainers and handlers, the man of the moment. Saturday will be the biggest fight of his life. He has spent 10 weeks in South Florida under the tutelage of new trainer Kevin Cunningham. The Toledo native recently said the Garcia fight would be "an easy win" for him.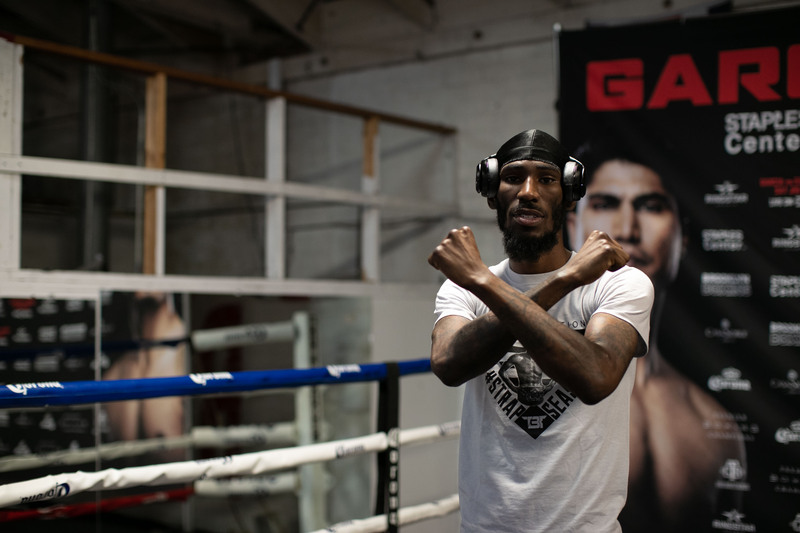 Asked to strike a pose, Robert Easter, Jr., looks behind him at the large fight poster with the looming image of Mikey Garcia. He turns and says he will, "ex him out" and crosses his arms.
Easter receives a pep talk from his father on their way out of the gym. Many boxing teams are rich with family connections. Like Easter is mentored by his father, Mikey Garcia is trained by his brother. His father is also a regular presence in the Garcia camp.
The assembled heavy bags hang in stillness after the fighters have left, their leather flanks imprinted with the memories of a thousand thudding blows.
4pm, JW Marriott, Downtown Los Angeles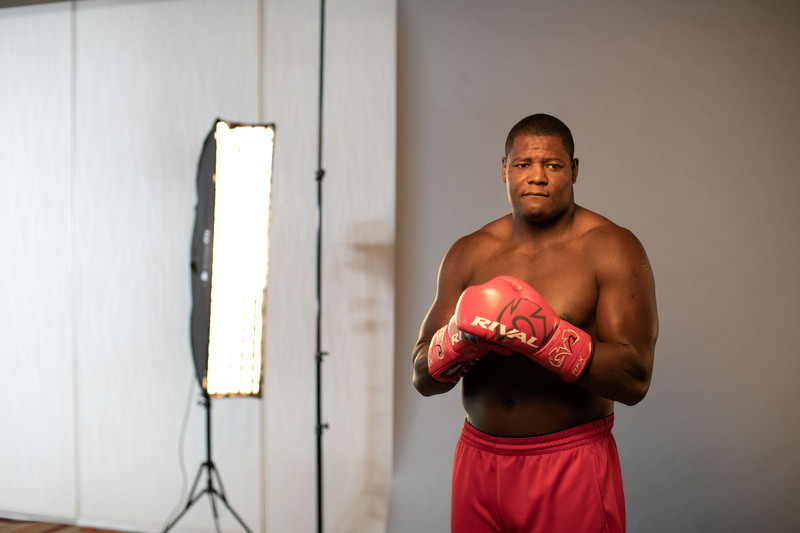 Luis Ortiz poses, stripped and gloved, in a cold conference room in Los Angeles. Ortiz seemed most comfortable with his headphones on, reading messages on his mobile, blocking out the noise of the media that has surrounded him since his near knockout of Deontay Wilder.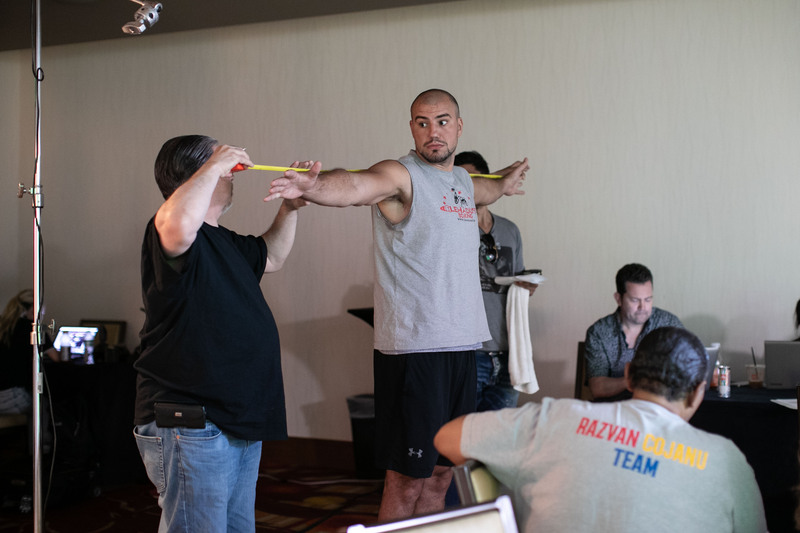 SHOWTIME producers measure Răzvan Cojanu's reach. The amiable fighter, listed at 6'7″, was measured by SHOWTIME as 6'6″. The Romanian slugger expressed concern when hearing the measurement. Cojanu is set to face Luis Ortiz on Saturday night's undercard.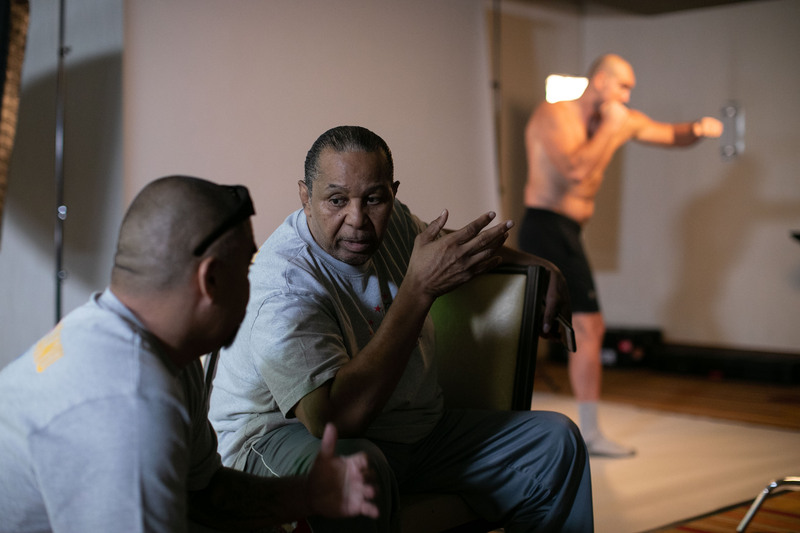 Răzvan Cojanu's trainers discuss their fighter's upcoming bout against Luis Ortiz on Saturday night, while Cojanu shadow boxes in the background, awaiting a photographer's direction.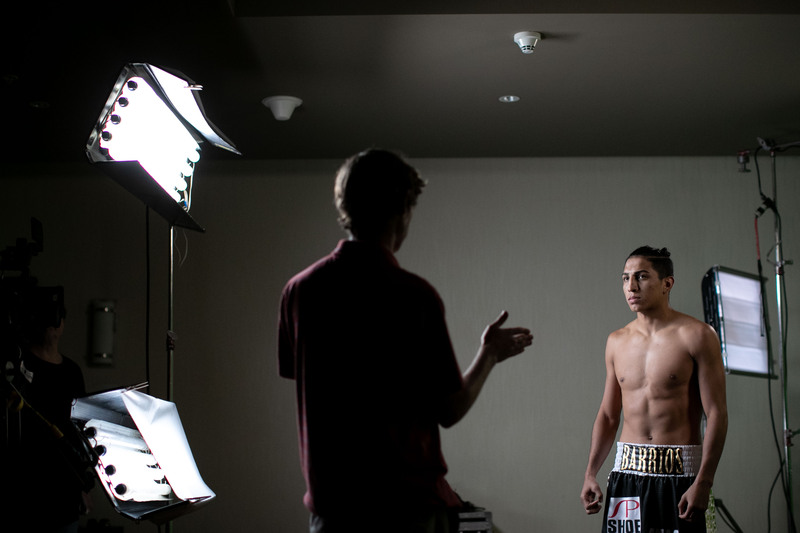 Budding young star, 23-year old Mario Barrios takes instruction from a SHOWTIME producer. Barrios meets Jose Roman in a junior welterweight bout on the Garcia vs. Easter undercard. Many fighters lose power as they rise in weight, but Barrios has seemingly become more powerful since moving from 130 to 140, where he has recorded a string of devastating stoppages.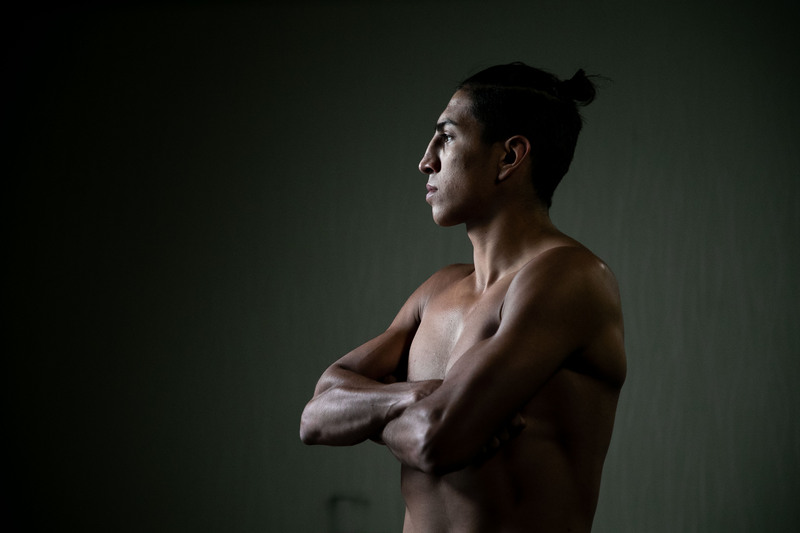 Mario Barrios gazes confidently into the near distance, between takes. At just 23 and undefeated, Barrios has unlimited potential.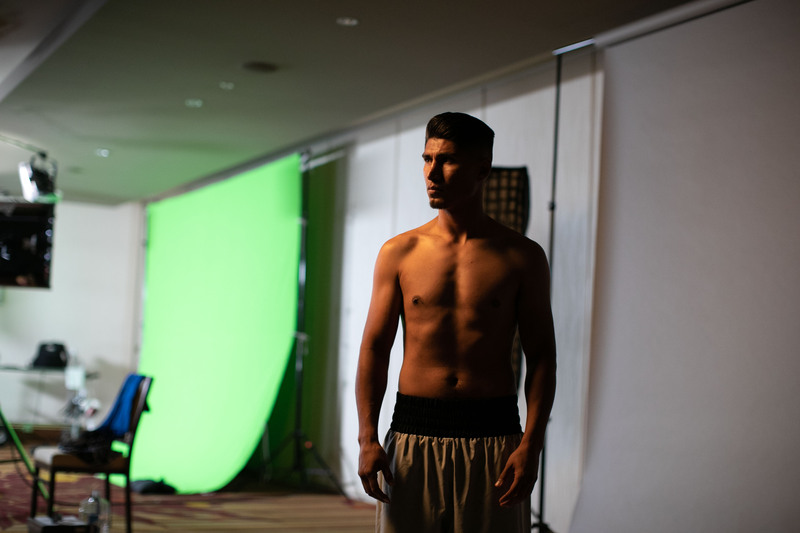 The star of the event, WBC Lightweight Champion Mikey Garcia (38-0, 30 KO) stands in shadow, posing for promotional photos. If he wins Saturday, Garcia will own two of the four lightweight title belts. Rather than consolidate them, Garcia has hinted he might move up two divisions in weight to face Errol Spence at welterweight. But he must first win Saturday.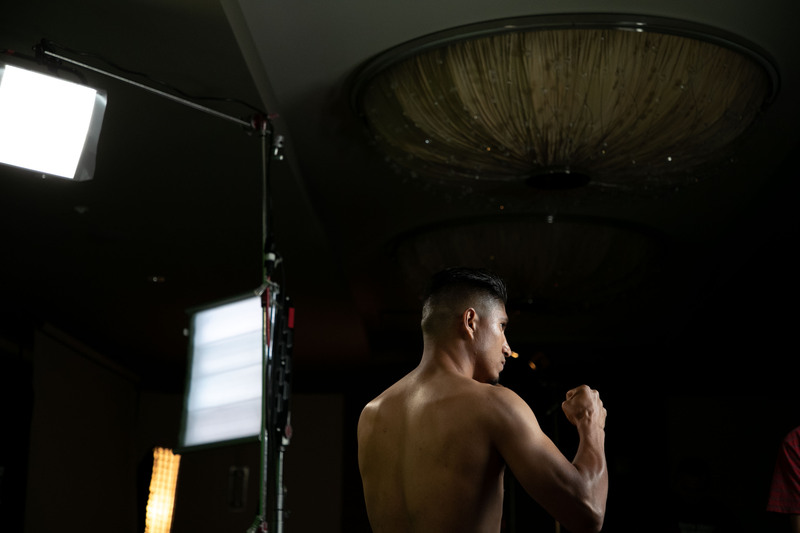 Mikey Garcia poses for promotions beneath the unlit canopies in a chilly hotel conference room in downtown Los Angeles. A veteran of the sport, Garcia is used to the odd settings for media events and performs his duties like a trained actor.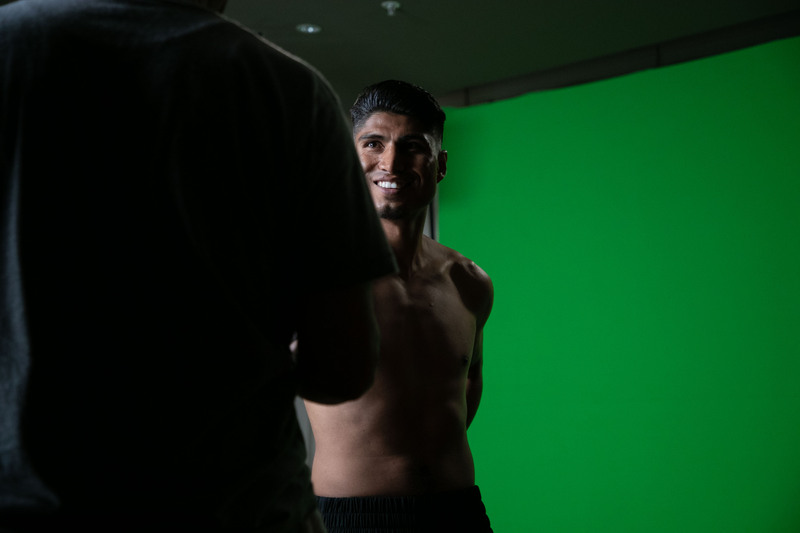 Ever the gentleman, Mikey Garcia greets members of the SHOWTIME production team. Garcia has a keen grasp of the value of promotions in the construction of his personal brand. At 30, having won titles in four divisions, the Mexican-American champ has ambitious designs for his future–plans that could solidify his legacy as one of the great lightweights in boxing history.
Tomorrow, check back for the next step toward the ring: the fighters' final press conference.
Don't miss this epic clash of undefeated champions, July 28th at 10PM ET/7PM PT on SHOWTIME CHAMPIONSHIP BOXING and DIRECTV.
Don't have SHOWTIME? Upgrade today and get the best of SHOWTIME CHAMPIONSHIP BOXING, including Garcia vs. Easter!

Advertisement