Everyone thought it was going to happen. Just not that fast. Undefeated WBC Heavyweight Champion Deontay Wilder (41-0-1, 40 KOs) delivered what is likely to be the knockout of the year on Saturday night. After months of acrimonious jeers, mockery, and ridicule, Wilder and WBC mandatory challenger Dominic Breazeale (20-2-0, 18 KOs) finally met at center ring. Their confrontation lasted exactly two minutes and 16 seconds. After connecting on 8 of his first 25 punches, one of them stunning the challenger, the "Bronze Bomber" charged across the breach after the referee separated the fighters and delivered a thunderous straight right that caught Breazeale flush. The California native crumpled to the canvas, his entire 6'7" 255-pound frame crumbling formlessly behind the pulverizing force of Wilder's blow. Somehow, Breazeale made it to his feet, but by then the count was done, the fight was over, and the challenger reeled backward into the ropes, as the referee moved in to protect him.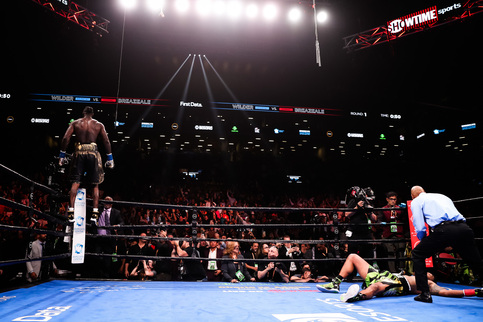 During an interview earlier in the week, Wilder had casually pointed out that Dominic Breazeale had no head movement. It was an ominous statement. The champ exploited the challenger's stationary upper body as quickly as he could. Breazeale threw a total of ten punches, landing a meager two. It was truly over before it began. The crowd of some 13,000 fans reacted to the knockout less with a roar of excitement than that familiar exhalation of shock that accompanies a truly stunning event. For fifteen minutes after the fight ended, attendees buzzed with excitement. They had witnessed one of the sport's great punchers at the peak of his powers. A lifelong memory had been hatched.
In the post-fight chaos of the ring, Wilder made amends with Breazeale, who for all his commendable bravery appeared crestfallen that his second, and perhaps final, chance at a heavyweight title had slipped so swiftly through his fingers. But the fight being over, the bitterness evaporated. As boxers never tire of reminding us, fighters form a bond in the crucible of the ring. Winners and losers become comrades in arms. The gloves are cut away and they embrace, a newborn respect evident in their faces.
Despite the final fireworks, the event started slowly, with some meager matches on the undercard. Two early fights ended in odd draws. One bout of heavyweights recalled a phrase from A.J. Liebling, the great boxing writer for The New Yorker. Liebling had written of arriving early at Yankee stadium for a Sugar Ray Robinson bout and seeing two no-names under the spotlight. He observed, "Two wretched forms hacking away at each other under the lights." But the quality of the action improved as the night wore on.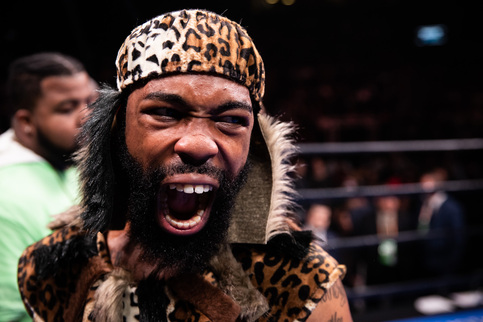 But WBC Featherweight Champion Gary Russell Jr. (30-1, 18 KOs) provided a considerable uptick in interest. His ring walk alone provided a rush of curious excitement. The champ wove his way to the ring wearing a leopard-print fur wardrobe, with trunks cut into strips not unlike a Roman gladiator's attire. Having not fought since last May, Russell Jr. showed little rust, and quickly accelerated his performance to the level of virtuosity. His punches were lightening fast, bouncing in uninterrupted combinations off the head and flanks of Spaniard Kiko Martinez (39-9-2, 28 KOs), who suddenly found himself bereft of a game plan. He merely covered up, hoping for opportunities to fire a punch. He threw and landed about half as many shots as the champion did, including connecting on only three of 37 jabs thrown. Russell Jr. landed 40 percent of his 182 power shots, including a powerful right that opened a deep gash above Martinez's left eye. The cut bled profusely as the champion continued to pummel the perplexed challenger. Late in the fifth round, the referee and ringside doctor called a merciful halt to the proceedings.
Russell Jr., happy to be finished with another journeyman, immediately called out WBA Featherweight Champion Leo Santa Cruz (36-1-1, 19 KOs), a high-volume boxer who many see as Russell Jr.'s only competition in the division.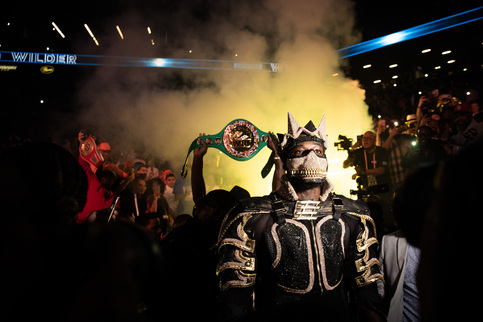 It was only then that Wilder made his extravagant entrance, clad in a bright gold crown, a fearsome facemask and black leather cape. Behind him his "Bomb Squad" carried his glimmering championship belt overhead, puncturing the backlit cloud of smoke that had accompanied the champ's entry. For all its ostentatious glamour, Wilder's wardrobe and entry did not exceed his performance, which was itself as scintillating as any fan could hope for.