Come the new football season, the most passionate and loyal fans aren't happy just watching whatever games their local CBS or FOX stations might make available each week. True fans who've grown up with a favorite team but have since moved to another city, fantasy football devotees who can't get enough of the action or others who need to scan all the games from around the country in real-time each week get their fix from NFL SUNDAY TICKET. It's why NFL SUNDAY TICKET is a staple for NFL enthusiasts coast-to-coast, allowing subscribers to watch – and stream – NFL out-of-market games each week.
But is NFL SUNDAY TICKET worth it? Find out more about this essential product made specifically for passionate NFL fans, including what you get, how to subscribe, associated costs and other details.
What is NFL SUNDAY TICKET?
Exclusive to DIRECTV, NFL SUNDAY TICKET is an out-of-market live sports package that offers NFL regular season games well beyond what's available exclusively on the local broadcast station affiliates each Sunday afternoon. NFL SUNDAY TICKET is tailored to the millions of impassioned fans who want to decide which games to watch based on a favorite team, players or other personal interests rather than where they happen to live. Whether a fantasy football fanatic, a fan who lives away from home, or a game day enthusiast, NFL SUNDAY TICKET is the only way to ensure you catch every Sunday afternoon regional game live.
What's Included with NFL SUNDAY TICKET?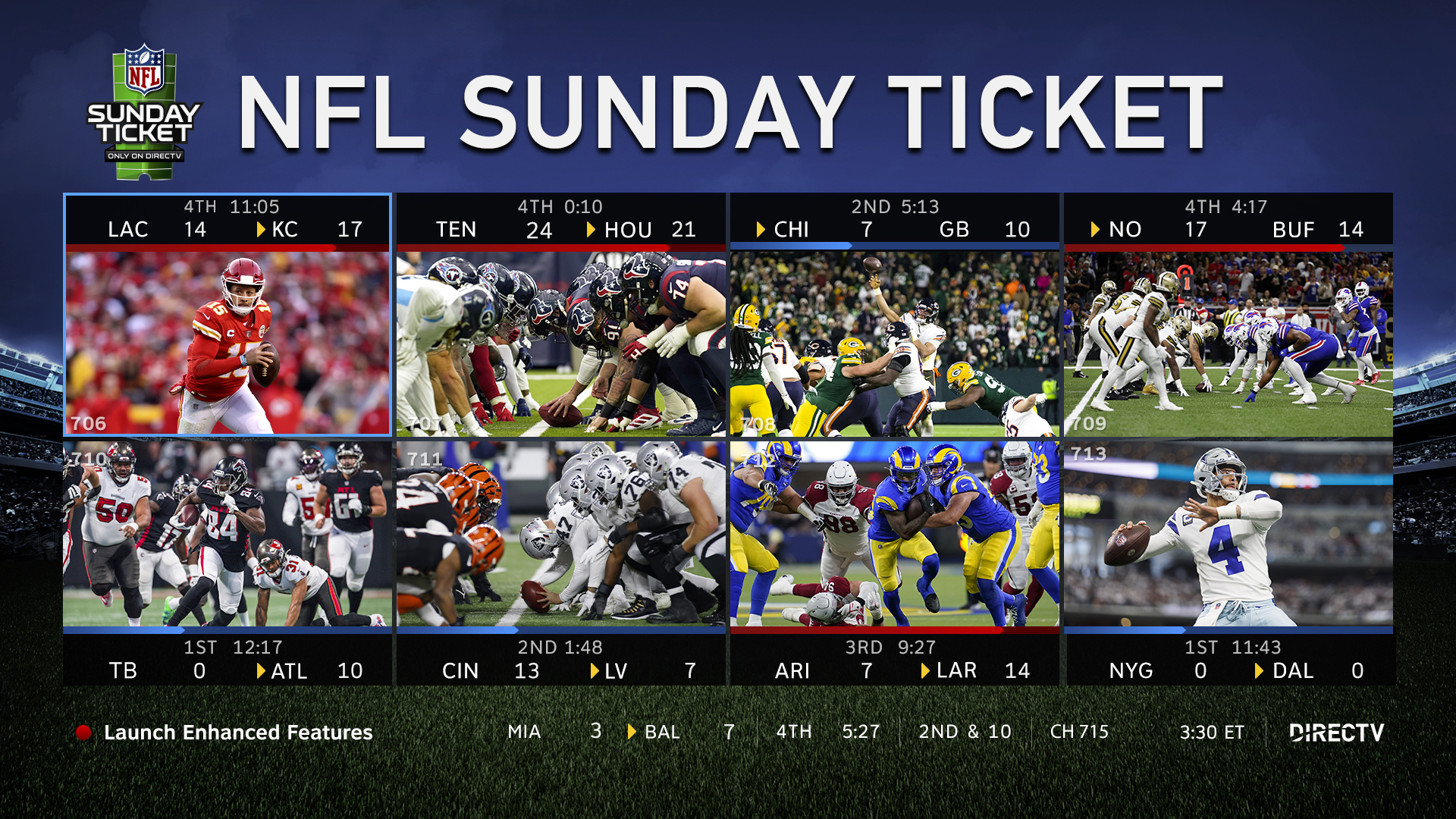 As if watching all the live Sunday football games wasn't enough – a subscription to NFL SUNDAY TICKET comes with even more goodies to make gameday great.
This year, DIRECTV NFL SUNDAY TICKET subscribers will also have access to additional features, including:
NFL SUNDAY TICKET APP: Allows supporters to stream NFL SUNDAY TICKET live—from anywhere—on their favorite connected devices. Features include Short Cuts, RED ZONE CHANNEL® (in NFL SUNDAY TICKET MAX), Picture-in-Picture highlights, and real-time points and standings while streaming live games.
GAME MIX: The ability to watch up to eight live NFL games simultaneously on one screen, complete with scores and game clock—in amazing HD as well as the ability to expand one game onto the full screen, simply by highlighting and clicking on it.
What is NFL SUNDAY TICKET MAX?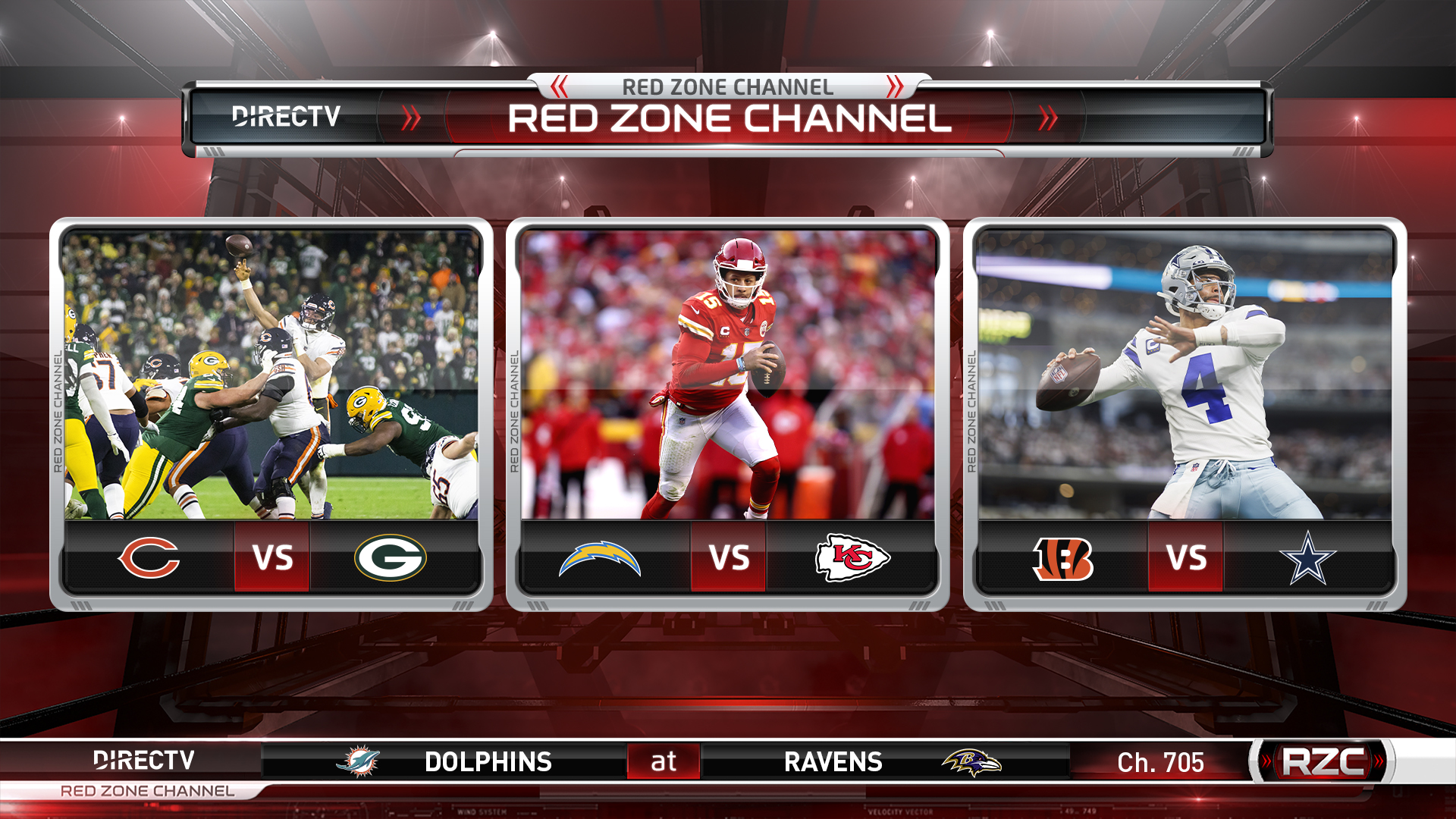 Get even more football with NFL SUNDAY TICKET MAX that includes all the same sports features and enhancements you get with NFL SUNDAY TICKET as well as some exciting extras.
DIRECTV FANTASY ZONE® CHANNEL: Exclusive channel lets viewers watch their favorite fantasy players live from game-to-game with real-time analysis from DIRECTV's own fantasy experts.
RED ZONE CHANNEL®: Access to every touchdown from every game. The RED ZONE CHANNEL® shows fans all scoring plays from around league on one LIVE channel.
How to Get DIRECTV NFL SUNDAY TICKET?
The only way to get NFL SUNDAY TICKET in 2022 is with DIRECTV – and it's easier than ever. New DIRECTV customers can get NFL SUNDAY TICKET MAX at no cost with a new subscription to the CHOICE or above base package. Existing customers can still get NFL SUNDAY TICKET as a stand alone to their satellite package at an extra cost. Learn more about getting all your favorite live Sunday afternoon NFL football games.
Ready for some football? Find your NFL team's schedule, news and more.
Your NFL SUNDAY TICKET Questions Answered
What If I Can't Get Satellite Service?
For those fans who can't access DIRECTV satellite service based on where they live or for students enrolled in eligible U.S.-based universities, your Sunday afternoon NFL solution is NFLSUNDAYTICKET.TV and NFLSUNDAYTICKET.TV U subscriptions which are streaming products.
Can I Stream NFL SUNDAY TICKET?
Yes, streaming NFL SUNDAY TICKET is incredibly easy with the NFL SUNDAY TICKET App. The app comes with your NFL SUNDAY TICKET or NFL SUNDAY TICKET MAX subscription at no extra cost.
What Channel is NFL SUNDAY TICKET on DIRECTV?
All the NFL SUNDAY TICKET action can be found on channels 705 through 719 (including Ch. 701-702 Game Mix) during the NFL season. NFL SUNDAY TICKET MAX subscribers will find RED ZONE CHANNEL® on channel 703, and DIRECTV FANTASY ZONE® on channel 704. See the DIRECTV Channel Guide to find more of your favorite networks.
How much is NFL SUNDAY TICKET?
New DIRECTV customers are eligible to get their first season of NFL SUNDAY TICKET MAX at no cost with a subscription to the CHOICE or above base package. Each season thereafter, customers must subscribe separately to NFL SUNDAY TICKET or NFL SUNDAY TICKET MAX at full cost.  NFL SUNDAY TICKET (2022 season) costs $293.94 (6 payments of $48.99).  NFL SUNDAY TICKET MAX is $395.94 (6 payments of $65.99).
Find answers to even more common NFL Sunday Ticket questions in the support center. 
Get DIRECTV SUNDAY TICKET Today
Casual football viewers may be happy with the status quo, watching their favorite team's game, when not on blackout. But NFL SUNDAY TICKET is not for the fair-weather fans or the bandwagoners., it's for the die-hards. Get your NFL SUNDAY TICKET subscription today.