Watching sports at home is fun, but it's not the only way (or place) to enjoy the game. Cheering on your favorite team is even more exciting when surrounded by other passionate sports fans, plenty of food and your choice of beverage at the local sports bar, restaurant, or hotel bar/lounge. Sports bars are also a great way to get a taste of home while traveling or when you have relocated away from your hometown (and team).
DIRECTV FOR BUSINESS delivers televised sports (and entertainment) to bars and restaurants and other venues all over the country, which means there's always a place to catch the game nearby. But how do you find out where the games will be on? Read on to learn more.
What Is DIRECTV Sports Bar Finder App?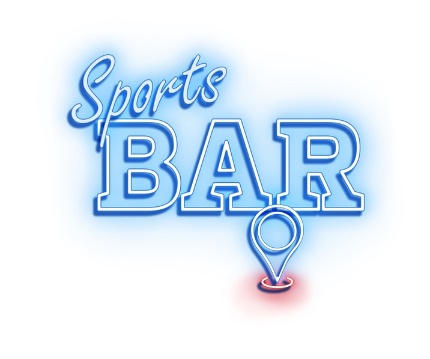 Designed for sports fans, the DIRECTV Sports Bar Finder App helps users find a place to watch the game across the U.S. DIRECTV Sports Bar Finder App uses GPS to map sports bars and other establishments that subscribe to DIRECTV programming (certain package requirements apply). Find photos, star ratings, comments, hours of operation and more, provided by YELP. Or narrow down results with location, filters and favorites, and peruse schedules to find upcoming events.
Why Sports Fans Love DIRECTV Sports Bar Finder App
There's nothing more panic inducing for a sports fan than not being able to watch an important game. Whether to enjoy a like-minded cheering section or to find a place to catch a game when you're out of town, DIRECTV Sports Bar Finder App will help you find someplace nearby showing your game, all in the palm of your hand.
DIRECTV and Prime have come together to make sure you never have to miss a Thursday Night Football game. See how. 
Why Business Owners Love DIRECTV Sports Bar Finder App
When you make sure your business is playing the games that matter, it's important that sports fans know how to find you. With DIRECTV Sports Bar Finder App, your customers will know that you're equipped with key sports packages and will visit ready to cheer on their favorite teams.
Keep customers coming back for more with a WIDE SELECTION OF SPORTS PACKAGES, like NBA LEAGUE PASS, NHL CENTER ICE, MLS Season Pass, MLB EXTRA INNINGS, FOX SOCCER PLUS, ESPN COLLEGE EXTRA, LONGHORN NETWORK, BIG TEN NEWORK, SEC NETWORK, or ESPN+ for business. Our exclusive DIRECTV MVP program will help your business grow with tools to promote your business and brand your business as the local "sports headquarters."
Bar and restaurant DIRECTV FOR BUSINESS customers that have the Commercial Entertainment Pack or any premium sports package (NBA LEAGUE PASS, MLS Season Pass etc.) will be automatically included in the DIRECTV Sports Bar Finder App.
How to Use the DIRECTV Sports Bar Finder App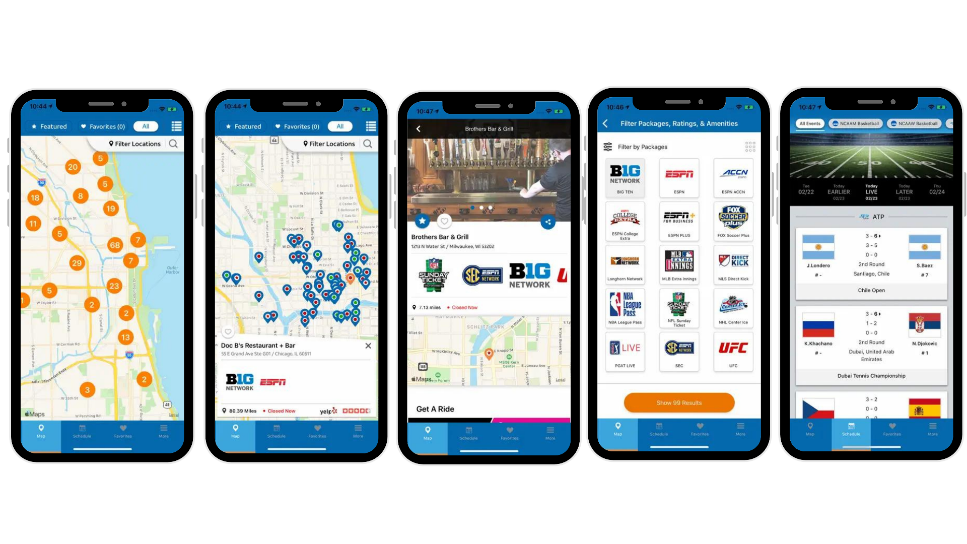 Rather than searching for "Sports bars near me," the DIRECTV Sports Bar Finder App will tailor the experience to you. The first step is downloading the DIRECTV Sports Bar Finder App from the APP STORE (Apple, iOS) or GOOGLE PLAY (Android). Once you're in you can search your area, select your favorite bars, teams and leagues, as well as filter selections by packages, channels and networks and more*. Also explore sports schedules right from your phone to make sure you never miss the big game..
*You must be 21 or older to use this application. By downloading, you are verifying that you are over the U.S. legal drinking age of 21 years old. DIRECTV does not guarantee any location will show a specific sporting event.
Never Miss a Game
With the DIRECTV Sports Bar Finder App, you or your customers will not only be able to find where to watch games, but also explore a full schedule of sporting events. In the app, explore stats, box scores, play-by-play and more. In the companion ONLINE SPORTS SCHEDULE you will find even more information including the hype meter which shows the real-time excitement level of the game, which for business owners is a real game changer. See schedules from sports like football (Sunday and Thursday Night Football), basketball, baseball, hockey, soccer, rugby, racing, combat sports, golf, tennis and even cricket as well as the corresponding channel numbers and network information.
Bottom line, whatever you're a fan of, from football and soccer to baseball and hockey, there's someplace to watch all the action nearby, and the DIRECTV Sports Bar Finder App will help you find where.
Get DIRECTV for your home or your business so no matter where you are, you never miss your game. 
The content is featured on https://www.directv.com/insider/ is editorial content brought to you by DIRECTV. While some of the programming discussed may now or in the future be available affiliates distribution services, the companies and persons discussed and depicted, and the authors and publishers of licensed content, are not necessarily associated with and do not necessarily endorse DIRECTV. When you click on ads on this site you may be taken to DIRECTV marketing pages that display advertising content. Content sponsored or co-created by programmers is identified as "Sponsored Content" or "Promoted Content."