DIRECTV is a known leader in sports, but that title doesn't just apply to game day, there are also tools to get the excitement level brewing. The DIRECTV sports schedule not only provides a thorough snapshot of the robust sports content available to subscribers, but also give some added insight to make watching (and planning) even more entertaining.
Sports fans, bar/restaurant owners and loyal hometown supporters wanted to know when and where to watch the most exciting games, but also navigate other important match ups and discover popular games that appeal to sports enthusiasts of all kinds. The DIRECTV sports schedule is a response to these requests and is equipped with ever-evolving features.  Of course, these schedules are useful for sports buffs, but are also an invaluable asset to business owners for determining which games to showcase and when. Learn more about the features that make the DIRECTV sports schedule so popular.
Enticing Features
The main draw of the DIRECTV sports schedules is for planning purposes for both business owners and sports fans. Each game features the opponents, timing and programming info to ensure you can find your teams or discover a game that will likely appeal to your customers. But there is more to explore.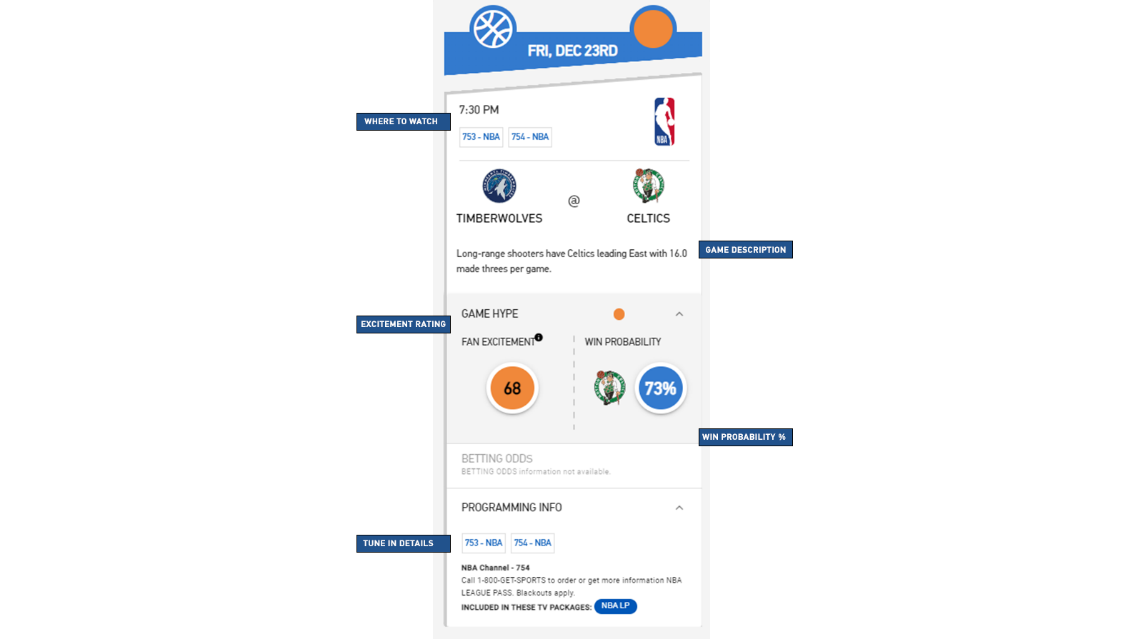 Gauge Excitement with Game Hype Meter
The Game Hype Meter pulls data from stats.com, which includes individual schedule, rivalry, records and social media chatter to assign the game a Fan Excitement Rating between 0-99. This figure will change as the game progresses. Accompanying the rating, an original line of copy will describe the match-up and will change leading up until game time and throughout. Alongside the Excitement Rating, in some cases the Win Probability will be predicted as well to help bettors get a realistic glimpse at the game's potential outcome.
Why bar and restaurant owners (and managers) love it
The Game Hype Meter can help business proprietors determine which games are the most entertaining to their patrons. The DIRECTV schedules are updated every seven days, which allows bar and restaurant owners plan ahead and anticipate which match ups will be most enticing.
Why sports fans love it
Team loyalists can use the Game Hype Meter to find the most thrilling games when their favorite squads aren't playing, and casual sports fans will be able to find the most exciting match up. Because who doesn't enjoy an intense game?
Easy Navigation and Customization Options
Although the DIRECTV sports calendars are quite robust, it's easy to tailor down the info to make it more digestible. Search by sport (football, baseball, cricket and so many more), league (NFL, MLB, NCAA, etc.), Game Hype Meter rating or filter to make a custom dashboard of your favorites. Users can also toggle between detailed and compact views or even print a full schedule, so you'll never have to venture too far to find an exciting game.

View all upcoming games or filter only your teams or leagues with My Leagues. Toggle between detailed or compact to customize your view. Also print your view from here.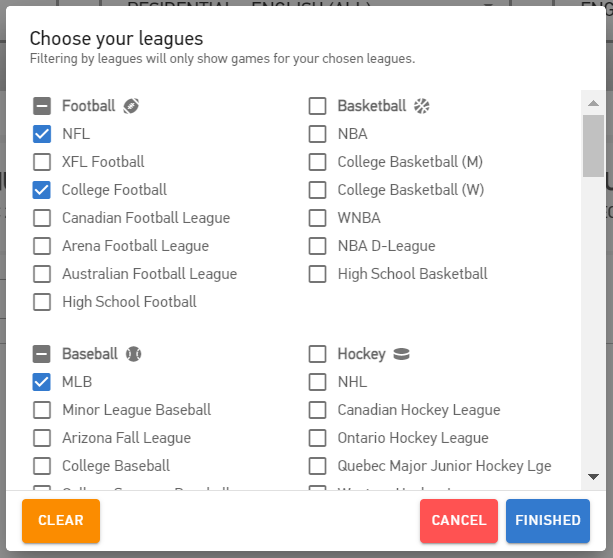 Choose which leagues and sports you view with the My Leagues filter.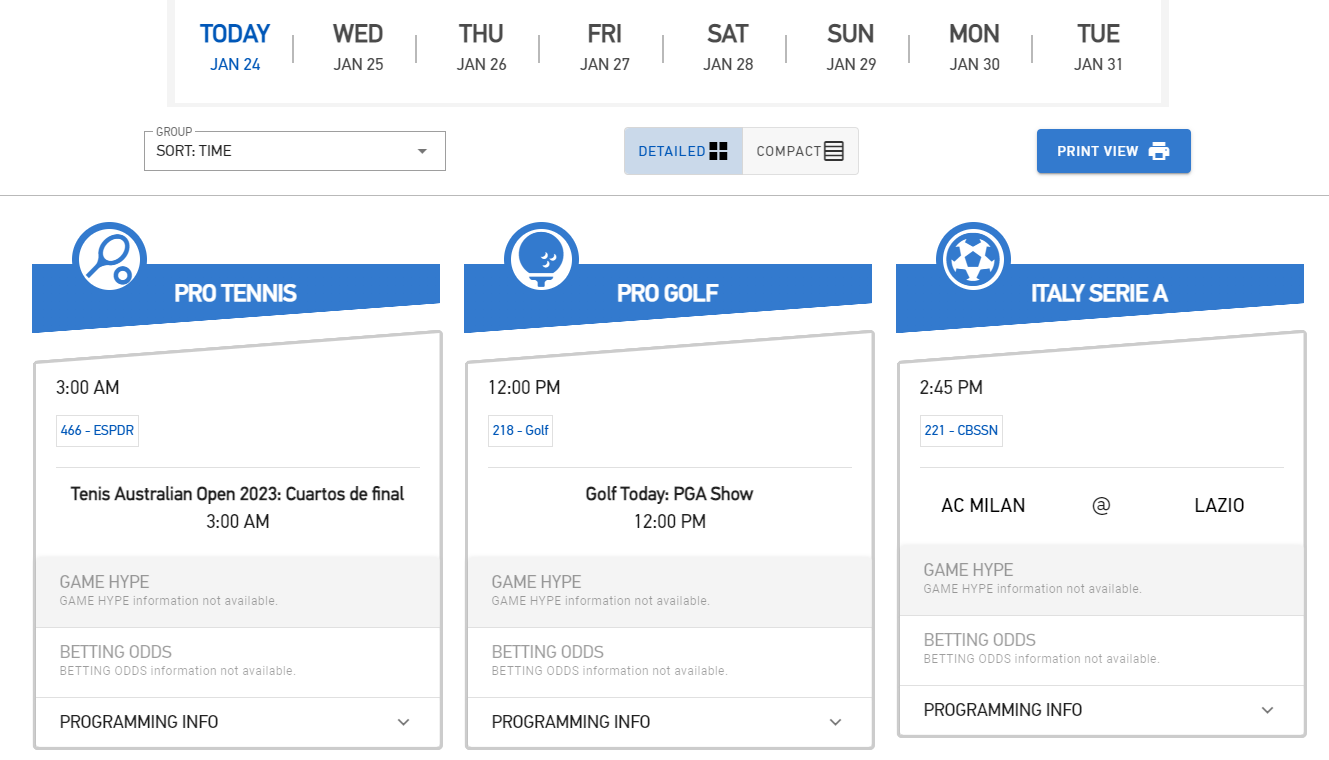 Detailed view gives a robust glimpse of the upcoming games.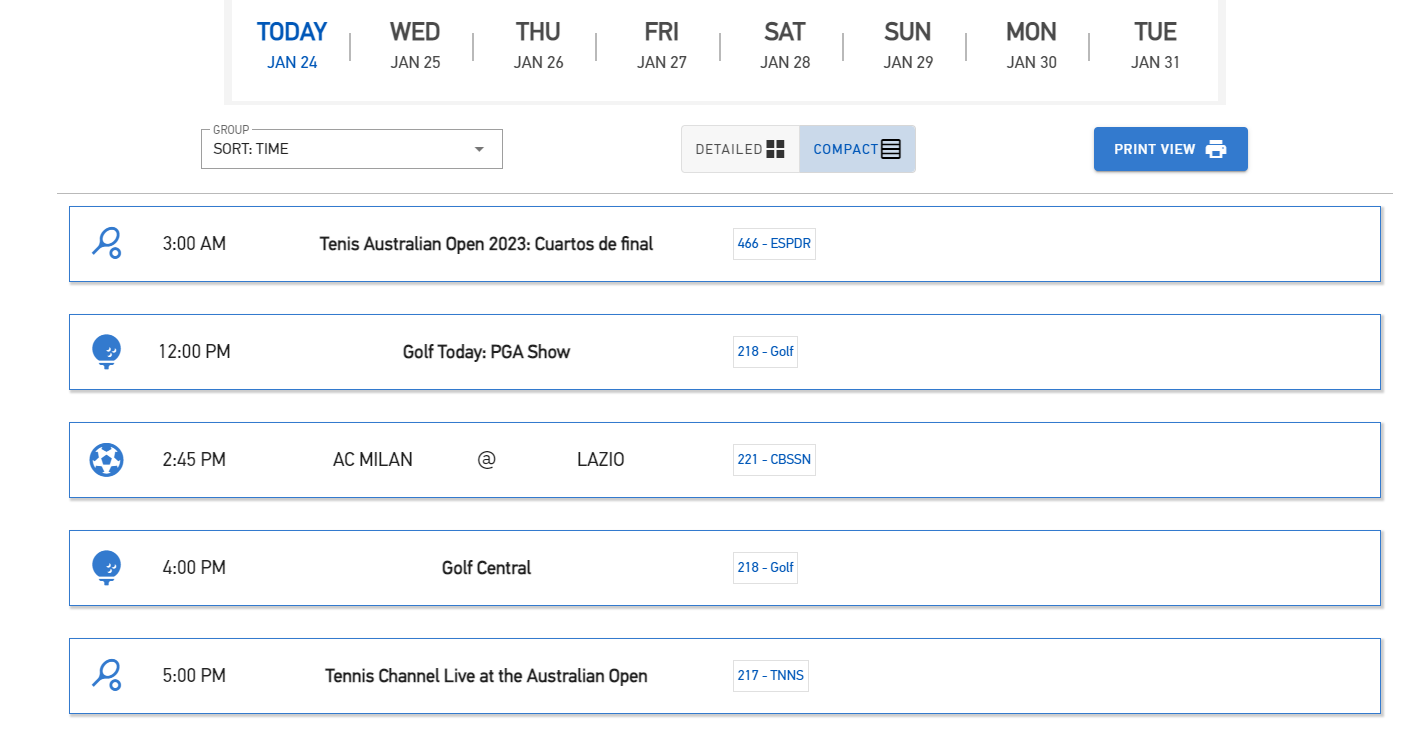 Compact view offers a streamlined list of the upcoming games.
Why bar and restaurant owners love it
The sort functionality and favorites makes searching for games a breeze and ensures that it's easy to bookmark and check back often. Using the print feature, business owners can post schedules for easy reference for the whole staff. 
Why sports fans love it
Having a one-stop shop to find and browse games of all sports from NFL and NBA to MLS, MLB, NHL and beyond is a great resource for both loyal devotees and sports fanatics. And printing the schedule to pin on your fridge doesn't hurt.
Stay On Top of Your Game
Sports bettors find the DIRECTV sports schedule as a useful tool. Using the high-level look at betting odds, outcome predictions and win probability helps with informed decision making. All these features side-by-side ensure that sports fans and business owners can get all the info they need in one-stop. And there are even more improvements coming soon.
Explore the sports schedules now to make sure you're ready for the big game.
Your Favorite Sports in One Place
You've perused the schedules; you know which games are the most exciting – but now you need to tune in. With DIRECTV you'll have access to the sports you are looking for. Get it now.
The content is featured on https://www.directv.com/insider/ is editorial content brought to you by DIRECTV. While some of the programming discussed may now or in the future be available affiliates distribution services, the companies and persons discussed and depicted, and the authors and publishers of licensed content, are not necessarily associated with and do not necessarily endorse DIRECTV. When you click on ads on this site you may be taken to DIRECTV marketing pages that display advertising content. Content sponsored or co-created by programmers is identified as "Sponsored Content" or "Promoted Content."