The final press conference produced all the crackling electricity a promoter could hope for. Let it be known: Deontay Wilder and Dominic Breazeale are not friends. They are sworn enemies and they are both anxiously awaiting the first bell on Saturday night at Barclays Center, where they will meet in a clash of heavyweight titans. Ostensibly, the bout is for Wilder's WBC Heavyweight Title, but there is bad blood between these two fighters that has repeatedly taken center stage. It all stems from a scuffle in the lobby of the Westin hotel in Birmingham, Alabama in 2017, after both fighters had fought on the same card. Recollections vary wildly between the two camps, and both boxers are determined to settle scores inside the ring.
At the first press conference for the May 18th bout, the contrast in styles between the fighters was crystal clear. Wilder was dressed in a sunglasses, a black leather jacket, and thick gold chains. Breazeale wore a plaid sport coat with a pocket square and a mock turtleneck. Wilder spoke with immense confidence, issuing one colorful promise after another that he would dismantle the challenger come fight night. Breazeale spoke in somewhat more measured tones, appraising the fight and his preparation. However, at one moment, after an enthusiastic opening monologue from Wilder, Breazeale attempted to explain the Alabama incident, and noted that he was never clear why Wilder had confronted him in the hotel lobby that night, notably because he didn't have an urban dictionary on hand to understand what Wilder was saying to him. The press conference then quickly dissolved into an indecipherable war of words, both fighters talking over each other as SHOWTIME Master of Ceremonies Brian Custer attempted to mediate.
Fast forward two months. The public feud took a comic turn on Thursday in the atrium of the Barclays Center, where the final press conference before the fight was held. Seated on either side of Custer, the two fighters exchanged verbal jabs. Eventually Wilder, ever the showman, told Breazeale he had brought him a gift. One of the members of Wilder's "Bomb Squad" crew, clad in a hoodie and black sunglasses with a grim look on his face, then walked across the dais toward Breazeale. Arriving in front of the challenger, he dismissively tossed a paperback book on the table in front of him, spun on a dime and returned to his spot behind the champion. Wilder explained to Breazeale that it was an urban dictionary so that the Breazeale could look up the words Wilder then delivered. Joking that Breazeale has gotten "swole" for the bout, the champ then told the California native, "I'm going to fade you out." Breazeale replied that he doubted that Wilder would fight again after their duel on Saturday. He declared, "I'm Deontay Wilder's retirement plan." During the face off, Wilder shouldered his bright, glinting WBC belt and talked loudly to an relatively impassive Breazeale, at one point chanting, "I am the king!" before the two boxers were separated and the event came to a merciful close.

Advertisement
Lost in the clamor were the words of Wilder's fellow Olympian and current WBC Featherweight Champion Gary Russell Jr. (29-1, 17 KOs), who heads Saturday night's co-feature against former world champion Kiko Martinez (39-8-2, 28 KOs). Russell Jr. is a cerebral fighter, who regularly reminds the media that fights are won and lost in the mind. He told the media during the press conference, "Boxing is intellect manifest in physical form. That's why the most educated man should win." The Maryland native is supremely confident, not only in his blazing speed and tactical grace, but also in his preparation, believing he has won the mental battle before stepping into the ring.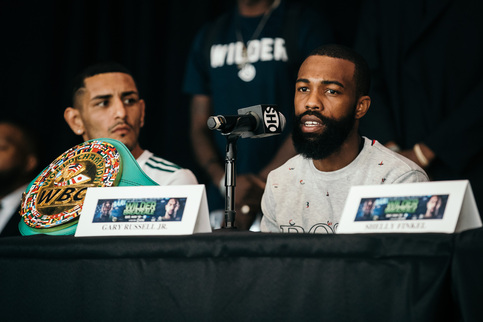 Regardless of who you're rooting for, Saturday night promises plenty of great boxing action, including two championship fights. Undefeated WBC Heavyweight Champion Deontay "The Bronze Bomber" Wilder (40-0-1, 39 KOs) takes on 6'7" mandatory challenger Dominic "Trouble" Breazeale (20-1-0, 18 KOs), while WBC Featherweight Champion Gary Russell Jr. (29-1, 17 KOs) headlines the co-feature against former world champion Kiko Martinez (39-8-2, 28 KOs).
Catch all the action, Saturday, May 18th, at 9PM ET/6PM PT on SHOWTIME CHAMPIONSHIP BOXING on DIRECTV.
Don't have SHOWTIME? Upgrade today and get the best of SHOWTIME CHAMPIONSHIP BOXING, including Wilder vs. Breazeale!