To celebrate Westworld's second season, AT&T and HBO are partnering to release seven beautiful posters of various characters to collect throughout the months of May and June. Main characters like Dolores (Evan Rachel Wood) and Maeve (Thandie Newton) will each have their own posters — but so will supporting characters, including Hector (Rodrigo Santoro) and Clementine (Angela Sarafyan).
Hector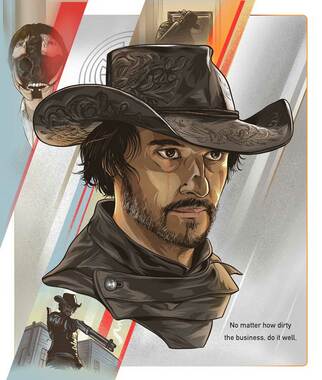 In Hector's poster, the bandit-turned-rebel hero is shown in his typical black ensemble, staring down danger and taking aim at the sheriff of Sweetwater, whom Hector killed again and again during his season one narrative loop. There is also a drawing of the young Robert Ford host (Oliver Bell). Hector has never interacted with him, but the little boy host has been integral in pointing the Man in Black (Ed Harris) toward the new puzzle, which the show's creators refer to as "the door," and the "maze" from season one can be seen behind Hector's head in the poster.
It all fits in nicely with Hector's quote on the poster, "No matter how dirty the business, do it well." Hector is not afraid to get his hands dirty in his quest to help Maeve (Thandie Newton) find her daughter and escape from the park.
Clementine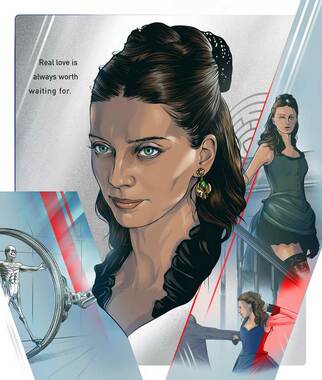 In a juxtaposition with Hector's violent and no-holds-barred depiction, Clementine is shown as a seemingly demure prostitute working in the Mariposa Saloon, but there is a hardness in her startlingly blue eyes that speaks to the toughness hiding below her exterior. The glint in her eyes nicely complements the rendering of Clementine fighting a fellow host in season one, when she was made to look as though the hosts were becoming dangerous to the park's guests. There is also a depiction of a host being created, which is a poignant coincidence because poor Clementine has now been killed on the show. With the hosts' backup drives being destroyed, we fear she is not coming back.
The quote featured on Clementine's poster, "real love is always worth waiting for," is also particularly touching: Despite all the violence that has taken place as part of the hosts' uprising, the stories all seem to come back to love — Maeve's love for her daughter, Dolores' love for her father or even young William (Jimmi Simpson), Akecheta's (Zahn McClarnon) love for Kohana (Julia Jones).
The posters are created by Turkish-based graphic artist and illustrator Berkay Dağlar, who designed the art to follow in the same vein as his Westworld season one poster. Dağlar tells HBO that he was inspired by the hosts' "reveries", and, through his designs, depicts "both the innocence of the hosts and also the wild instincts towards violence and uprising."
To see all of the available posters, check out Dağlar's display on Behance and be sure to find your nearest AT&T retailer to pick up your favorite one — or all seven — while supplies last.
Westworld airs Sundays at 9 p.m. ET/PT on HBO. Get caught up or revisit your favorite episodes on DIRECTV.