HBO is releasing a series of posters designed by Turkish-based artist Berkay Dağlar at AT&T stores nationwide. The lead-off hitter is none other than Evan Rachel Wood's Dolores Abernathy, who is arguably the lead character for the entire series.
The posters are inspired by the "reveries" the hosts began experiencing in season one of the sci-fi adventure drama, using Dağlar's season one poster as a jumping off point for the style of these new designs. You may also recognize Dağlar's work if you follow the official Westworld Twitter account.
Dolores' poster features several different facets of the seemingly demure host, including gun-toting fighter and quiet artist. There's one angle where she is holding the can she always drops at the beginning of her narrative, looking at perhaps Teddy (James Marsden) or maybe young William (Jimmi Simpson). But the main Dolores featured on the poster is taken from the end of the season one premiere, where she kills a fly that has landed on her neck, alerting the audience to the fact that something is changing within her.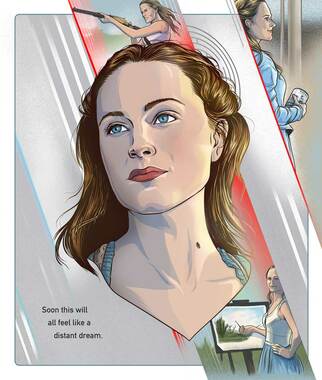 It is this that kicks off her journey to becoming sentient, which is echoed in the quote on the poster: "Soon this will all feel like a distant dream." In the context of the show, this quote refers to a way the programmers erase the hosts' memories and put them in sleep mode. But in the context of this poster, it seems to be indicating that soon Dolores' past life will all feel like a distant dream, as she has now awoken and is determined to take over the park (and maybe the outside world).
For a free poster while supplies last, visit your nearest AT&T retail location and watch Westworld Sundays at 9 pm or anytime on HBO On Demand®