DIRECTV is on the ground reporting from the most exciting SDCC 2018 panels, trailer drops, and breaking news. For more Comic-Con coverage, click here.
---
If anyone managed to walk out of the SYFYWIRE Fangrrls panel at Comic-Con on Friday without feeling inspired, they must be a must be a full-speed Death Eater.
Only a follower of Voldemort could stand unmoved as the panelists spoke passionately about storytelling, overcoming adversity, and fighting for inclusion. Their collective energy as a panel was one of the most outspoken and encouraging I've seen so far, and their respect for one another was obvious.
I mean, look at this collection of bad-asses: Crazy Ex-Girlfriend's Rachel Bloom; pop musician and comic book writer Lights; phenom comic book artist Amanda Conner; Marvel's VP of content and character development Sana Amanat; American Gods' Yetide Badaki; writer of every comic you've ever heard of Gail Simone. This is like the Avengers of creators. To quote Rachel Bloom: "I'm obsessed with everyone on this panel."
The panel spoke to many issues facing women in media and pop culture fandom, including the hard-fought progress they've finally seen in the entertainment industry.
"Seeing people as people and not as boxes to check is a much-needed change," said Simone. "I'm excited when I see something completely different. And those points-of-view are being sought out more than ever before."
"A lot of times, behind the scenes, [people in power] are not trying to do anything negative, they just have blindspots [in regards to women and people of color]," said Badaki. "If you're not in one of those blindspots, you don't know how to address them. Now, though, people are asking, why is it a guy running around in space? Why isn't it a lady running around in space? Why isn't a lady of color running around in space? Certain norms are starting to change."
The panel attributed some of this change to the activation of unique creative voices, including those that feature realistic depictions of women's bodies.
"It's so important to show all these different body types in cartoons for a younger generation," said Amanat, who is working on the new Marvel animated film Marvel Rising, starring a diverse, mostly female group of superheroes. "Not just body shapes, but also colors. It's important to depict all different types of people."
"[On Crazy Ex-Girlfriend], we're just trying to portray things that are true," said Bloom. "The average dress size for women in this country is 14. We just want to depict that reality."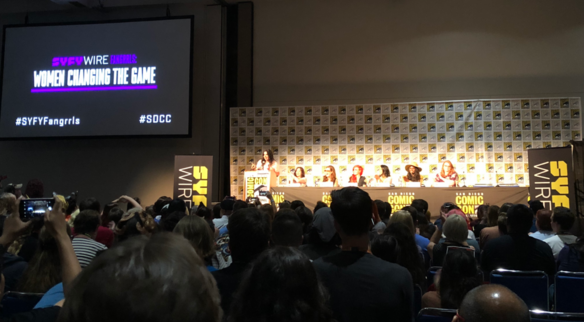 This progress, while exciting, is also very incremental, as evidenced by the panel's discussion of finding creative women to admire at a young age.
"I've been drawing comics professionally for 30 years now," said Conner. "When I first got in, there was just a handful of women for me to look up to. When I was going to conventions, there were very few women there, and if you did see women, they were mostly sisters and wives. Now there are so many girls and women coming here. The only downside is longer bathroom lines, but I'll take it."
"There's a huge discrepancy between men and women in music, particularly behind the scenes," said Lights. "I think it's because there aren't enough role models. If, when I was growing up, I saw my favorite record was produced by a woman, I might've thought 'I want to be a producer!'"
This discrepancy, as the panel discussed, often leads to men hiring more men, as they're essentially using their artform to find likeminded individuals.
"Guys who get into comedy are often overcoming some sense of rejection from earlier in their lives, and they find their tribe in the writers room," said Bloom. "Then a girl comes into the room and they're like 'I'm using comedy to try to hit on you! Why are you here?!' We're now just more aware of that [tribalism] not turning bad. We don't want to make it us vs. them."
No matter the hurdles facing women in entertainment, the panel agreed that the best thing you can do is stay true to yourself and your identity.
"All you can do is offer your own authentic point of view to the world," said Bloom. "Trying to be someone else, trying to have someone else's likes or dislikes, doesn't ring true."
"You have to do your thing the way you do it," added Simone. "If someone tells you not do something, just say 'OK' and then turn around and do it anyway."

Advertisement