The Outsider premiered on Sunday, Jan. 12, with its first two episodes, which so far have earned great reviews. It is a 10-episode drama series adapted from Stephen King's 2018 novel of the same name, starring Ben Mendelsohn, Jason Bateman, and Cynthia Erivo, adapted by acclaimed screenwriter Richard Price.
The Outsider tells the story of a small-town little league coach (Bateman) arrested for a horrific crime against a young boy. The town is torn apart when conflicting evidence makes him look completely guilty and also completely innocent. As Chief Ralph Anderson (Mendelsohn) and private investigator Holly Gibney (Erivo) dig into the investigation, they uncover a supernatural evil that must be stopped before more horrific deaths occur.
At the 2020 Television Critics Association winter press tour, the stars and screenwriter talked to critics about making the TV series and what it's like to adapt a Stephen King novel.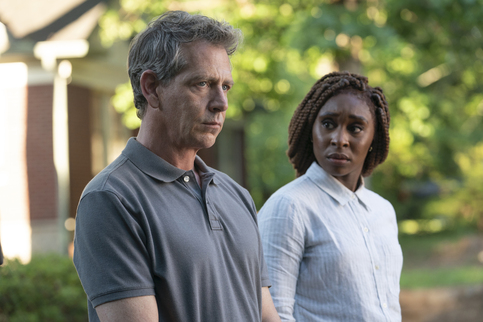 "He's not an author, he's an army," said Price of King. "Stephen King transcends authors. He's an institution. He gives you a good story and good characters, but the book is not a teleplay, so you have to convert all that internal monologue and exposition to visuals." said Price.
"What appealed to me is that it started out as a police procedural," added Price. The intersection between true crime and the supernatural was highly compelling and Price was hooked. "I've always wanted to write something scary. It was perfect for me."
For Bateman, who also directed several episodes, The Outsider novel is not horror per se. It's scary, of course, but also fun.
"I'm not a huge horror fan. I was really excited that this story lived in more of a Stephen King's Shining world, as opposed to some of his other great stories that live more in that frightening scare/shock world," said Bateman. "Directing the episodes that Richard was writing … I was trying to create a bit of a mood."
One thing King routinely does that fans enjoy is that he uses ideas, settings and/or characters across multiple books. In this case, the character of Holly Gibney is the big connector — she is a main character in the Mr. Mercedes trilogy, which has also been made into a TV series, and also here in The Outsider, played by Justine Lupe in the former and Cynthia Erivo in the latter.
Price preferred not to lean into the Holly from Mr. Mercedes and instead created his own character, something actress Cynthia Erivo echoes.
"I've never seen Mr. Mercedes. I've never read Mr. Mercedes. I have to create this character and I didn't want to be beholden to something that has nothing to do with The Outsider, even though it's a continuation of a character," said Price. "With King's blessing, I just made the character mine, not even the Holly from the novel The Outsider. I just wanted to do my thing … This is my Holly.
"I asked King if I could change her name," he added. "The only thing he ever said to me as a directive was just keep the name Holly Gibney."
Erivo chose not to read the novel in preparation for the role. "I didn't want to be influenced by what was already there," she said. "The script gave me a lot to work with. I feel like the character is really fully realized, so I tried to fill her as much as I possibly could."
"I knew there was an oddity about her and I was intrigued that as a woman of color you never really get to see these women on screen," said Erivo. "So I wanted to make sure she was fully human, very much in charge, and you get to know her in every episode. I was given a gift of a character and it was written really beautifully for me."
"She's being very humble," Bateman interjected. "Those characters can easily be overplayed and her taste was extremely beneficial to this project. We're very lucky to have you, missus."
"A script is just a script. It's up to the actors, the director, the editing room, cinematography. It could have gone a million ways. I thought Cynthia was fantastic, but it just as easily could have been someone else and not fantastic," said Price of Erivo, also adding of Bateman, "What Jason did in the first two episodes was so intensely low key and really delivered the goods. Again, I could have written that and someone else could have murdered it or made it not work."
Another thing that really makes a horror series like this work is the directing, which Bateman said he felt "very lucky" to be given the opportunity to do.
"I'm enjoying the challenge of directing," he said, adding, "I like acting in things I direct … I've sort of got one hand on the wheel behind the camera and one hand on the wheel in front of the camera. It's two sets of eyes absorbing and processing some of the more complicated information that I'm attracted to from a script standpoint."
And finally, we had to ask if there will be surprises in store for book readers, such as changes they made to the novel that might provide fun twists and turns for viewers who have read the book.
"Episode 7 is animated. Episode 8 is a musical," joked Bateman, with Price picking up the gag saying, "Episode 9 is in Thai. No subtitles."
"Get ready," promised Bateman.
The Outsider airs Sundays at 9 p.m. ET/PT on HBO. Get caught up on DIRECTV and jump in with new episodes every week.