From serial killers to zombies and ghosts, the horror genre is stuffed full of scary people and creatures that will make you want to run for cover. Horror movies uncover the most terrifying and decrepit corners of our human experience and imaginations. Most of the time, these films succeed at leaving us trembling with fear and breathless with anticipation. With the addition of blood and gore and certainly as technology has gotten better the genre has gotten sharper with films like Get Out and A Quiet Place.
However, some films just miss the mark. Instead of scaring the pants off of us, they are ridiculous adventures of foolish people who get themselves into silly situations. These films usually become so absurd that they end up being hysterically funny. Here are the most hilarious horror films of all time.
15. Ghostbusters
Rick Moranis in
Ghostbusters | Source: Sony
Ok so we know that 1984's Ghostbusters isn't supposed to be exactly terrifying, but it does have some pretty scary moments. Remember when a possessed Dana Barrett was floating over the bed? However, what makes Ghostbusters so hilarious is Bill Murray's one-liners and the perfect effects sprinkled throughout the film.
We have to say it; the original was better.
Next: A film with projectile nosebleeds 
14. Drag Me to Hell
"Drag Me To Hell" | Universal
Director Sam Raimi has always been able to make his audiences laugh and scream at the same time. His 2009 film Drag Me to Hell was no different. The film followed Christine Brown (Alison Lohman) who in an effort to impress her boss, denies a home loan extension to an older woman. Christine soon learns that she rejected the wrong person, the old lady is actually is a witch.
Not only is Drag Me to Hell's narrative pretty hilarious, but the curse that the witch puts on Christine is gross. The young woman must deal with projectile nose bleeds and a pretty foul tongue bath.
Next: A movie that depicted the worst long weekend. 
13. The Cabin in the Woods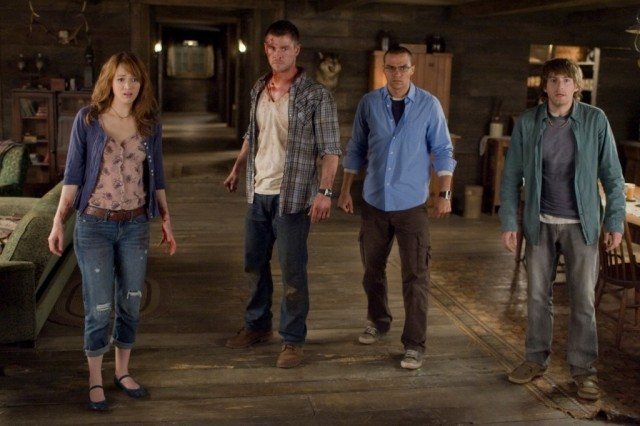 The Cabin in the Woods | Lionsgate
When has Joss Whedon ever let us down? He certainly didn't when he co-wrote the hilariously brilliant The Cabin in the Woods. The 2011 film follows five friends (Kristen Connolly, Chris Hemsworth, Anna Hutchison, Fran Kranz, Jesse Williams) who arrive at a remote cabin in the forest for a long weekend. It turns out a creepy cult-like underground organization is watching the friends. Also, everything in the house s booby-trapped for destruction.
The funny elements in the film are the result of a psychotic clown, a faceless ballerina, and an ax-wielding zombie family. It's definitely more amusing than terrifying.
Next: A teen horror flick with the creepiest museum.
12. House of Wax
House of Wax | Warner Bros.
2005's House of Wax was supposed to be a terrifying remake of the 1953 original film; however, it's mostly just an entertaining hot mess. Paris Hilton, Chad Michael Murray, and Elisha Cuthbert star in the movie that follows a group of teens who piss off some strangers on a road trip to a football game and get stranded in the creepy and empty town of Ambrose where they stumble upon a wax museum.
Not only did the wax figures look more absurd than actually scary Hilton's performance was so terrible, it is the stuff of legends. Full of snark and little ability to get into character, every single move she made in the film made us chuckle
Next: A film full of nasty red slugs.
11. Slither
Slither | Universal Pictures
First and foremost, Slither is a funny name. James Gunn's 2006 movie film follows the small town of Wheelsy where Sheriff Bill Pardy (Nathan Fillion) discovers an alien organism that threatens to devour all life on Earth. That would typically be pretty scary, but the alien life forms are these disgusting red slugs that slither into peoples' mouths and brains.
There is also a giant blob person made out of a group of folks that are infected and merged together. Yes, its super gross and funny.
Next: "Jaws" did it better
10. Shark in Venice
Shark In Venice | First Look International
2008's Shark in Venice is honestly as silly as the title. The film centers around shark who is terrorizing the folks of Venice and David (Stephen Baldwin) whose father has mysteriously disappeared while diving in the city. David stumbles across the cryptic trail leading to the long-lost fortune of the Medici.
Actually shot in Bulgaria, Shark in Venice is beyond is ridiculous and you'll probably laugh all the way through it if you can make it until the end.
Next: A movie that tried to be "Gremlins" 2.0
9. Critters
Critters | New Line Cinema
1986's Critters follows some really odd fuzzy creatures from outer space who arrive on a farm and begin terrorizing the Brown family. Though two bounty hunters from outer space arrive to try and round up the creatures, the Brown family must defend themselves and their home on their own.
The issue with Critters is that we can't take the creatures seriously, especially since Gremlins had already debuted in 1984 and it was a much better film.
Next: Basically an erotic horror version of "Game of Thrones"
8. Cat People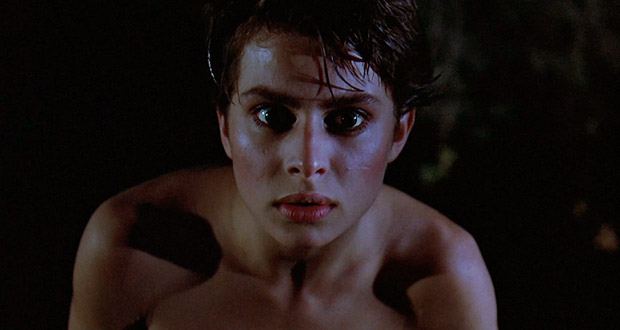 Cat People | Universal Pictures
If you ever wanted to know what an '80s version of Game of Thrones would look like as a horror film you could turn on 1982's creepy and incestuous Cat People. The Gallier family has a  dark and dangerous curse placed upon them which basically causes them to morph into animals. There is definitely more skin than blood in the film, and the morphing into cat people will make you cackle with laughter when you aren't cringing at the sex scenes.
Next: A humor-filled zombie flick. 
7. Shaun of the Dead
Shaun of the Dead | Universal Pictures
We love a zombie movie that pokes fun at zombie movies, and that's precisely what Shaun of the Dead does. The 2004 horror film follows a 30-something loser named Shaun who decided to be a hero when zombies overrun his town. By battling the zombies, Shaun hopes to win back his girlfriend.
Sean of the Dead is hilarious because it gives a zombie film a whole lot of humor while staying true to the tropes of the genre.
Next: A horror film with a walrus. 
6. Tusk
Tusk | A24
The entire plot of Tusk is beyond funny. The film follows Justin Long as a rude and devious podcaster who gets what's coming to him when he gets turned into a walrus. Seriously, he gets tortured into a walrus costume made of human skin complete with a tusk bone. It's so crazy that it's more hilarious and mesmerizing then scary.
Next: An iconic teen horror flick with some absurd one-liners 
5. Jennifer's Body
Jennifer's Body | 20th Century Fox
In Jennifer's Body, Megan Fox stars as popular high school student Jennifer who gets possessed by a demon and begins satisfying her need for human flesh with all of the boys in her high school.  When high school nerd Needy (Amanda Seyfried) discovers what's happening, she vows to stop Jennifer. More than scary, the film was zingy and fun.
When Megan Fox's character asked  "You got a tampon?" after getting stabbed, we literally howled with laughter.
Next: Part vampire flick part Joh Hughes movie
4. Fright Night
Fright Night | Columbia Pictures
Though the 2011 remake was decent, the 1985 original reigns supreme. Fright Night follows a teenage horror film enthusiast Charley Brewster (William Ragsdale) who becomes convinced that his next door neighbor is a vampire. When no one believes him, Charley must take matters into his own hands.
The reason why Fright Night is so hilarious is that the '80s flick is only partially a vampire flick and partially and '80s teen classic. Also if anything, the fashion will undoubtedly give you a chuckle.
Next: A film with an iconic Bill Murray cameo 
3. Zombieland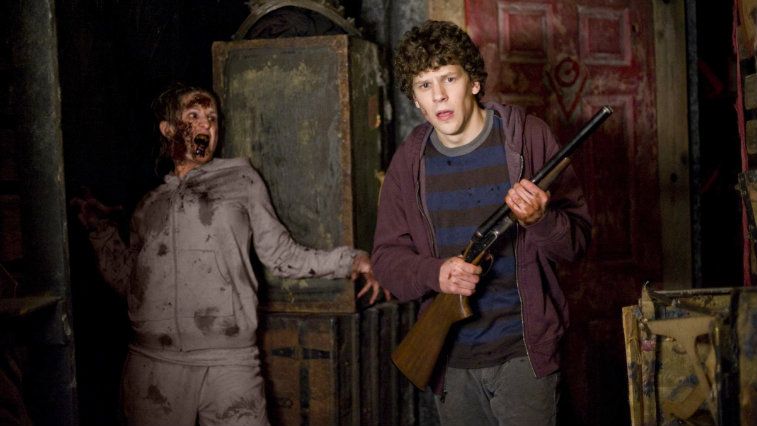 Zombieland | Columbia Pictures
Woody Harrelson and a cameo from Bill Murray are honestly what elevates Zombieland and make it a hilarious horror film. The film follows four human survivors after a virus turns most people into zombies. The four try to survive using zombie killing skills and survival rules.
There were certainly some violent and crude moments in the film, but Zombieland also had a ton of laughs.
Next: A bizarre horror comedy. 
2. Evil Dead II
Evil Dead II | Rosebud Releasing
Sam Raimi made us laugh once again with 1987's Evil Dead II. Part horror and part comedy, the film follows Ash Williams' (Bruce Campbell) return to battling horrifying demons at a secluded cabin in the woods. The brilliant horror sequences are physical and slapstick which entices more of a chuckle than a feeling of fear.
It is the perfect follow up to the original film and is much more bizarre and hilarious than terrifying.
Next: A film that put the humor in horror 
1. Scream
Scream | Miramax Films
When we think of horror and humor, the prototype is Wes Craven's Scream. The slasher film follows a menacing serial killer who haunts some teens in middle-class suburbia. Mostly, the film shows you what you should and shouldn't do when you are trying to survive a serial killer. The murderer's wisecracks also add some biting humor into the film, and if we're honest, the ridiculous death scenes might have elicited more than a few chuckles from us.
Follow Aramide Tinubu on Twitter @midnightrami.
Read more: 10 of the Worst Horror Movies of All Time
Check out The Cheat Sheet on Facebook!
Read the original article from The Cheat Sheet
This article was written by Aramide Tinubu from The Cheat Sheet and was legally licensed through the NewsCred publisher network. Please direct all licensing questions to legal@newscred.com.