For many fans, Game of Thrones is more than a show. Even more than an obsession. It's a close friend, a part of our Sunday ritual like family dinner. Game of Thrones is a fantastical escape that brings us into a new universe, a reality we can only imagine.
Until now. That fantasy has become a reality at the AT&T flagship store in Chicago. I had the privilege of experiencing the world that HBO's built there, and it's incredible.
From fighting the White Walkers to taking your seat on the Iron Throne, calculating the optimal binge watch to seeing behind the scenes footage, the GoT experience speaks to the heart of true fans. The exhibits, installations, technology, and props allow you to dig deeper on both a digital and physical level, delivering an immersive experience that makes you feel like you're a part of the show.
Come along with me on a journey of what I experienced.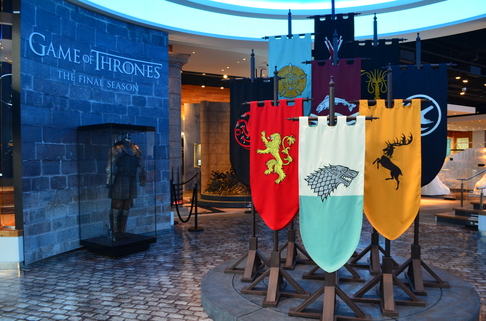 Immediately upon walking in, you're greeted by the Game of Thrones theme song and the sigils of nine different Westerosi houses. There was no fast-forwarding through this intro—I wanted to soak up every bit of GoT goodness to be had. It sets the tone for what's to come.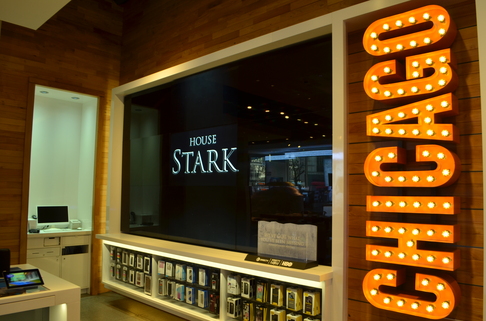 Since we're on the North Side of Chicago, it only makes sense to represent House Stark. I can get down with that.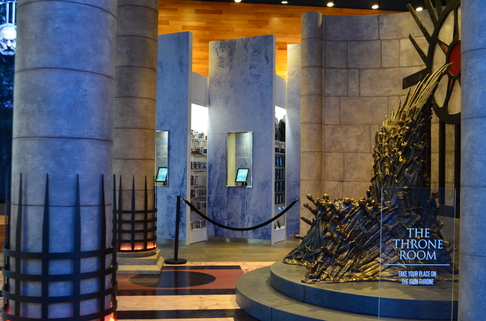 Like any fan, I immediately wanted to know was where the Iron Throne was so I could sit in it. I didn't have to look too far, as a meticulously replicated Throne Room was the first experience once you walk in.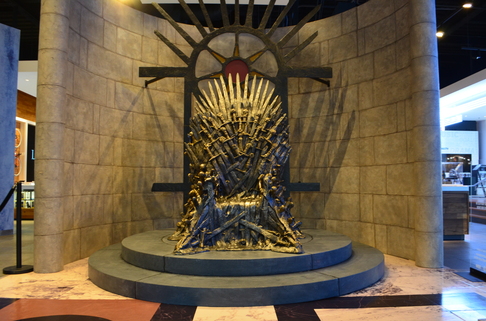 Every fantasy I had about taking my place on the Iron Throne lived up to expectations. It's majestic and authoritative, and immediately I felt a rush of power run over me. I can see why King Joffrey turned out the way he did.
Daenerys Targaryen sure looks great on that Iron Throne. But given the image quickly shifted to reveal other characters on the throne, it's hard to say what will happen!
The store knew fans are wondering the same, so they created a community-driven experience where you can predict who'll take the throne, vote on who your favorite character is, and then shares the results with you. It's a simple but engaging concept that allows you to be part of the overall Game of Thrones community.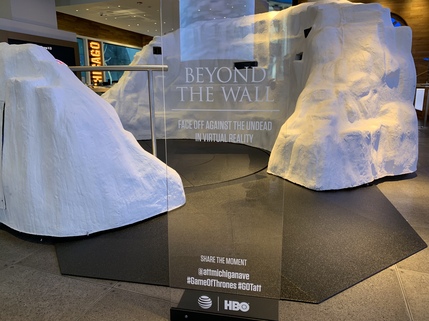 By far one of the coolest experiences was the Beyond The Wall virtual reality 4-D experience, an intense visual and physical trip. As you virtually walk beyond the Wall, cold air blows on you, the floor rumbling to simulate actual weather conditions in the North. You pick up a sword—out of nowhere, a giant bear jumps out, and you've got to take it down.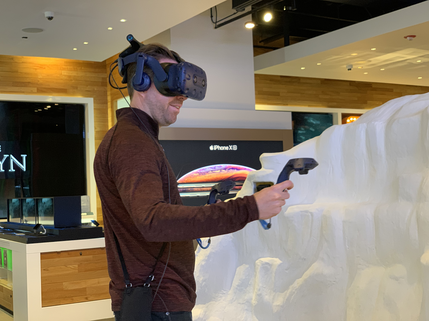 At this point I forget that I'm in the middle of a store; instead, I'm focused on channeling my inner Jon Snow and swashbuckling this bear. It's was no easy task, considering the bear's twice my size and keeps on attacking relentlessly. All the while, icy wind is blowing, really heightening all the senses.
Once I take care of business with the giant bear and my heart rate goes down, I think I'm in the clear. Nope. All of a sudden there are White Walkers and wights everywhere. They brought blizzard-like weather with them, and every direction I turn there seem to be more of them marching towards me. I don't know if the Night King's army needs to eat, but I feel like dinner, just like I did with the bear.
At this point there's only one thing that I can do: go completely berserk and start spinning around to try and take out multiple enemies at a time. Who said spending countless hours watching GoT swordplay highlights doesn't eventually pay off?!
Though I put up a good fight for the North, I'm just one man, and eventually lose the battle. Hope Jon & Co. fare better!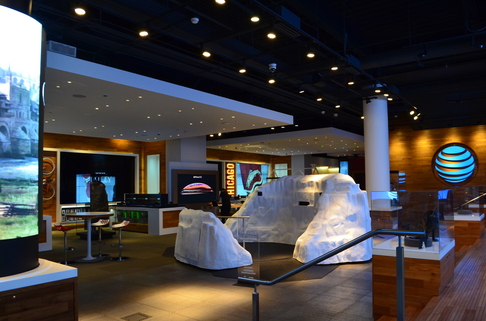 Beyond The Wall was a one of a kind VR experience that you absolutely must try. It was without a doubt the highlight of my day.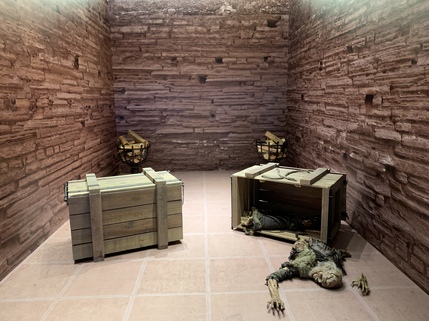 But the store's Magic Leap experience,"The Dead Must Die," is certainly no slouch. You put on a headset, which is a mixed reality experience, and it showcases both the digital and physical world from one of the most intense scenes from Season 7. It allows you to experience what it would be like to take on the Army of the Dead. You either fight them or become one of them.
What makes this experience unique is you have to interact with your environment, because the device knows what you're looking at. For example, there was a crate that kept on shaking. As I walked past it the shaking continued. It wasn't until I looked down at the crate that a wight popped out for me to fight with a sword I'd piked up.
The mixed reality environment makes the world feel especially real. It puts you in the moment and gives you a taste of what it would be like to set foot in Westeros.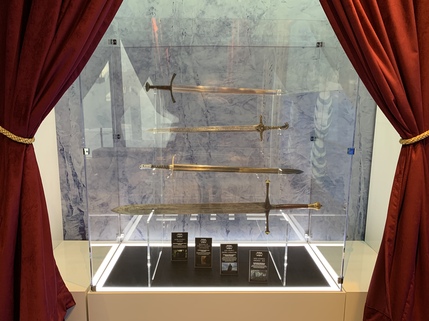 After all the fighting against the undead, I was drawn to these swords. I'll probably go with Jon Snow's Valyrian steel Longclaw for my next battle.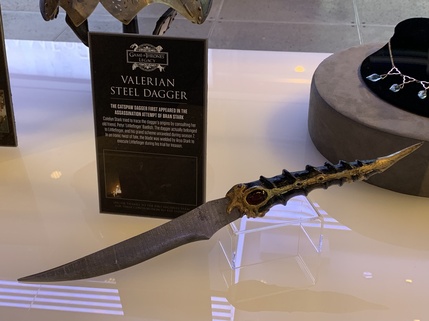 I also really liked this Valerian steel dagger. It's great for a sneak attack, though I can only hope to be as handy with it as Arya.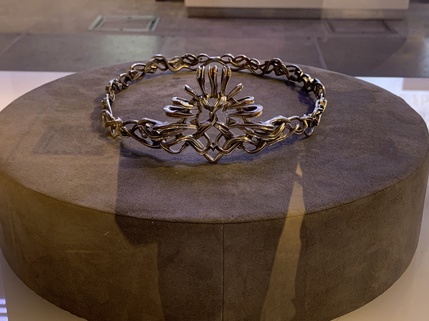 Cersei Lannister's crown, the result of six seasons of deception and murder.
After picking out my weapons of choice I was ready to fantasize about what armor I'd wear for future battles. These are actual costumes worn during filming.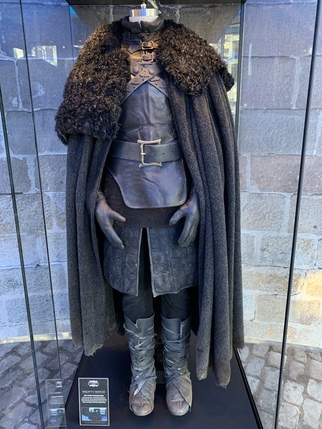 I'm partial to this kit from one of the men of the Night's Watch. Even though they don't have a set uniform, this one's got a good combination of warmth, flexibility, and style, essential even when you're guarding the realms of men.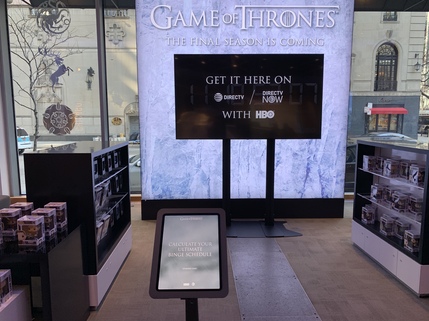 One of the most clever experiences was the area that allowed you to calculate your "Ultimate Binge Schedule." This is great for anyone who is a few seasons behind and wants to get caught up before Season 8 premieres on April 14.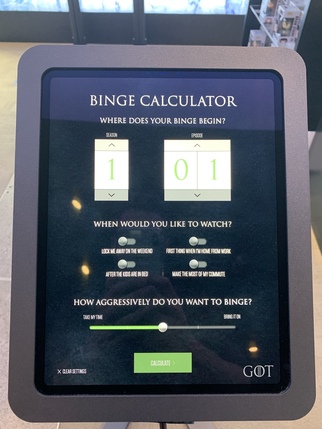 Using their Binge Calculator, you put in what season and episode you're starting from, when you would like to watch (for example, "lock me away on the weekend," or "first thing when I'm home from work"), as well as a sliding scale that determines how aggressively you want to binge (from "take my time" to "bring it on"). After that it'll create a daily viewing schedule with the number of episodes you need to watch so you can experience it all again. And even if you can't make it to Chicago, you can use the Binge Calculator online!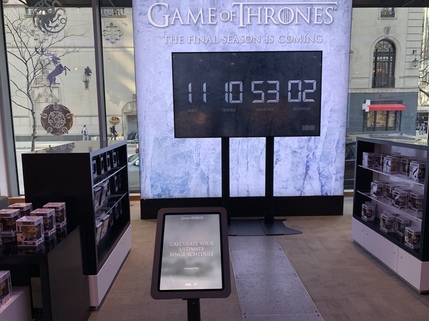 There's even a giant Season 8 countdown to increase the urgency and get you excited for the final season.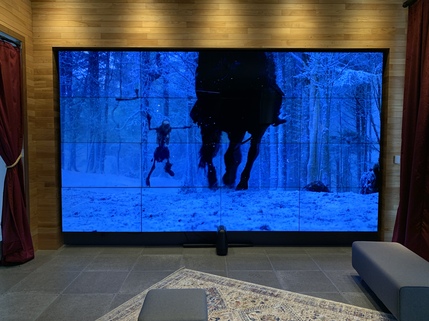 After spending several hours in the Game of Thrones experience this House Stark bannerman was tuckered out. I decided to plop down and watch some behind the scenes footage in the Watch Lounge. Think of this as the exact opposite of tagging along while your spouse shops for something you don't really care about: comfortable and entertaining. It was a great opportunity to get a look at what went into creating some of my favorite moments from the show.
We won't know who wins the Iron Throne yet, but when it comes to best fan experiences, the Chicago AT&T flagship store gets my vote. Though, for those of you not in the Windy City, AT&T flagship locations in San Francisco, Boston, and New York also have some or all of these experiences too! HBO has truly put Game of Thrones fans first with an immersive world that allows them to feel like a part of the show and take their fandom to the next level.
Now, if you'll excuse me, I'm off to binge watch the first seven seasons again. According to the Binge Calculator, I should be able to get this done!