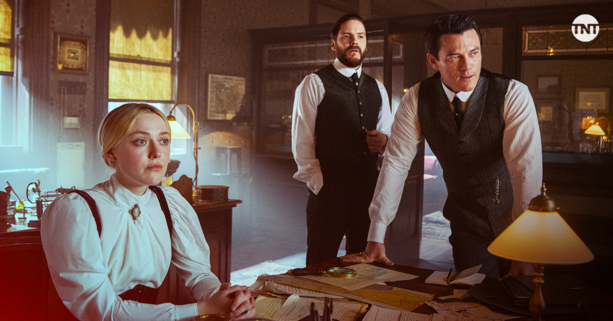 "We set out to find a monster, but all we found was a wounded child."
***** Spoilers for The Alienist Seasons One and Two follow *****
Those were Dr. Laszlo Kreizler's (Daniel Bruhl) words during the final minutes of "The Alienist's" season one finale. The finale concluded a season-long arc in which our central trio relentlessly searched for a serial killer murdering young boys in New York City. They found their killer, but just as fast as they found him, they "lost" him, so to speak, when Captain Connor shot John Beecham in cold blood, leaving the trio with more questions than answers.
Kreizler walked into the case hoping to better understand the inner workings of a monster, but upon examining Beecham's brain in death, he found a totally healthy brain. No damage, no signs of mental illness. In his own words, the killer had a "perfectly normal and healthy" brain. So what could possibly lure a perfectly normal, healthy man to murdering little boys? We will never know Beecham's true motivations, but judging by the recurring themes of season one, it all boils down to what lies at the root of humanity and what every human craves the most: connection.
Both the show "The Alienist" and the book on which it is based focus on the same recurring ideas and themes. As the book's author, Caleb Carr, told The New York Times in 1994, "The Alienist" is all about how "violent behavior is perpetuated from one generation to the next" and with that in mind, the story "explores the causes of insanity and criminality, and ultimately the nature of evil." The series stays true to such ideas, but also in terms of dissecting the nature of good.
"The Alienist" — the series, in this case — explores such ideas most clearly through John Beecham's backstory. Beecham carries into his adulthood unresolved traumas stemming from being abused and mentally scarred by both of his parents is a child. Beecham was never — in childhood nor adulthood — given the space to heal from his trauma. He was never afforded a connection with anyone who could help him deal with his demons and, as a result, he used those demons to craft a path of destruction.
The trio at the center of the story have their own demons worth dealing with throughout the season, be it Sara's (Dakota Fanning) secret regarding her father's suicide, John's (Luke Evans) alcoholism, or Laszlo's resentment towards his father for fracturing his left arm when he was younger. But they are able to work through and even relinquish those demons as the season progresses. By the season finale, Sara is able to make peace with her secret, John kicks the habit, and in the finale's final scene, Laszlo forgives his father. None of these characters would have been able to find their inner peace or motivation to become better people and do good if not for being strengthened by their friendship. And that shows the flip side to the themes of "The Alienist."
The show is just as much concerned with figuring out what inspires humans to commit good as it is with learning why we commit evil. During the same scene where Laszlo ponders on the monstrosity — or lack thereof — of Mr. Beecham, he ponders on one day learning "what compels a man to do evil…or good."
No one enters this world as a monster, and "The Alienist" painfully understands that. By that same sword, no one is born an absolute saint. It is the shape of our environment and experiences surrounding it which ingrains our moral compass and brings us to the decisions we make in life to do good or evil. The second season of the show — subtitled "Angel of Darkness" — appears to be focusing on the environmental aspect of the human condition.
The first episode of season two opens with a seemingly mentally disturbed woman, Martha, being sent to the electric chair on accusations of murdering her child (despite the child's body never being found and Martha promising she did no such thing). Prior to her execution, Laszlo Kreizler enters the frame and speaks his first works of the season: "You are not a monster, Martha. It is the world that is monstrous."
There's that word again: monster. The idea of what truly is monstrosity is promised to be explored again in season two, but in knowing what the trio experienced in season two when it comes to investigating the murders of John Beecham, it's clear that the trio knows that whoever they discover as the killer, they won't find a monster, but instead, a victim of his/her community.
In another interview with The New York Times, author Carr highlights how his novels are about the abhorrent destiny of New York City and the crimes which appear to recur over and over throughout the years. Carr suggests that there is a problem not necessarily with the characters within NYC, but the character of New York City itself as a "city [that] refuses to change." Between police corruption, poverty of its civilians, and a complete disregard for those mentally and financially struggling on behalf of the public (all things we've seen in both seasons of the show so far) is the real monster in our society.
Judging by the first episode of season two, "Angel of Darkness" seeks to get to the root of the city's problems and if those problems can ever be fixed. Laszlo Kreizler and Co. understand this after finding out their killer in season one was less of a monster and more of a victim of circumstances driven to commit monstrosities. This is reflected in the season two premiere's closing scene after the trio learns that a slain baby had been discovered.
Sara: "Who could have done this?"
Laszlo: "A person in great pain."
Rather than immediately peg the killer as some classic caricature of a literary monster, Laszlo and his team understand now that regardless of how deplorable their actions are, the killer is still a human being who needs help. Depriving any disturbed person from their community and from getting the help they so desperately need is what made them a killer to begin with. The trio were not able to get Beecham the help he needed in season one, and perhaps they'll be even more vigilant in their attempts to provide the proper justice and treatment to this season's new killer upon capture.
Now that they understand what to expect out of the killer heading into the case, maybe it'll help them get to the real monster creeping over New York City. Time will tell. We are so far only two episodes deep into "The Alienist's" second season, but we're anxious to see how old themes evolve to the forefront of our characters and their story.