Thanksgiving may look a little different this year, but this list of movies has something everyone can enjoy before or after dinner on Turkey Day – or anytime during the holiday season for that matter. Whether you're looking for a rom-com, blockbuster, indie flick, or an old Hollywood classic, these HBO Max picks are set to suit every taste.
This remake of a 2014 Swedish black comedy stars Julia Louis-Dreyfus and Will Ferrell as a married couple. If that alone is not reason enough to watch, the story follows their family unit as a ski holiday goes awry when a would-be avalanche nearly takes their lives. As funny as it is unsettling, viewers get a look into what happens when two people get to a breaking point in their relationship. Zach Woods adds even more comedic relief in a supporting role.
Sit back, relax and watch comedy veterans Steve Martin, Jack Black, and Owen Wilson play the kinds of characters they do best. As three avid bird-watchers from different walks of life, the guys decide to enter a contest to compete for one outlandish goal: crisscrossing North America to lay eyes on the most species of birds in a single year. The lovely Rashida Jones and Anjelica Huston co-star.
Action fans get a treat with the "Sherlock Holmes" series, starring Robert Downey, Jr. as the titular detective and Jude Law as Watson. The pair make for a highly watchable and entertaining duo, with fight scenes, chases, and explosions deftly intertwined with intrigue, laughs, and serious on-screen chemistry from Rachel McAdams as Irene Adler.
With a 100% rating on Rotten Tomatoes, this acclaimed drama takes a sobering look at a freshly graduated Marine who goes home for Thanksgiving before his deployment. Nick Cannon stars as the young man, who, over the course of the holiday weekend, is seen dealing with his dysfunctional family, childhood friends, and a new love interest, played by Melonie Diaz. "Stirringly told," the Hollywood Reporter says "'American Son' dramatizes a harsh social reality and tributes this nation's fighting force."
Another American remake – this time of a 1996 Japanese film of the same name – "Shall We Dance" stars Richard Gere as a workaholic Chicago lawyer facing a midlife crisis and a wilting marriage to Susan Sarandon. But when he unexpectedly discovers a passion for dance, his whole life begins to change. Jennifer Lopez co-stars as a long-time dancer and his inspiration.
Two decades later, "Cast Away" is still here to remind us that things can always get worse. Like, you could be stranded on a desert island with only a volleyball for company kind of worse. Tom Hanks stars in this unforgettable look at one of everyone's worst nightmares (but, don't worry, he survives). New York Magazine says, "Hanks's Everyman quality has never been more aptly utilized: He's the perfect stand-in for all of us who never made it to Eagle Scout."
In a very different role yet equally memorable, Tom Hanks stars in this Nora Ephron epitome of 90s rom-com magic – with none other than the decade's reigning queen of the silver screen, Meg Ryan. The film is just as much of a love letter to New York City's Upper West Side, but it's the chemistry between this classic on-screen duo that keeps us coming back for yet another rewatch.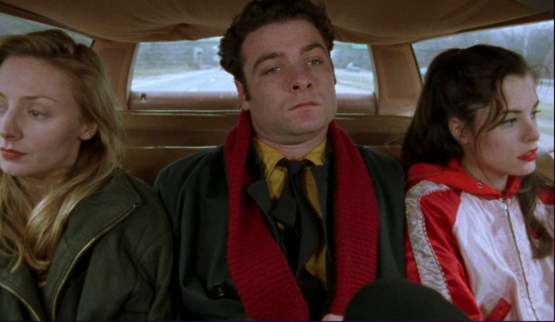 Lovers of indie cinema will get a kick out of 1997's comedy-drama "The Daytrippers," which takes place one fateful Thanksgiving weekend. When a woman finds a love letter written to her husband, she enlists her family for help to figure out what's going on. Parker Posey and the late Anne Meara star as her sister and mother, respectively, while Liev Schreiber lights up the screen as Posey's pretentious, out-of-place boyfriend. "Performed with deadpan virtuosity by a top-flight ensemble cast," Criterion calls the movie "a wry and piercing look at family bonds stretched to the breaking point."
Closing out with a classic, 1956's "Giant" stars three of Old Hollywood's hottest talents: James Dean, Rock Hudson, and the inimitable Elizabeth Taylor. The sprawling story is based on the novel by Edna Ferber and centers on Texan life and its oil industry of yore, featuring a backdrop of the state's sweeping landscapes. But, "it is the late James Dean," reviewed The New York Times, "who makes the malignant role of the surly ranch hand who becomes an oil baron the most tangy and corrosive in the film" – which also happens to feature a memorable Thanksgiving scene with Pedro the Turkey: