I miss the firetruck on the way in, though I can't tell you how I managed to do that.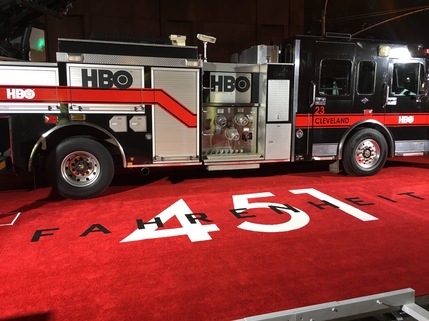 Rushing toward the white tent set up outside the NYU Skirball Center, I don't process the vehicle, covered in black and HBO® logos, until I'm setting up inside. It's my first time covering red carpet interviews and I was distracted by logistics I guess.
Inside the tent, there is an audible buzz. And it is not just the fans set up to keep us all cool under the bright photographers' lights. The list of attendees for the event is six pages long. It seems every celebrity in New York City wanted to attend this premiere. Taking my little spot between other news crews, I wonder how many of these extremely famous people would actually want to chat with us. I wonder if I'd see them at all or if they'd each be a blur in the parade of attendees.
And then they arrived.
The arrival of each new guest is heralded by hundreds of light bulb flashes as they stand for a photo-op by the sign at the front. After a few minutes of this, they make their way down the line talking to the films crews and the handheld mics that each reporter extends toward them.

Executive producer Sarah Green stops to chat with us, discussing the importance of telling this story at this time and the addition they made to their version of dystopia: a home assistant-like device called Yuxie. She sees the change as a warning targeted directly at us: don't let technology replace privacy. "My hope is that in 65 years they'll say 'How could they think this could happen?' and not 'Yes, so?". I agree completely…as I raise my phone to take her photo.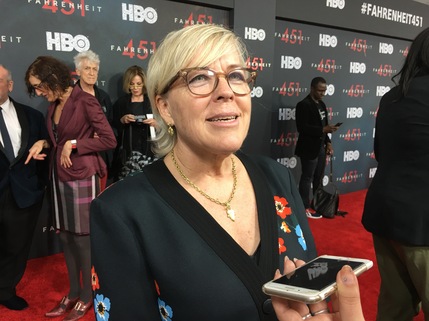 More and more people walk the red carpet. I can hardly believe the sight of Gbenga Akinnagbe, fearsome enforcer Chris Partlow of The Wire and, currently, fearsome pimp Larry Brown of The Deuce, smiling and laughing with old friends he runs into. Under his polished blazer, his shirt reads "The Patriarchy is a Bitch". Then I catch a glimpse of Beth Pearson herself, Susan Kelechi Watson, standing feet from me. Her powerful presence isn't done justice on screen (and she seems very powerful there). My heart pounds from the proximity.
But there's no sight of the man of the hour – star and Executive Producer Michael B. Jordan. The other reporters confirm that he is probably going to be the last to walk the carpet. Glancing at my watch, I begin to worry. Would there even be enough time to say hi?
There could be no doubt that he'd arrived when a cheer erupts outside the tent. The cameras' lights flash twice as quickly as he poses with his co-stars and writer/director Ramin Bahrani. But my fear is confirmed as the group is then escorted into the theater to introduce the screening, bypassing the reporters altogether. We stand there for a few moments, some dejectedly begin to pack up their things. Until a talent rep announces that he is coming back.
And, minutes later, back he comes. To find a star in Hollywood willing to walk out of their own premiere to talk to the press when that's all he'd been doing for days on end is a rarity. To find one who does it with as much poise and as gracious a spirit as Michael B. Jordan is next to impossible.
By the time he gets to me, I can hear his voice beginning to get hoarse. It has been a long day for him, and an emotional rollercoaster for me. So, after saying I loved the film, I simply ask him to smile for a photo. He obliged.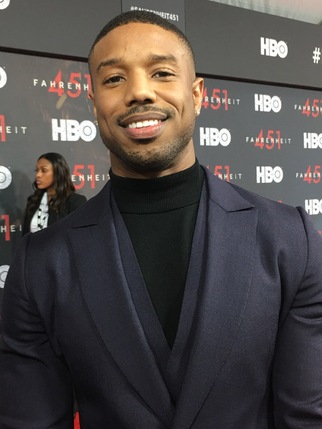 Fahrenheit 451 premieres May 19th on HBO®

Advertisement
Julia Leffler is a digital strategist and producer at DIRECTV. In her spare time, she enjoys taking her dog to the park and watching as much TV as she can. If she had to commit one book to memory to preserve it, it would probably be The Amazing Adventures of Kavalier & Clay by Michael Chabon.