More than any time in recent history, we find ourselves in a moment when people the world over are turning to what's closest to us, both physically and emotionally. We're learning to find meaning in what's nearby, whether it's the herb gardens on our fire escapes or our immediate neighbors, to bloom where we're planted.
In this time of isolation and anxiety, video games can be a potent diversion. But "Mutazione," an indie adventure game which debuted in September 2019, models a way for players to live fully in the world rather than to simply escape from it.
Billed as "a mutant soap opera where small-town gossip meets the supernatural," "Mutazione" follows Kai, a teenage girl who journeys to an isolated community to care for her bedridden grandfather. In the wake of a century-old disaster, the island is peopled by mutants of all shapes and sizes. But far from being X-Men-esque superheroes, the denizens of Mutazione are mostly concerned with the minutiae of everyday life, whether it's relationship squabbles or frying up lunch at the local restaurant. It's a small-town drama, except some people are green, and some people are cats, and also there's a sentient glob of gelatin who lives in a cave and doles out wisdom.
In the course of the game, the player, as Kai, gets to know the residents of the island and its complicated history and learns about her grandfather's art of planting and nurturing gardens that make music as they grow. You can also take breaks from the story to play in Garden Mode, in which you can use seeds you've gathered to cultivate your own plot over time, creating a patch of flora that's both visually and aurally pleasing.
"Mutazione" is the result of a decade-long development process from Die Gute Fabrik, a small game studio based in Copenhagen. The brainchild of founder Nils Deneken, the game eventually grew to include an international team of designers, animators, musicians, programmers, and story collaborators — including music and audio designer Alessandro Coronas, who created the game's uniquely soothing soundscapes.
Hannah Nicklin, a British writer with a background in theater and interactive performance, was brought on to help develop the story and dialogue of "Mutazione" in 2017. Within two years, Nicklin became CEO and studio lead of Die Gute Fabrik, advocating for the final phase of funding that enabled "Mutazione"'s release. (It's now available on Apple Arcade, Windows, Mac, and PlayStation 4.)
"I always wanted to creatively lead a story-driven game studio, but I had imagined it was going to take me a lot longer to get there," Nicklin said, speaking via phone from the U.K. "I was really lucky to have the trust of the founders of the company."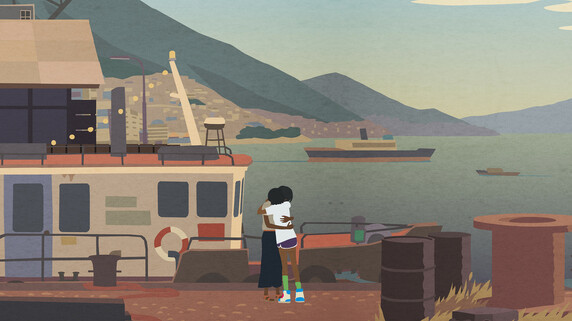 Using the basis of the story and the characters Deneken had conceived, Nicklin brought her own influences and background to bear on the world of "Mutazione." The game was designed to be an ensemble-driven story rather than a hero's journey, and Nicklin was interested in making sure that all the townspeople's stories were fleshed out, and that the island felt like "a very real community that existed before you and will exist after you." She drew inspiration from sources as wide-ranging as "Star Trek: Deep Space Nine," "Grey's Anatomy," and the films of Studio Ghibli, which Nicklin said "luxuriate in the domestic."
"I think that's a quality of storytelling that soap opera has, is that it can examine one community with the mundane next to the sublime because that's what our lives are. They are full of boring moments and silly things. And then, also, there are these domestic dramas which are very real and are huge for the people living through them, which will always speak to the big-P politics," she explained.
Time in "Mutazione," divided by hours and days, can move as slowly or fast as you want, depending on whether you're more interested in forwarding the main storyline or in immersing yourself in the town and its rhythms. Though it's possible to play through the game in one sitting if you only focus on the A-plot, Nicklin encourages players to take their time and explore.
"A lot of drama in games is almost falsely or exhaustingly compelling, where it's about putting a clock on it, or whether or not you can achieve a thing," she said. "And hopefully, by using plot to be compelling, and by empowering the player to find their own pace, we give different players different ways to exist. People should play how they want to; but there is more that you can get out of it by playing it at a gentler pace. I think that there is something to be said for coexisting with a community over a period of time."
Another major area of focus for Nicklin was how "Mutazione" grappled with themes of colonialism, based as it is around the story of a marginalized culture that has been by turns exploited and ignored by the outside world. When she joined Die Gute Fabrik, Nicklin said, "it felt like those themes were just there, basically, and that I really should be tackling them in order to tell this story in a way that was ethical."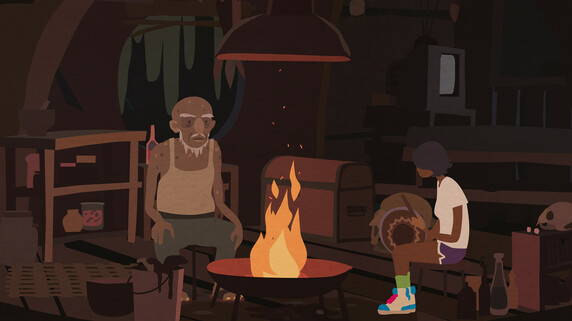 Nicklin brought in Tanya DePass, founder of the nonprofit organization I Need Diverse Games, as a diversity reader for the "Mutazione" script. "Tanya gave me some really useful feedback because, you know, not least that Kai is a brown woman. And, certainly, anytime you use mutants as a rhetorical presence in a work, they are already speaking to ideas of difference," she said.
As the world has grown increasingly uncertain, Nicklin has heard from a lot of people who are finding solace in playing "Mutazione." But she's hopeful that the game can be about more than pure escape. "I am very humbled and honored that what we have built is something that people are finding relief and retreat in. And I also hope that 'Mutazione' is not a world to vanish into — that it still speaks to our world. I think that a lot of games try to whisk you away, and it's like you don't exist for an hour. And I don't really believe that immersion is politically valuable nor socially useful."
In recent months, as the effects of the COVID-19 pandemic and protests against police brutality have brought societal issues into sharp relief, Nicklin has found unexpected resonances in the game, which is about, she said, "what it means to exist in a before and an after, what it means to live through, and what it means to build a community."
"Mutazione is a community that, in some ways, you could say maybe is a little too hopeful. But, to me, I have written a community that doesn't have recourse to a legal structure or a police state. They really do have to work shit out themselves, or they will have to live with it. So I think that a lot of the utopianism of the game is down to the fact that this is a community that has to practice transformative justice, because they can't outsource their conflict to anyone else."