Whether spending time with family or cozying up by yourself, there's a lot to be thankful for this season, including tons of great things to watch. Explore some of the events, sports, and delicious shows that will make November even more entertaining.
'Yellowstone' – Paramount Network – Sundays 8/7c
Everyone's favorite cattle ranchers are back and still doing their best to maintain their legacy and sprawling land – and the premiere was just as exciting as we hoped. Gallop over to Paramount Network to watch the rest of Yellowstone Season 5 on Sundays.
Get caught up with the entertainingly violent saga with our Yellowstone Season 5 Guide.
'Holiday Baking Championship' – Food Network – Mondays 8/7c
Just in time for the holidays, three teams of gingerbread artists will go head-to-head to build the most spectacular and tasty creations – and the sugar on top? A $10k prize! See what kind of sweet designs they come up with on Food Network. 
'Pickled' – CBS – November 17
Pickleball's popularity has taken off recently and to punctuate its rise, celebrities are coming together to try their hand at the sport. Emma Watson, Murray Bartlett, and Kelly Rowland are just a few that will pick up the paddles at the Stephen Colbert-hosted pickleball tournament on CBS.
American Music Awards – ABC – Nov. 20
Celebrate some of the year's best music, see live performances and revel in the emceeing talent of Wayne Brady at the 2022 American Music Awards on ABC.
FIFA World Cup Qatar 2022™ – FOX/FS1 – Nov. 20 – Dec. 18
'Tis the season when Soccer takes the world's stage. As you get ready to rally behind your favorite teams and countries find out how to watch the matches and explore the schedule with our FIFA World Cup Guide.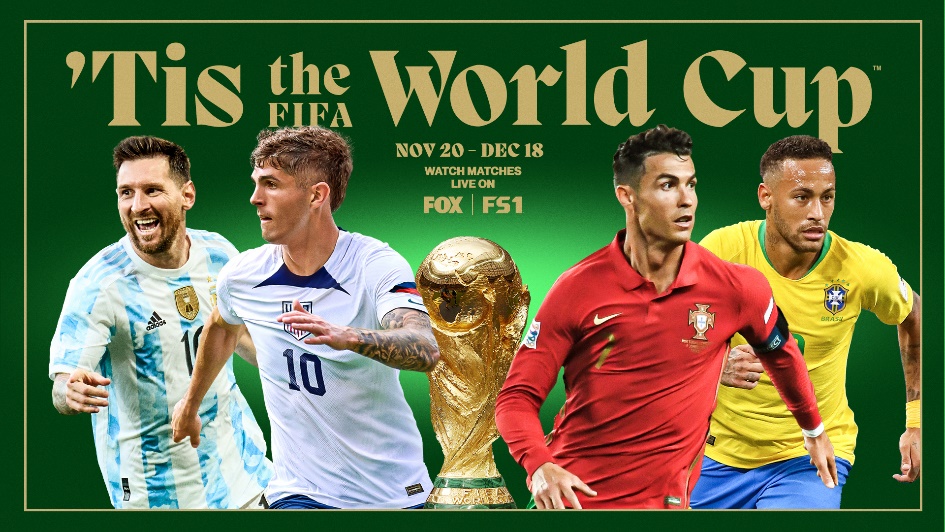 Macy's Thanksgiving Day Parade – NBC – Nov. 24
The quintessential American tradition is back on Thanksgiving Day and will broadcast into living rooms all over the country. Get in the spirit with last year's feature on the world-famous balloons.
2022 NFL on Thanksgiving Day – CBS/FOX/NBC – Nov. 24
This Thanksgiving, the NFL is gifting fans a triple header to ensure football can be on all day. Watch all three games across CBS, FOX, and NBC.
Buffalo Bills-Detroit Lions on CBS (12:30 p.m. ET)
New York Giants-Dallas Cowboys on FOX (4:30 p.m. ET)
New England Patriots-Minnesota Vikings on NBC (8:20 p.m. ET)
All games will be featured in 4K to DIRECTV Satellite customers.
Soul Train Awards – BET – Nov. 27
Continue the celebration of music with the Soul Train Awards hosted by comedian and actor, Deon Cole on BET. Get ready for live performances, impactful moments, and of course, tons of surprises.
'Southern Hospitality' – Bravo – Nov. 28
Bravo's latest spinoff, Southern Hospitality makes its debut on Nov. 28. Taking nods from Southern Charm, this new show peeks behind the velvet ropes of Leva Bonaparte's Republic Garden & Lounge.
Holiday Movie Favorites – Ch. 1000 – Dec. 1
There's no better time to host a movie night and starting on Dec. 1 you can explore a variety of favorites including A Christmas Story (TBS), ELF (AMC/TBS), Four Christmases (AMC/TBS), National Lampoon's Christmas Vacation (AMC/TBS), The Polar Express (AMC/TBS), DR. SEUSS' HOW THE GRINCH STOLE CHRISTMAS! (TBS), Christmas with the Kranks (AMC), The Holiday, All I Want for Christmas (AMC), Beethoven's Christmas Adventure (AMC), and Arthur Christmas (TBS). Availability is subject to change. 
Find even more shows to keep you (and your friends and family) entertained over the
'The White Lotus' – HBO® – Sundays 9/8c
Season two journeys to The White Lotus Sicily, but alongside the elegant hospitality is the same dysfunction and hilarity that its Hawaii branch had to offer. Watch The White Lotus on HBO® Sundays at 9/8c.
'Cribs' – MTV – Thursdays 9/8c
We are again welcomed into celebrities' homes to appreciate their extravagant lifestyles and outlandish taste. The early aughts pop culture favorite is back on Thursdays on MTV.
'The Really Loud House' – Nickelodeon – Nov. 3
What happens when The Loud House gets even louder? We'll find out when the Loud family ventures into real life with The Really Loud House on Nickelodeon.
'Lopez vs. Lopez' – NBC – Nov. 4
You think George Lopez is stubborn? Wait until you meet his daughter. In Lopez vs. Lopez, we find out who will prevail when they face off on NBC.
NASCAR Championship Weekend – NBC – Nov. 5-6
The NASCAR Cup Championship will take its laps on the Phoenix Raceway over the Nov. 5-6 weekend in a showdown for the series' top prize. Gas up for the big event on NBC.
'SPECTOR' – SHOWTIME® – Nov. 6
This four-part documentary dives deep into the life of an enigmatic producer Phil Spector and the night actress Lana Clarkson died in his mansion. Dig into this captivating true story on SHOWTIME®.
'Dangerous Liaisons' – STARZ® – Nov. 6
This new historical fiction series preludes the classic story of love and war set in pre-revolutionary Paris. Get involved in Dangerous Liaisons on STARZ®.
'Hard Knocks In Season: The Arizona Cardinals' – HBO® – Nov. 9
The highly acclaimed reality series Hard Knocks now gets behind the scenes, and clipboards, with the Arizona Cardinals. See what Hard Knocks this NFC West contender goes through this season.
56th CMA Awards – ABC – Nov. 9
Hosts Luke Bryan and Peyton Manning will lead us through the 56th Annual Country Music Association Awards show during its live broadcast on ABC from Nashville, Tennessee.
Get DIRECTV now so you never miss your favorite shows!