Wild finishes, questionable calls, and top plays: just another week in the NFL. We'll give you all the 2018 NFL news you can handle in under three minutes each week. (Disclaimer: You can stay longer than three minutes. Time is relative.) Here's the best of the NFL from Week 1.
How Fitzpatrick Ruined The First NFL Sunday Of The Year
That wailing you heard coming from TV rooms across the country Sunday? Incredulous Chicago Bears' fans aside, it had to be the countless folks who saw their Survivor pools blow up in their face, thanks to Ryan Fitzpatrick and the Tampa Bay Bucs. After all, picking the New Orleans Saints was the smart way to go, right?
The Saints were the biggest favorite on the board and they were playing in the Superdome, where Drew Brees often racks up huge passing numbers at will. And they were going against a 35-year old backup quarterback best known as the guy who went to Harvard. But that's why they play the game.
In place of Jameis Winston, who is suspended for the first three games of the season, Fitzpatrick not only stunned the Saints by throwing for 417 yards and four TDs in the 48-40 win, he set up the potential for a QB controversy in Tampa.
It's not like Fitzpatrick hasn't had success before. Two seasons ago, he nearly led the Jets to the playoffs—before his habit of untimely interceptions reared its ugly head. Still, nobody could have seen such a day coming on the road against the Saints. And if #FitzMagic continues to play well, the only question will be whether Winston will be assured of getting his starting job back when eligible.
Meanwhile, if you're in a survivor pool that offers second chances, you might want to avoid picking the Philadelphia Eagles this week. They're in Tampa. Beware the bearded QB.
The Khalil Mack Show feat. Aaron Rodgers
What, you didn't see the Aaron Rodgers' miracle comeback? You believed the dire predictions on NBC that he was out for the game, with that first-half knee injury, if not the year, and went to sleep at halftime? Come on, you've seen Rodgers' do this before, once taking the Green Bay Packers to the playoffs while limping around on a torn calf muscle.
At halftime, the trainers did a discount double-check on his knee and he was cleared. You had to know he'd come back. He's Aaron Rodgers.
He's either got Brett Favre-like pain tolerance or a flair for the dramatic, or maybe both, but either way, Rodgers rallying the Packers from 20-0 down against the Chicago Bears made for one of the most compelling games of any season.
In pulling off the 24-23 win, in fact, Rodgers' not only added to his legacy as an all-time great but changed the narrative on a night when the newest Bear, Khalil Mack, was wreaking havoc all over the field and the stat sheet: 2 tackles, 1 forced fumble, 1 fumble recovery, and 1 interception returned for a TD. Mack did everything in his power to make Jon Gruden and the Raiders look like fools for trading him.
Actually, though Mack may have run out of gas in the second half, there was still no hiding from the notion that the Bears are a dangerous team now, in large part because of his presence. But don't count on them to beat the Packers in the NFC North this season. Not as long as Rodgers is upright.

Bill O'Brien Doesn't Seem To Get It
Say it isn't so, Bill O'Brien, who earned coaching gaffe-of-the-week honors. No doubt the Houston Texans got jobbed by the referees in their loss to the New England Patriots, when replay officials failed to stop play in the final two minutes of the first half to review a questionable catch by Rob Gronkowski.
But that doesn't get O'Brien off the hook for being asleep at the switch. Or worse, for insisting it wasn't his responsibility to call a timeout there. "That's not my job, to make their job easier," O'Brien told reporters after the game. "If I call a timeout and they rule it a catch, now the Patriots have more time to put a play together."
Ok, but more importantly, is it your job to win the game? Herm said it best…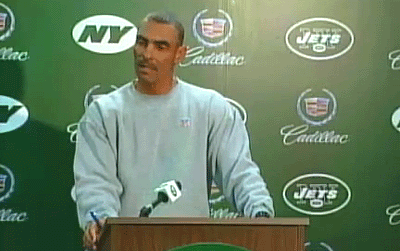 Calling timeout before Tom Brady could hurry and get off the next snap would have forced a review, and probably overturn the 28-yard catch that was the key play in a TD drive that put the Pats ahead 21-6 at halftime. The difference at the final whistle was in fact seven points, with the Pats winning 27-20. Every play matters.
How Cam Won The Day Over Prescott, On And Off The Field
It's bad enough that QB Dak Prescott looked lost without his former security blankets, Jason Witten and Dez Bryant, as the Cowboys' offense was shut down in a 16-8 loss to the Panthers. But then he showed up at his post-game press conference in a powder-blue suit with a white bow tie, with blue suit color boring a resemblance to the Panthers signature shade. If you can't beat 'em…
Meanwhile, Cam Newton never fails to push the fashion envelope. He showed up at his presser after the win over the Cowboys looking like a cross between Prince, Jimi Hendrix and Cruella de Vil, and, well, when you're 6-foot-6 and you can quarterback like him, you can pull anything off.
Almost anything.
Let It Go, Already, Rex
Not that Rex Ryan is bitter or anything about being fired by the Bills, but he sure jumped at the opportunity to blast current coach Sean McDermott— without ever naming him—for starting QB Nathan Peterman in Buffalo's embarrassing 47-3 loss to the Ravens.
"Have we seen enough of this cat yet?" Ryan crowed on ESPN's "Get Up" show. "There's a lot of classroom quarterbacks, they're great on the chalkboard and in the film room and all that. But put 'em on the field and they can't find Black Beauty in a field of white mice. That's this cat right here."
Ouch. The Bills were looking to protect Josh Allen, the No. 7 pick in the draft, from a lousy offensive line, after he ran for his life at times during the pre-season. Now they really have no choice, as poorly as Peterman played, so Ryan is right in that sense, but he was a little harsh. But that's just Rex.
McDermott obviously heard Rex, though, and the bIlls fans, naming Allen the week 2 starter against the Chargers.
Saquon's Spectacular Run Justifies Giants' Pick…Or Does It?
Saquon Barkley had the run of the day on Sunday, a 68-yard TD scamper that was all you needed to see why the Giants made him the No. 2 pick in the draft, and yet their 20-15 loss to Jacksonville provided equally compelling evidence as to why they likely made a mistake by passing on a potential franchise quarterback.
Maybe Eli Manning can still prove his bosses right for believing he can win a championship in his late 30s, but he hurried throws in critical moments and missed potential TD connections with Odell Beckham Jr. as a result.
If Manning can't put more points on the board with two such dynamic offensive weapons, and that's not even including Sterling Shepard or Evan Engram, the Giants will always regret their missed opportunity not picking Sam Darnold.
The Highs and Lows Of Monday Night Mayhem
Rookie QB Sam Darnold was so impressive that even fatalistic Jets' fans—is there any other kind?—were suddenly convinced this is the kid who is going to end their Super Bowl drought, which has reached a half-century. Maybe it won't happen this season, but if the 48-17 beatdown of the Lions in Detroit was any indication, with Darnold bouncing back from a pick-six on his very first pass, the Jets have finally found their answer at quarterback.
Meanwhile, LA Rams' fans were already more than ready to believe this could be their year, and the 33-13 win over the Oakland Raiders was more reason to buy in, as the Rams looked like a complete team ready to make a Super Bowl run.
The same could not be said of the losers Monday Night, of course, as the brunt of criticism fell on new coaches Jon Gruden of the Raiders and Matt Patricia of the Lions. Gruden, after all, was already taking heat as the perceived force behind the decision to trade Khalil Mack, and his defense's peformance only added fuel to that fire, wilting in the second half.
And in Patricia, Lions' fans assumed they were getting a defensive whiz, since he ran Bill Belichick's defense for the New England Patriots, so for Detroit to give up 48 points was enough to fear another Marty Mornhinweg era in the making.
Actually, it was a bad weekend for all new coaches, as they went 0-7 in their debuts with their teams. It's just that more was expected from Gruden for his $100 million contract, and for, Patricia, who was smart enough to graduate from Rensselaer Polytechnic Institute.
Catch every Sunday afternoon NFL game with NFL SUNDAY TICKET from DIRECTV.*
DIRECTV not available for you? Not a problem. Get NFLSUNDAYTICKET.TV.*
*Out-of-market games only. Select int'l games excluded.