New month, new Netflix streaming options. You know the drill! Read on to discover the new movies, series and specials coming to a screen near you this April. 
New and noteworthy movies
From fantasy and rom-com to a kid-friendly pick, check out these fresh new films coming to Netflix this month. 
April 7: 'Chupa'
Produced by Chris Columbus (Home Alone, Harry Potter and the Sorcerer's Stone, Gremlins) and directed by Jonás Cuarón — son of celebrated Mexican filmmaker Alfonso Cuarón (A Little Princess, Great Expectations, Y tu mamá también) — Netflix's brand new fantasy family film is definitely built on some serious star power. 
Based on the Latin American myth of the blood-sucking chupacabra, this kid-friendly flick takes the story in a new, adorable direction. "Our goal was to create an incredibly cute creature based on a terrifying legend," the director tells Tudum. Christian Slater stars as the scientist who's tracking the creature, being kept by a little boy á la E.T. the Extra-Terrestrial. 
In fantasy that's more for mature audiences, we've got the highly anticipated feature-length follow up to the hit television series, The Last Kingdom. Fans have long awaited the historical drama that starts where the show left off, with heirs and invaders vying for the crown following the death of King Edward. Game of Thrones fans, where have you been? There's still time to binge the series if you start now.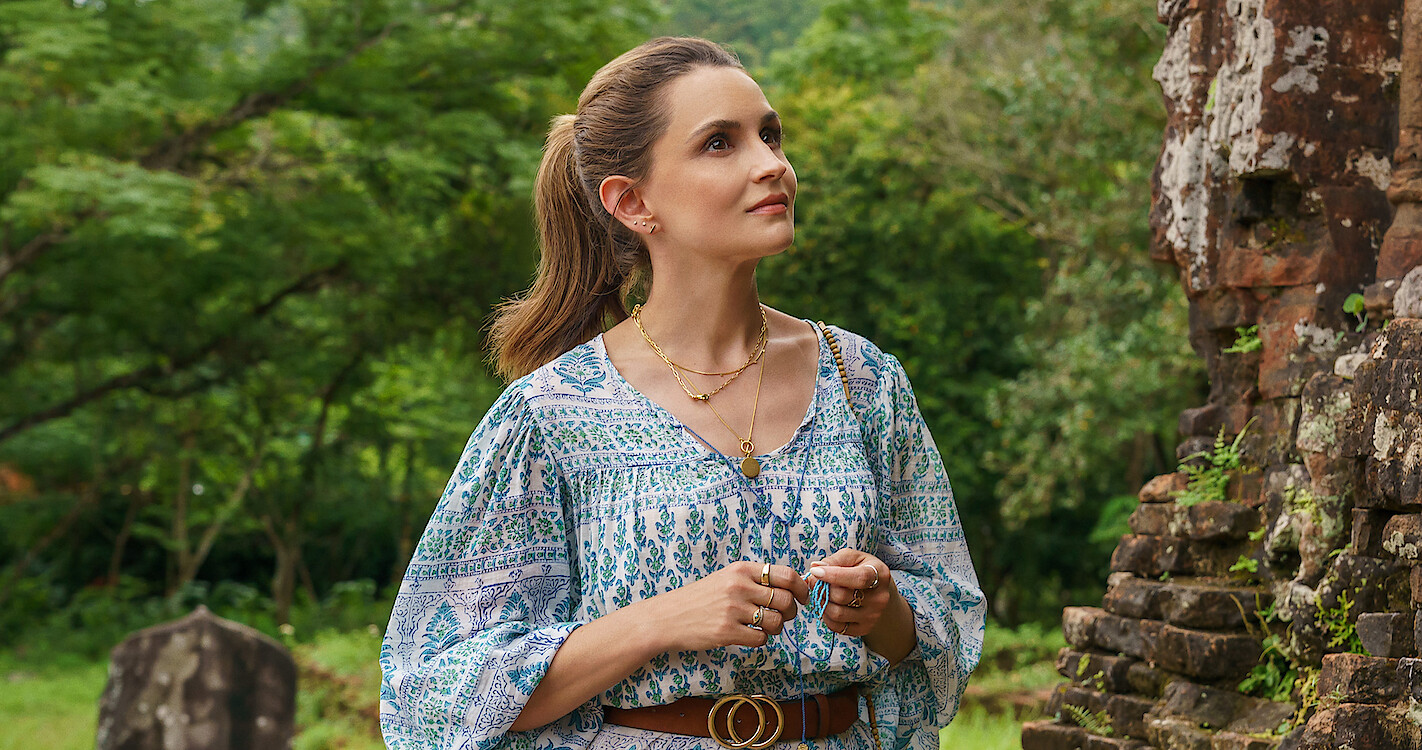 1990s rom-com sweetheart Rachael Leigh Cook (She's All That, Josie and the Pussycats, The Baby-Sitters Club) comes back to the big screen in a Netflix original that promises to be a fantastic addition to the genre. It follows Amanda, a travel exec who goes undercover to Southeast Asia on a group tour after ending up unexpectedly heartbroken — until she meets a local guide (Scott Ly) who's full of life, love and adventure. 
As the first U.S. film to be entirely shot in Vietnam, it marks a historical moment in cinema. "There are almost no American movies set in Vietnam that aren't about the trauma of war," screenwriter Eirene Tran Donohue explains to Tudum. "It was really important to me to tell a story about life now. One that was full of joy and love and celebration. I wanted to change the conversation about Vietnam, to highlight it as a modern thriving country whose stories are worthy of being told." 
New specials and series
Buckle up for another Netflix original comedy special this month and three exciting new shows to watch. 
Grammy-nominated, Oscar and Golden Globe award-winning actor and comedian Mo'Nique (Precious, Bessie, Almost Christmas) is back with a new stand-up special that gets more honest than ever. Drawing on an incredible 32 years worth of industry and personal stories to tell, fans are sure to tune in come Tuesday, April 4. 
April 6: 'Beef'
This new dark comedy stars Ali Wong (Always Be My Maybe, Onward, Father Figures) and Steven Yeun (Minari, Nope, Sorry to Bother You) as two strangers whose lives cross after an incident of road rage. She's a self-made entrepreneur with money and a hot husband; he's a down on his luck contractor from humble beginnings. "Throughout the 10-episode series," Tudum reports "their feud consumes them as their lives and relationships become intertwined in more ways than one." 
"It's a dream team, and I'm honored to be collaborating with them," showrunner Lee Sung Jin told Netflix. "I'm also grateful to the guy who yelled at me in traffic three years ago. I did not let it go, and now we have a show."
History buffs, take note! In a totally different place and time, Gillian Jacobs and Cory Michael Smith star in a new, seven-part period drama series from Netflix. Based on the novel The Flight Portfolio by Julie Orringer, the show follows the true story of the Emergency Resume Committee, which helped many noted artists and writers escape Europe and find refuge in the United States during WWII. 
In another limited series, a disgraced cop (Édgar Ramírez) finds himself in debt and on a shady gig that takes him back to his home state of Florida, where all hell breaks loose. Assigned to find a mobster's runaway girlfriend (Abbey Lee), what should have been an easy few bucks turns into a neverending nightmare — when all he ever wanted was to do the right thing. 
Critic's picks and fan favorites
Some big names are coming to Netflix this month. Don't miss out of the following critically-acclaimed selection.
Jennifer Lawrence, Bradley Cooper, Amy Adams, Christian Bale and Jeremy Renner round out an all-star cast in American Hustle, a fictionalized take on a real-life FBI criminal case from the 1970s investigating bribery and organized crime. With a 92% Certified Fresh rating on Rotten Tomatoes, it's a crowd- and critic-pleaser alike, but according to Artforum, "The movie's greatest strength [is] Russell's magnanimity toward his characters, an equable, never cloying embrace of their imperfections."
Another real-life story based on the best-selling memoir Guantánamo Diary, the film follows Mohamedou Ould Slahi's (Tahar Rahim) struggle for freedom after being detained and imprisoned for years without charge by the U.S. government. Jodie Foster and Shailene Woodley co-star as the defense attorney and her associate's fight for justice alongside military prosecutor (Benedict Cumberbatch) in this intense watch.
Tom Hanks and Julia Roberts pair up in the fight against the Commies as the titular congressman and Texas socialite who, along with a FBI agent played by Philip Seymour Hoffman, come together to boost funding for Afghan freedom fighters against the invading Soviets. It's a hit that holds up, but we'll watch anything with the late, great Hoffman whose "rumpled, cranky spy is hilarious — George Smiley by way of Jack Black — but with an edge of quiet ferocity that makes every scene he's in play a little sharper," according to The New Republic.
How to Get Netflix with DIRECTV
You can access Netflix with your internet-connected DIRECTV STREAM devices. Simply access APPs through the APP store on your device and add Netflix. You can even pick up shows where you left off using the Continue Watching feature.