Adapting a book for the screen can be daunting. Movies often face the problem of having to condense a beloved novel or book series into just two to three hours of screen time. Television gives writers the luxury of taking 10+ episodes to get the adaptation just right, but TV writers still have to decide what to include and what to cut. In fact, even with having more time with which to craft their story, TV writers are often challenged by having to construct narrative arcs for each individual episode. Most source material does not have the natural dramatic rise and fall as frequently as is needed for episodic television. Plus, a popular novel or author particularly beloved by its fanbase presents an even more sensitive issue, as those are the people who will undoubtedly make up a large portion of the viewing audience and will watch every choice the writers make extremely closely.
In recent years we've seen adaptations that run the gamut—from staying true to the source material to completely throwing the original plot out of the window. HBO's Game of Thrones, for example, has largely hewed to George R.R. Martin's original books. While there may have been a few changes here and there (omitting Lady Stoneheart altogether; wedding Sansa to Ramsay Bolton), none of the changes have distorted the overall plot of the show.
The same can be said for Diana Gabaldon's immensely popular Outlander series, of which Starz is currently adapting the first six books (and counting). At times, the show juggles events in order to create effective dramatic arcs for individual episodes but, by and large, the show is a faithful adaptation of the books. What's even more incredible about Game of Thrones and Outlander is that they're based on such lengthy novels. The fact that the writers successfully make it through one book per season is a TV feat in and of itself.
By contrast, the writers for Freeform's teen drama Pretty Little Liars and The CW's sci-fi epic The 100 chose to diverge wildly from the original source material. Both shows, while originally based on popular YA series, started becoming their own creative force after one or two seasons. The 100, in particular, has used the books as the most basic outline for the series, later becoming more akin to Battlestar Galactica (2004) than the source material.
Both methods of adaptation are valid, though pulling off a TV series that veers away from the books seems to be a bit trickier. Writers who go this route run the risk of alienating the original fanbase—Pretty Little Liars ran into this problem with the seasons sandwiched in the middle when the writers were forced to incorporate wild twists out of thin air in order to keep the show going until its end in season seven.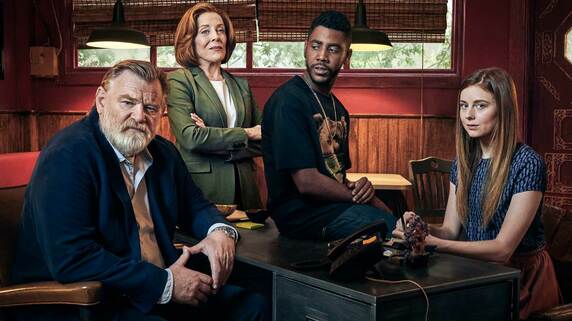 Mr. Mercedes is an interesting example of a show that diverges heavily from the source material—it actually skipped over the second novel in the Bill Hodges trilogy almost entirely—yet still manages to stand on its own as a solid piece of storytelling.
Season one of the Audience Network thriller prepped the audience for the fact that it would swerve away from the source material: Ida (Holland Taylor) became a major character and the climax of the season went from a concert full of tween girls to a cultural center opening.
Season two, however, has gone full throttle with its creative freedom and the writers chose to skip book two in the Bill Hodges trilogy almost entirely. Some of the most obvious changes include:
Downplaying the video game aspect of how Brady (Harry Treadaway) gets inside people's heads
Dr. Babineau (Jack Huston), his wife, Cora (Tessa Ferrer), DA Tony Montez (Maximiliano Hernandez), and Lou (Breeda Wool) are much bigger characters on the show than they are in the novel
Bill's (Brendan Gleeson) ex-partner Pete Dixon (Scott Lawrence) is no longer with us (RIP, Pete!)
Bill is having some very strange dreams about Brady
In the case of Mr. Mercedes, bringing the smaller book characters to the forefront has made the show a much richer story. The character Lou is a great example of this. In the novels, Lou (there called "Freddi") reappears in book three as a minor character who is suckered into helping Brady. In the show, however, Lou has a much meatier storyline in a shared history with Brady after he stabs her.
"He held that knife up to my eye and didn't deliver the killing blow. He could have killed me. That's a head f*ck in season two," actress Breeda Wool told us about Lou's journey this season. "In a world where I live without a lot of people telling me I have value, the one person who told me I have a lot of value is also the same person who stabbed me three times and kills people. So what does that say about me? We were very similar, Brady and I, so it's like—what's to stop me from going and killing [someone]?… It's a fascinating and beautiful parallel between [Brady] actually possessing and infecting people and the effects of his violence and how that infects and permeates people."
The show has also given Lou, a lesbian character, a personal life in the form of two different girlfriends. While that might seem like a small detail, it helps to not only flesh the character out more but also puts her on the same footing as any other straight character on the show.
"You know what's f*cking rad about season two? I'm a queer character on TV and my queerness is not the focal point of my story…it's just very refreshing to have a queer character where it's not what's defining them. It's just a single part of a human story," says Wool. "It's just great to have queer folk on TV and not have it as some sort of banner above them that's exploding every time they're on screen."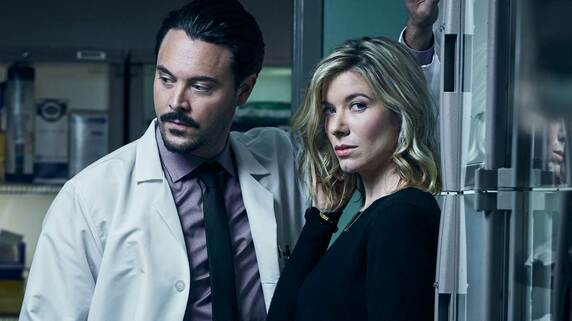 It all adds up to creating a bigger, more vibrant world for Mr. Mercedes than what is in the book, while still staying true to the essence of Stephen King's story and characters—and the master of horror himself is completely on board. Executive producer Jack Bender previously told us that King "adores the show" and has also been "very generous" about changes they want to make, even going so far as to say there were a couple choices he wishes he had thought of for the novels.
"It was a high compliment coming from the master," says Bender, who knows what a challenge it is to adapt something that is so high profile.
In fact, that's what makes Mr. Mercedes so remarkable. Game of Thrones and Outlander are both based on extremely popular books that have sold over 25 million copies apiece worldwide. That popularity almost demands a fairly faithful TV adaptation. Similarly, Mr. Mercedes is a trilogy written by one of the most prolific authors of all time — Stephen King has 70 books and over 300 million copies to his name. Yet the show's creators threw caution to the wind and created what is very much their own story based on King's Hodges trilogy. Given the fierce loyalty that King's audience has to his work, it's truly remarkable what the Mr. Mercedes writers have managed to pull off while still maintaining the soul of the King novels.
Enter the twisted world of Mr. Mercedes with us! New episodes Wednesdays at 10 pm on Audience Network, only on DIRECTV and DIRECTVNow.