DIRECTV is on the ground reporting from the most exciting SDCC 2018 panels, trailer drops, and breaking news. For more Comic-Con coverage, click here.
---
The second season premiere of the AT&T Original Series Mr. Mercedes is just a few weeks away and based on the show's Comic-Con panel, it's gonna mess with your head.
"There's going to be even more Stephen King-dom," said director and executive producer Jack Bender. "A little 'what the **** are you talking about?'"
Honestly, season one was already pretty King-y, using the macabre story of a serial killer to dig into the characters' personal demons while racking up a body count, so I'm stoked to see how much more King-like it can get. Luckily, the show has the approval of the man himself.
Fair warning, spoilers for the first season are basically unavoidable from here on out.
Picking up a year after his thwarted attempt to commit a second mass murder in the first season finale, Brady Hartsfield (Harry Treadaway) lies in a coma, and this hasn't solved anything for anybody. Without the closure of Brady's arrest or death, Detective Bill Hodges (Brendan Gleeson) is still hung up on him, as depicted in a brilliant scene shown at the panel.

Advertisement
In the scene, Hodges visits a graveyard, only to be taunted by the vision of a maniacal Brady, clad all in white. The apparition leads Hodges into an empty grave that connects directly to Brady's hospital room, where he lies on a bed, waving and laughing at Hodges. While Brady is technically out of commission, the lack of true justice weighs on Hodges, his obsession with Brady still unconquered. It's a powerful scene, masterfully acted.
The panel talked at length about the theme of moving forward after a tragedy, exploring how each of their characters is forced to reckon with the echoes of Brady's effect on their lives.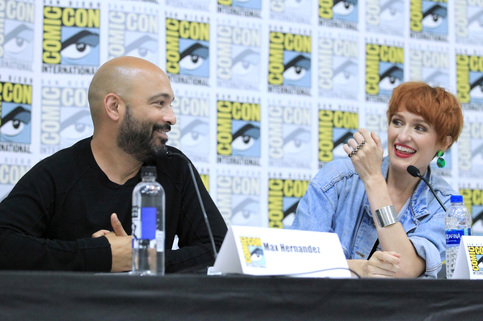 "When anyone has a violent act occur from somebody they know… you have to question your instincts," said Breeda Wool in reference to her character, Lou, who was Brady's only true friend in season one.
And while the characters are haunted by their decisions and relationships, it doesn't seem like Brady's truly done yet. As Bender stated ominously, "A recurring theme within a lot of Stephen King's work is that evil can be defeated. But will it come back?"
Advertisement
This tease seems to relate directly to the addition of Felix and Cora Babineau, new characters in season two portrayed by Jack Huston and Tessa Ferrer, respectively. Felix is a fiercely driven neurologist assigned to Brady's case, while his wife Cora is the ambitious head of marketing for a major pharmaceutical company (a professional pairing that sounds pretty ominous).
"They're like Dr. Frankenstein and Lady Macbeth," said Bender, who quickly added, "But they're really lovely people!"
As Felix begins his work on Brady, unexplainable things begin happening to hospital staff members. This draws Hodges back in, as he believes Brady must somehow be responsible. And with the promise that this season is getting King-ier, I wouldn't rule anything out. I mean, the guy gave us The Shining.
Season 2 of Mr. Mercedes premieres August 22 at 10 p.m. ET/PT on AT&T AUDIENCE Network. You can catch up on the entire 1st season On Demand on DIRECTV Ch. 1239, on the DIRECTV Mobile App and on DIRECTV NOW.