Though my childhood was a flurry of different, multicolored riffs on the Japanese role-playing game genre, there were few titles that brought as big of a smile to my face as one of the first adventures I ever embarked on: Lunar: Silver Star Story Complete.
Perhaps it was the painfully dramatic and romantic storyline, or maybe it's the fact that I played it at such a young and impressionable age. Whatever the case, the tale of young aspiring Dragonmaster Alex and his childhood friend Luna has always resonated with me and still manages to do so, years after I first saw the credits roll.
Working Designs' Lunar: Silver Star Story Complete was actually an enhanced remake and port of a Sega CD title called Lunar: The Silver Star that had debuted in 1993. I was a bit too young at the time to have my own Sega CD, and so I wouldn't experience the PlayStation remake until 1999, when my parents also picked up my very first PlayStation console. I wouldn't know it was a new interpretation of the classic Sega CD tale until years later, but I didn't care.
All I knew was that I was immediately enamored. It felt like one of the most fantastic tales I had played in quite some time, and I will always remember my first brush with it, from the fantastic "In Your Dreams" opening song paired with gorgeous anime visuals to the stunning final boss encounter, and I couldn't stop thinking about it, even as a child. I always needed to know what was coming around the corner, what secrets I'd unearth next, and what would happen in the end. I surmise if you give it a try, you'll feel the same.
Aspiring Dragonmaster Alex lives in a quiet little town and dreams of one day becoming just like his hero of heroes, Dyne. Joined by his faithful friend Nall (a small white dragon), childhood friend and obvious sweetheart Luna, and a host of other colorful RPG stereotypes, Alex is shooting for the stars in order to become a revered Dragonmaster just like Dyne did in his day. However, he didn't account for some underhanded behind-the-scenes events taking place by one of the characters he trusts most.
When things grow ever darker within the world of Lunar, you can expect plenty of twists including the haunting transformation of the once sweet and innocent Luna. Without giving too much away, you can expect an engaging tale of friendship, redemption, growing up, and quite a bit of romance (especially if you count Jessica's relationship with her womanizing boyfriend). Even those you dislike in the beginning will find redemption by the story's end, though there will be a few sacrifices before you get there. These heartrending moments only seek to amplify the emotion Lunar brings.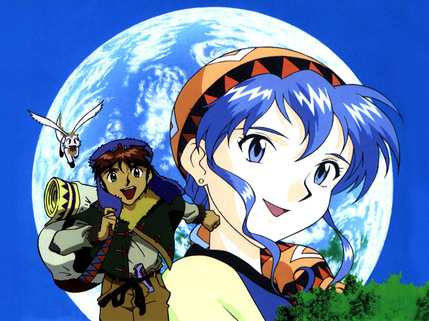 Much of the game plays out via traditional top-down scenes, where you'll control an avatar representing Alex throughout two-dimensional scenes with static background graphics – lush and gorgeous, a far cry from its original Sega CD iteration. Every inch of Lunar blooms into color and it's a treat for the senses, even if the characters you interact with are little more than diminutive sprites on the overworld. However, the detailed anime portraits representing each individual that pop up alongside fully-voiced dialogue go a long way towards establishing personalities and backstories for every character you meet. By the end of your adventure, you feel like you've known them all your life. Grab a box of tissues because you'll shed more than a few tears by the time the story draws to a close.
And while the narrative itself may seem like your typical "good versus evil" story at first glance, there are plenty of intriguing twists sprinkled throughout that'll blindside you. It's true there's a central villain trying to thwart Alex at every turn, but you'll never guess that one of your most important allies would get caught up in a scheme, forcing you to scramble after losing powers in combat. Similar to lessons learned in the Pokémon games, this game teaches you to never be fully reliant on one party member to get you through the game if you can't determine their fate. Lunar uses this storytelling device masterfully so that you never see the twist coming, making the experience well worth it.
There's plenty of content to sift through as well, especially if you're willing to do some exploration. Lunar offers a lengthy quest if you don't rush through the main storyline, and should run you 25+ hours if you put the time in – and you definitely should. Grind away ceaselessly to learn Luna's songs, Alex's special techniques, and collect all of the bromides to round it out into an even longer adventure. Each moment lends itself to such a special and enchanting experience that simply feels unlike anything on the market these days.
Lunar set the stage for a world of fairly standard fantasy, magic, and dragons, and if you're a genre vet it may be hard to convince yourself to give into yet another similar adventure. Then again, there's a reason we return to classics like these, and in this case, it's all about the enduring personality and timeless charm. It may take a while to become acclimated to some of its more retro mechanics, but Lunar vets and RPG junkies alike should set some time aside for this hidden gem that's only gotten better with age. It'll always have a special place near and dear to my heart, and not just because I absolutely love singing along with the poppy, hopeful opening song – though that certainly helps.