Sensitive soul with a very particular set of skills seeks comfy spot for some R&R before coming back with a vengeance. The right fit will have world-class restaurants, cutting-edge businesses, a thriving culture—anything to keep this guy from checking social media.
Kevin Durant changed the 2019-20 NBA season and beyond when he went down with a ruptured Achilles tendon in Game 5 of the NBA Finals. Even though his Golden State Warriors teammates would survive this basketball tragedy and win that game, they were unable to hold off the Toronto Raptors for the NBA title in Game 6. And while the Warriors will still throw everything they can at Durant to get him to stay, he may have already been on his way out anyway.
KD must now face a far different decision than anyone expected. Rather than closing the book on an all-time three-peating team that rewrote the basketball rulebook, Durant would be leaving a team decimated by injuries and hungry to prove itself once again. Even though Durant suffered a major, major injury, one with a long recovery and historically grim prognosis, reports suggest that most teams are still willing to extend a full max offer to Durant. So now, Durant has to decide where he would prefer to recover from his injury.
So where should he rehabilitate in order to hopefully come back better than ever? Thanks to our exclusive Fit Grade, we have the answer. Kevin Durant, you should sign with…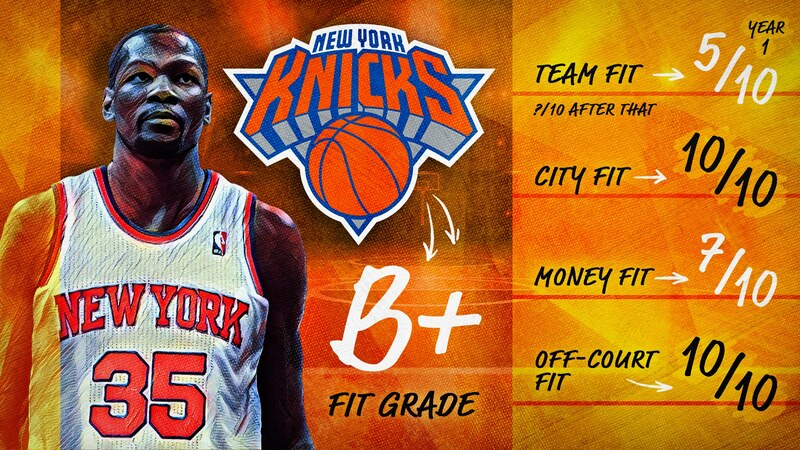 The New York Knicks (Fit Grade: B+)
Other fits: Golden State Warriors, Brooklyn Nets
While the Warriors aren't expected to be a title contender, they will still be a likely playoff team. He might face the same bizarre (and 100% wrong) narrative as last year: They don't need him. If Durant would like to make a full recovery without the expectation of returning next year at all, then his best chance may be the place where the expectations are paradoxically always sky-high and rock-bottom: the Knicks, baby!
Team Fit (5/10 in year 1, ?/10 after that)
The Knicks were long-rumored as the eventual landing spot for Durant, due to their rich basketball history and the fact that Durant's agent Rich Kleiman once tweeted that he'd run the Knicks one day. Also, they're almost certainly going to be terrible next season. Just like the year before, and the year before that, and…
With Durant out for the whole season, they'll likely use the next year as a test run for top pick RJ Barrett. And with playoffs not a realistic expectation, Durant wouldn't be pressured to come back in the playoffs since the Knicks won't be there. But when he does, he'll have the chance to truly own his team for the first time. No Russell Westbrook, no Steph Curry. The KD Show will light up Manhattan.
But this cuts both ways. It doesn't look like Kyrie Irving will also follow him to the Knicks, so Durant would be the lone star on a team full of young pieces. It also assumes that Durant, a hyper-competitive athlete, would be cool waiting a year and a half before getting back on the court.
City Fit (10/10)
Durant's company, 35 Ventures, has headquarters in New York City. And he just bought a house in New York after selling his Bay Area pad (though most of the Warriors did that, with the team leaving Oakland for San Francisco). It's hard to beat that in terms of location.
Money Fit (7/10)
He could sign a five-year deal with Golden State, so going to New York would constitute a pay cut. And with his lost 2019-20 season paying the same regardless of where he signs, that extra guaranteed fifth year on the back end of the deal is quite significant. The Knicks came into this free agency period hoping to sign at least two marquee free agents, and the team has approximately $72.5 million in cap space. With Durant eligible to sign a contract for 35% of the cap (around $38.2 million in the first year), that leaves $34.3 million (give or take one qualifying offer to key rotation piece Allonzo Trier) left to sign a player with between seven and nine years' experience, like Kemba Walker or Kyrie Irving. Why does that extra space matter? Because it's likely the Knicks would have to sign one of those players first to convince KD to do his year-long rehab in Manhattan.
Off-Court Fit (10/10)
Whenever any athlete might sign with New York or Los Angeles for less money than they can get on the open market, the argument comes out: "They'll make it up with endorsements." Most of the time, that's wishful thinking. This might be the rare case where it's true. The Knicks have had Hall of Famers, but Durant would be by far their best player in franchise history, assuming he's even 90% as good as he was pre-injury. He'd have fans lining up for autographs, and brands lining up to cut checks.
X-Factor
Durant put his health, even his career, on the line for the Warriors. From top to bottom, the organization has been extremely vocal in their support for their fallen star. Durant is famously sensitive, and that kind of public display of affection goes a long way. While that's far from a guarantee that Durant stays in Golden State, is it possible that the injury-fueled flameout of the Warriors' dynasty renews the team's spirit and bond, giving them the fire to have a second run? Despite the ill-advised media narratives, the team's three Finals runs were due in large part to Durant. He was their answer to every unsolvable problem on the court. Now, does he want to depart in search of his own answers?
Wondering where other top free agents should sign?
Kawhi Leonard should sign with…
Kyrie Irving should sign with…
Jimmy Butler should sign with…
D'Angelo Russell should sign with…