Hard to please hard worker seeks organization willing to give its all (that includes all its money). If you keep your nose to the grindstone, and you call hoagies "grinders," you could be the landing spot for a top two-way player.
Both Jimmy Butler's reputation and the man himself have taken some hits over the past few years. But after a thrilling playoff run that ended in tantalizing defeat, it appeared that Butler had found a new home. However, with Butler entering free agency, the choice is his to determine where his new home will be. Will the feelings cultivated during Philadelphia's playoff run be enough for him to stay? Well, thanks to our Fit Grade, we don't have to leave it up to feelings. Jimmy Butler, you should sign with…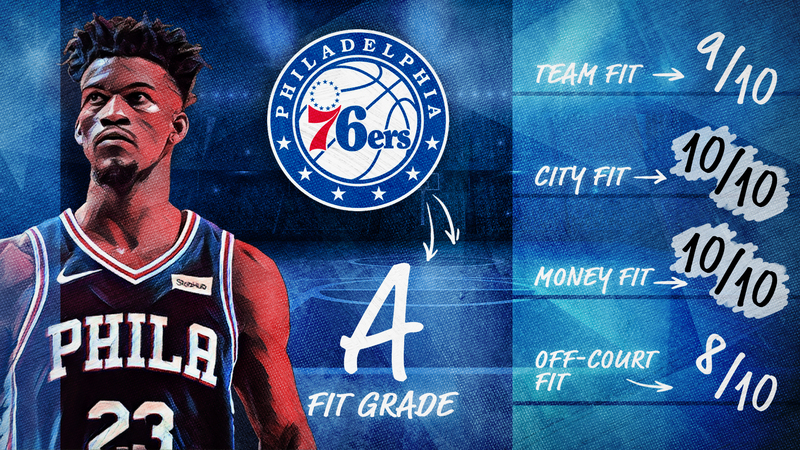 The Philadelphia 76ers (Fit Grade: A)
Other fits: Houston Rockets, Los Angeles Lakers
Back in 2017, the Chicago Bulls traded Butler to Minnesota, which led to the Timberwolves ending a 14-year playoff drought. Butler had knee injuries before the playoffs, and while he eventually returned, making franchise history wasn't enough to keep the good feelings around the team. The honeymoon with his former coach Tom Thibodeau and Minnesota's young players ended immediately after the playoffs did.
Rumors of discord between Butler and the Wolves' prized top draft picks started to leak out during the summer, creating an uncomfortable situation for everyone involved. Butler's career arc, from last pick of the first round to perennial NBA All-Star, cut in direct contrast to the team's former #1 overall draft picks, Karl-Anthony Towns and Andrew Wiggins. That led to a bizarre scene at the beginning of the season, with Butler playing on the Wolves while everyone knew he wanted out. Eventually, the Sixers took a chance on Butler. And it's working out…so far.
But as the free-agency signing period approaches, Houston Rockets general manager Daryl Morey has made a characteristic splash, maneuvering to land Butler in a sign-and-trade. Anytime you have a chance to land a top two-way player like Butler, you take your shot. But is it the right fit for what former NBA commissioner David Stern might call "basketball reasons?"
Team Fit (9/10)
From a pure basketball standpoint, the fit with Butler and Philadelphia's young stars like Joel Embiid and Ben Simmons was much better than with the Minnesota duo. This past season, Butler hit a series of game-winners, and once the playoffs came around, Butler's ability to take over games when Philly's youngsters struggled turned him into a Philadelphia folk hero. It ended with four bounces and a basket from Kawhi Leonard, but Butler made his mark and usually ended games at the podium next to Embiid.
Meanwhile, the Rockets' postseason hopes flamed out shortly after launch. With the Warriors' injury-fueled collapse, the West is wide open again. Butler needs his touches, particularly at the end of games. Maybe Morey knows something the rest of us don't, but it doesn't seem wise to put him next to a ball-dominant point guard like Chris Paul, let alone James Harden, who just posted the second highest usage rate in NBA history.
City Fit (10/10)
You heard those "JIM-MY BUT-LER" chants at the Wells Fargo Center during the playoffs, right? Philly sports fans love nothing more than a hard worker, and whenever Jimmy Butler does anything, he goes hard.
Money Fit (10/10)
The money's there for Butler. Now the question is, will the Sixers front office listen to its screaming fans and deliver a max contract offer? They may have no choice after the way the playoffs went, but if they hesitate, several other teams will certainly be lining up for Butler's services. As the incumbent team, the Sixers can offer Butler a full five-year max, putting them at a clear advantage.
Off-Court Fit (8/10)
Here's where it's a little less rosy. Butler has also been very public about his affinity for Los Angeles and has a very famous friendship with LA-by-way-of-Boston actor and restaurateur Mark Wahlberg. Would the combination of the burger franchise magnate, LeBron James, and Anthony Davis be more attractive than staying with Ben Simmons, Joel Embiid, and Meek Mill?
X-Factor
There's one more hugely important consideration to Butler's free agency. This is the first time, and likely the last, that Butler will have the choice of where he wants to play. He's set to turn 30 before the season, and with a history of knee injuries, money may not be the only factor in him choosing where to sign. He's been part of two awkward, acrimonious trades. Can he find a forever basketball home? Whether this famously restless player even wants to settle down will play as big a factor as anything.
Wondering where other top free agents should sign?
Kawhi Leonard should sign with…
Kevin Durant should sign with…
Kyrie Irving should sign with…
D'Angelo Russell should sign with…