DIRECTV is on the ground reporting from the most exciting SDCC 2018 panels, trailer drops, and breaking news. For more Comic-Con coverage, click here.
---
There's a serial killer loose in San Diego.
Luckily, you can stop him from the safety of your phone, thanks to the Mr. Mercedes Immersive Experience, a creeptastic AR and VR installation currently running at Comic-Con based on the acclaimed AT&T Original AUDIENCE Network show.
Props by the show's real set designers
Using real props and set pieces, the show's actual set designers have meticulously recreated key moments from the first season, as well as offered some hints about the upcoming season two – premiering on AUDIENCE on August 22nd. The authenticity of the design adds a lot to the atmosphere, with disturbing clown masks and a room full of children's toys giving you a glimpse into the mad mind of Mr. Mercedes himself, Brady Hartsfield.

Advertisement
It could only feel more Stephen King-y if they physically transported you to the sewer from IT. There's even a particularly disturbing notebook full of Brady's psychopathic musings to discover, which I was told was genuinely written by Harry Treadaway, who plays Brady on the show and clearly likes to go deeply, upsettingly method.
Your descent into Brady's lair begins with the augmented reality game, Finders Keepers (named for the second book in the trilogy for extra nerd cred), which you will need to access with your iPhone or Android. The game leads you deeper and deeper into Brady's psyche, as you assist Detective Bill Hodges (Brendan Gleeson), hunting for clues in the form of QR codes hidden throughout the activation. I won't spoil it completely, but I will say collecting all 10 clues reveals a particularly disturbing fact about Brady, which will definitely factor heavily into season two of the show.
Along your journey, you'll come across the additional experience, Mr. Mercedes: Lair Escape. This VR escape room developed by VR Playhouse, Double A Labs and AT&T AUDIENCE Network uses thousands of stitched-together photos of the show's set to create a photorealistic facsimile of Brady's eerie basement lair. I've done a fair number of VR escape rooms (there's a reason they have me covering SDCC, you know), but I was thoroughly impressed by the environment presented in this one. I felt like I was really in the inescapable dungeon of a demented serial killer as I hunted for clues that would finally allow me to escape. And I loved it.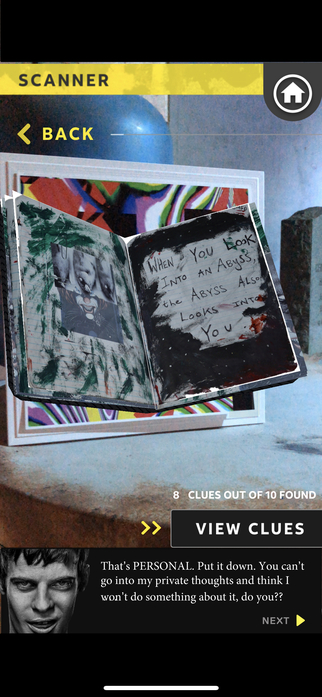 In addition to the games, this is Comic-Con, so of course there's some solid SWAG. A lenticular photo booth allows you to place yourself in the Mr. Mercedes poster for season two, replacing Brendan Gleeson's Hodges, and the results are pretty cool. Also, if you complete the AR game and find all the clues, you'll be rewarded with several series pins and an "I Escaped Brady's Lair" t-shirt. A few lucky fans will even gain access to a VIP area, where they can watch the first episode of season two and possibly even meet some of the cast.

Advertisement
All told, the Mr. Mercedes Experience is an excellent activation that amped me up for season two and even made me want to go back and rewatch season one. There's something here to excite, thrill or terrify fans of the series, both new and old. Check the immersive experience out through Sunday.
Mr. Mercedes returns August 22 only on AUDIENCE. Watch on DIRECTV CH. 239, or stream with DIRECTV NOW.