By all reasonable box office measures, "Batman" should have been a dud. What many initially thought would be the biggest pitfalls of the 1989 film ended up as some of the movie's most notable strengths. Michael Keaton showed he wasn't some 1980s romcom star miscast as Bruce Wayne, and Tim Burton proved that he was more than the "Pee-wee" director, capable of crafting thrilling cinematic adventures with light and dark narratives. 
But another often overlooked reason why "Batman" succeeded, is that Burton managed to make his Gotham City feel like an actual city that didn't just live on a soundstage. Here's how Tim Burton brought Gotham City to dark, gritty life:
Gotham functions like an actual city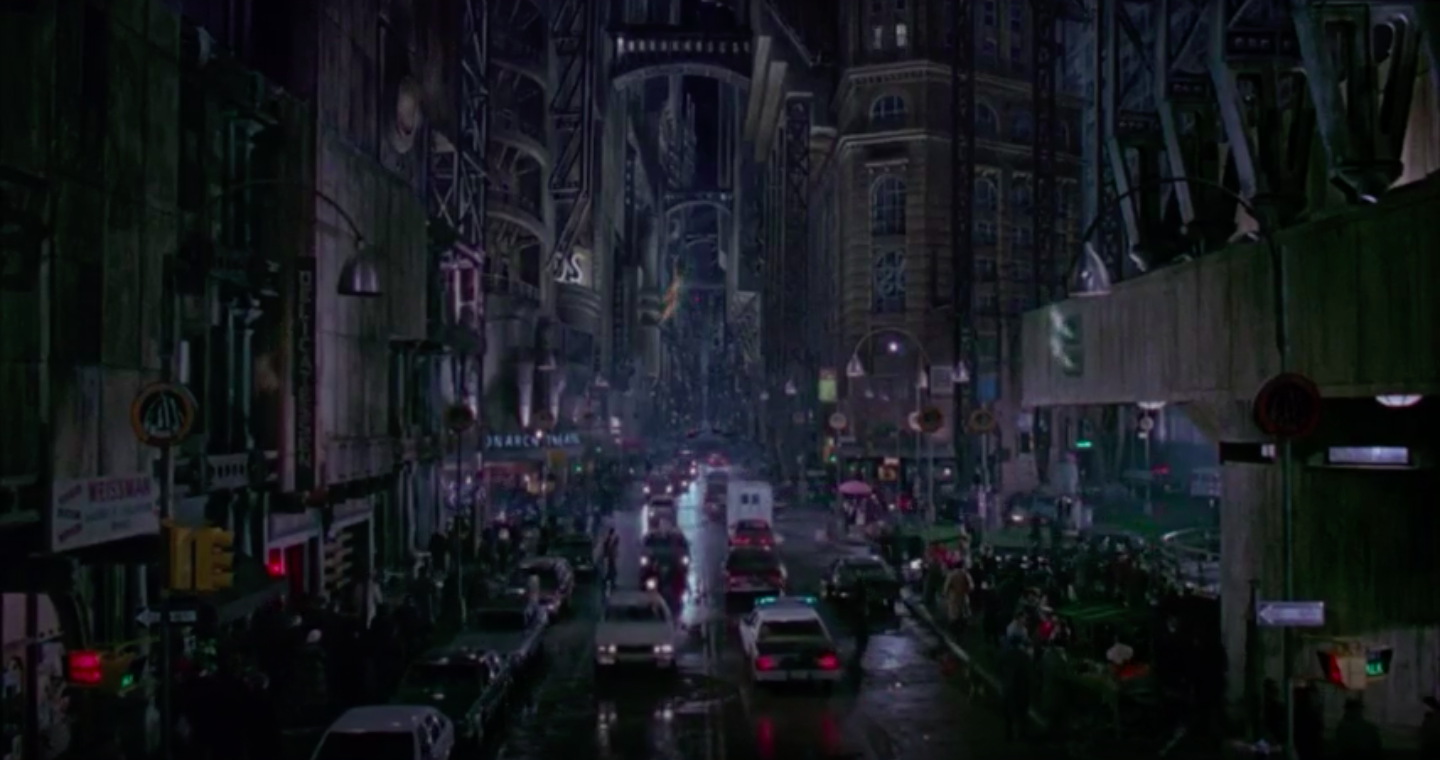 In "Batman," the behavior and personality of the city are established from the very start of the film. One building looks like an imported cathedral in France, another inspired by some basilica in Rome. We get no sense of suburbs or outlying communities in "Batman": Gotham is the center and the whole of its universe. 
Then we get a look inside Gotham's bustling cityscape. Leather-clad punks are featured in one shot, while a white collar family is in the next. After the family tries to navigate through a maze of dirty concrete and foul-mouthed vagrants, the dad gets punched and robbed, prompting Batman's first onscreen appearance.
Burton's emphasis on capturing every subtle nuance of city life, from the smog to the bright lights and even the casual rudeness between citizens, help turn Gotham from a movie set into a living, breathing beast. 
Academy award-winning production design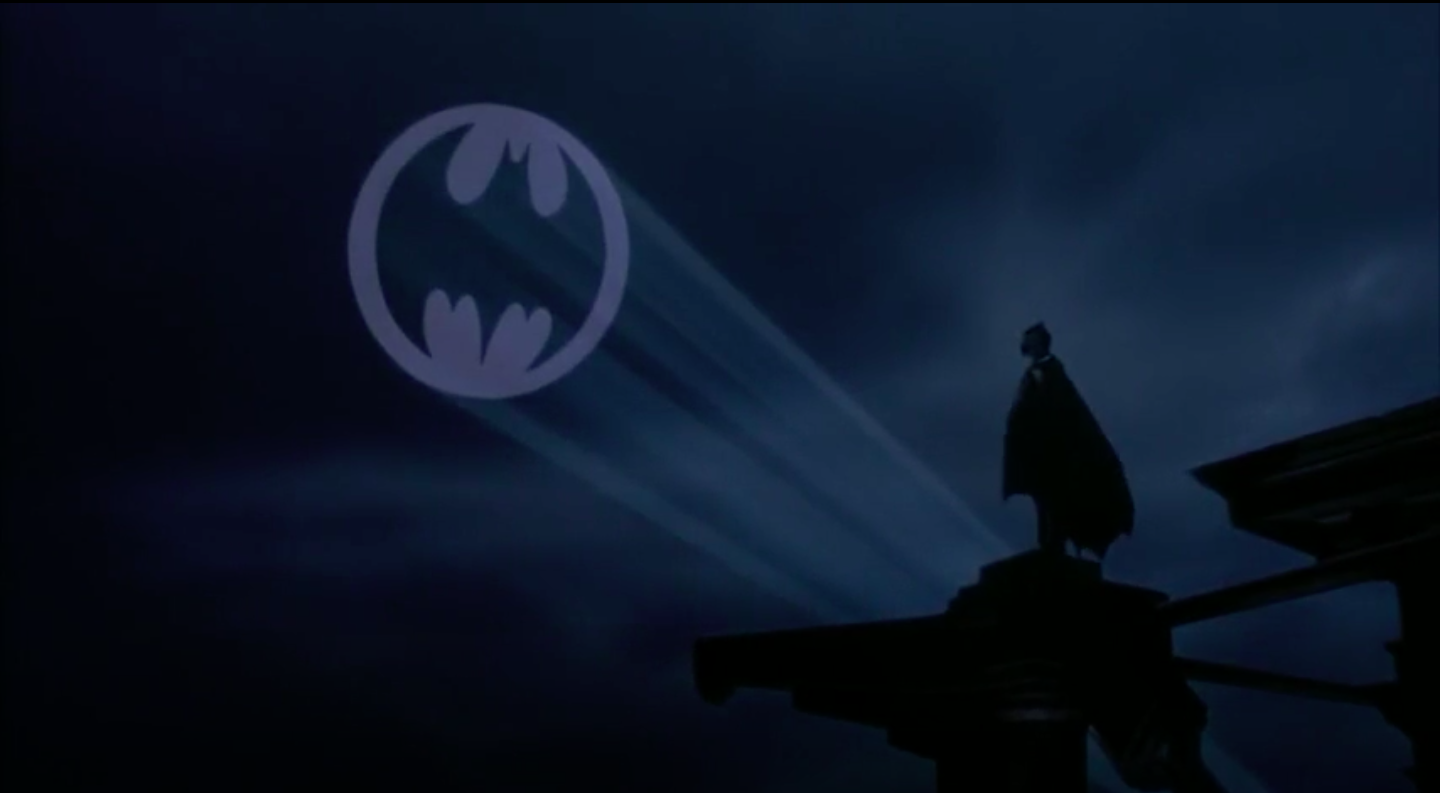 Don't think that Burton was the only creative visionary behind "Batman's" design. Gotham's architectural feats are owed in large part to its production designer, Anton Furst. Before working with Burton on "Batman," Furst extended his artistic talents to films directed by visionaries like Stanley Kubrick and Neil Jordan. His work was praised for its realism and detail, a quality that Furst brought to "Batman" in 1989.
Furst designed iconic things from the film like the Batmobile, but also laid the foundation of how Gotham would look and feel. He was inspired by futurists when designing the city, creating a place that could simultaneously exist in the year 3,000 or the 1500s. Furst's efforts were praised by critics and fans alike, with him even nabbing an Oscar for his work on the movie, along with set decorator Peter Young. 
Bold costume design that still reflects Gotham's humanity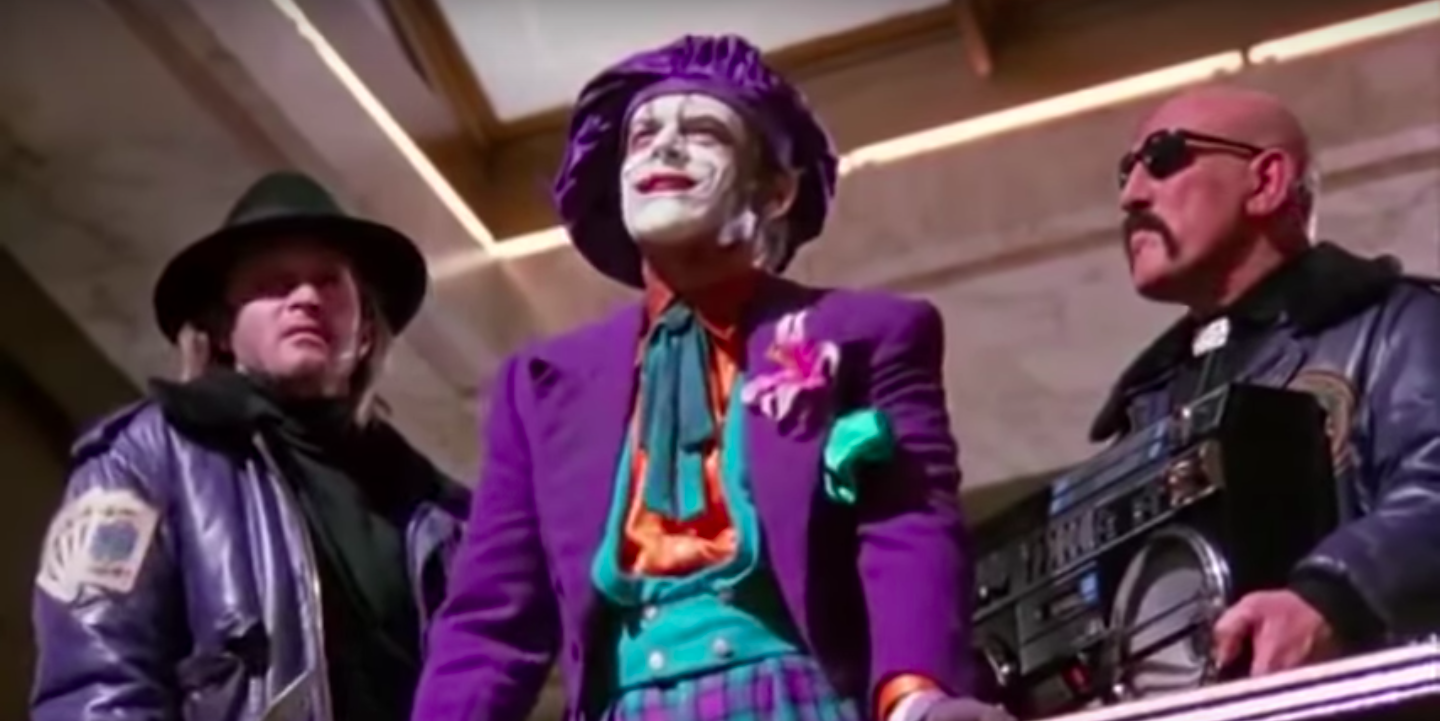 If you turn through the pages of "The Dark Knight Returns" and other "Batman" comics, you'll see the Caped Crusader is often portrayed as a tall, immensely muscular figure, a bit different from the "Mr. Mom" star Michael Keaton. But costume designer Bob Ringwood was still able to make Keaton feel both relatable and larger than life as Batman with his sleek, black bat-suit. Even the Joker's ensembles, with their bright purple, orange, and green colors, manage to make the villain stand out while still subscribing to current Gotham fashion trends. 
The same holds true for the costume design of Gotham's non-hero residents. Characters like Harvey Dent and Carl Grissom wear three-piece suits that mirror what their comic book equivalents would wear but are also rooted in reality. No one dresses more flashy or vibrant than they need. The fashion of Gotham's notable residents is distinct but familiar enough to help make the city feel like an actual destination. 
Inspiration from classic "Batman" tales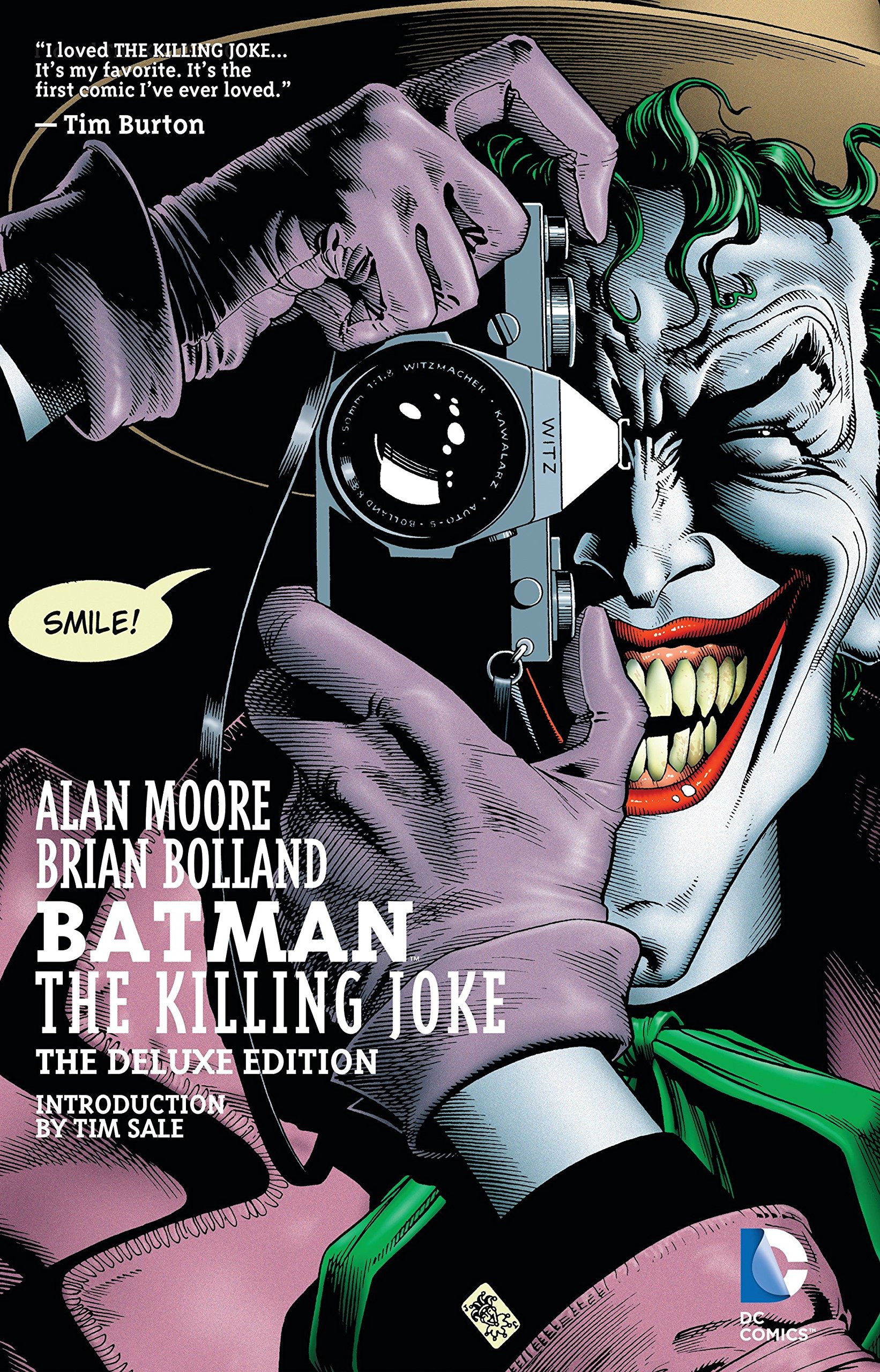 One of the problems that Burton and crew would need to overcome when making "Batman" was ensuring his film would not have the same campy tone and vibe from the 1960s television series, arguably the most well-known version of the character to that point. The film's creative team turned to the pages of more darker, grittier comics like "Batman: The Killing Joke" and "The Dark Knight Returns" when conjuring early versions of their "Batman" story. 
Not only is the dark tone of these stories apparent in "Batman," but so is the mood of how the comics portray Gotham itself. Skylines in "The Dark Knight Returns" are imposing and often lack color, the city always seems to extend further beyond the eye can see. "The Killing Joke" gives us a bleak look at the depravity of Gotham life behind the scenes. Even though "Batman" still had its goofy elements, the serious tone and dark style from these acclaimed comic stories can always be felt in Burton's Gotham.
"Batman Returns" continues building on top of (and beneath) Burton's Gotham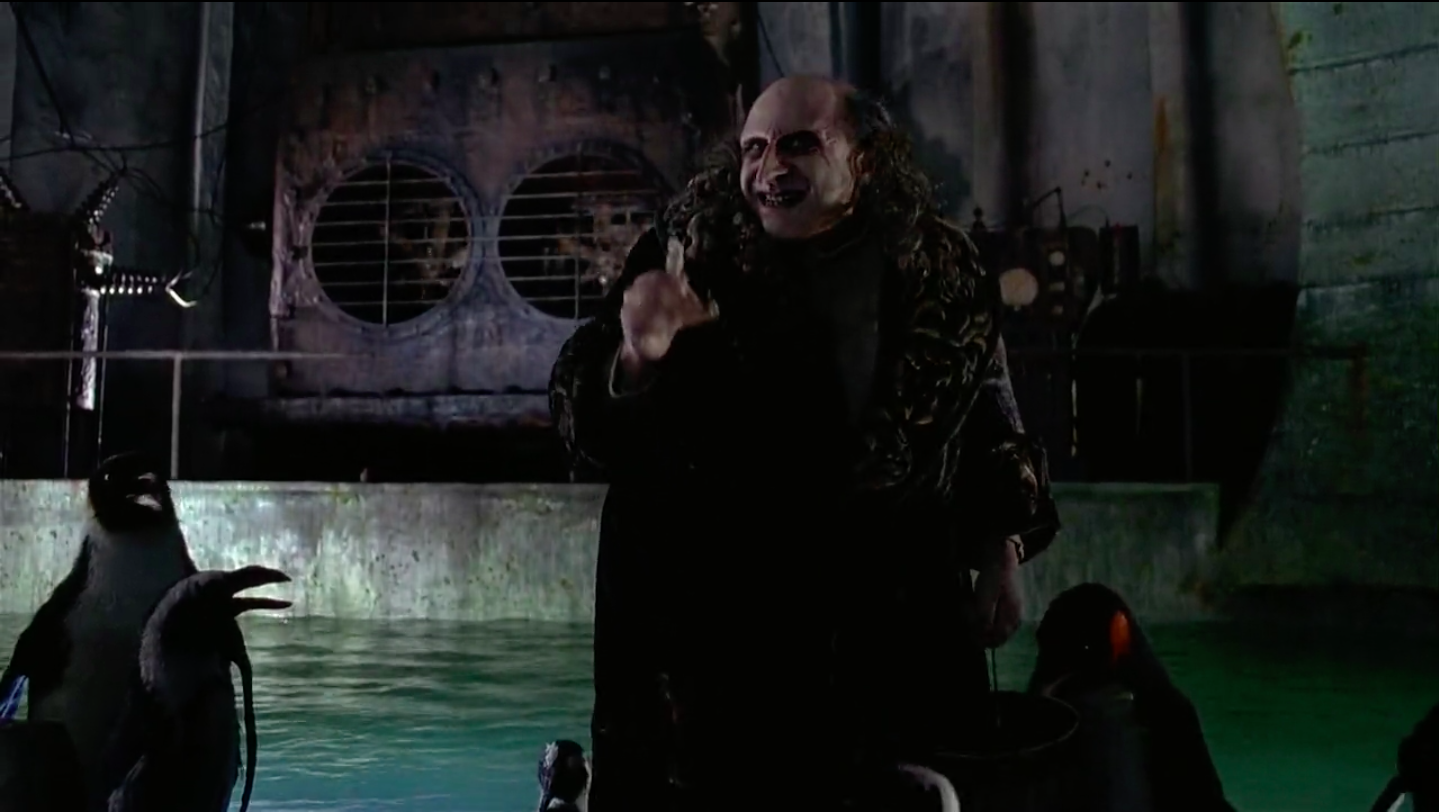 "Batman Returns" changed aspects of "Batman's" original set design but stayed true to the melancholy feel of the city as a whole. Locales are more bright and colorful now because of Christmastime displays, and The Penguin showed us what life was like in the sewers beneath the urban hubbub. But the looming sense of dread and gloom still prevails, where wonder and woe await Gotham residents around every snowy street corner.Part of this distinction can be attributed to "Batman Returns" production designer, Bo Welch. His rendition of Gotham feels less isolated than Anton Furst's metropolis and more like a brief drive away from the screwball Americana settings of "Beetlejuice" and "Edward Scissorhands," films that Welch also worked on with Burton. Burton is also owed credit for the distinctions between the various Gothams, as he aimed to make "Batman Returns" less a sequel and more a story that could stand on its own.
Still, we leave "Batman Returns" with the same feelings of Gotham we earned with "Batman," a sprawling mecca of glass and steel, full of whimsy and danger but rooted in reality. Later films in the franchise would take inspiration from the "Batman" and "Batman Returns" creative minds when building their cities. But Burton's Gotham remains distinct, both as something that was inspired by pop culture and as a place that exists beyond it.
Join the conversation about your favorite movies, sports, music, games and TV shows, here.