Some say The Dark Knight is the best cinematic interpretation of Batman, but many hardcore fans will disagree (and with good reason). When it comes to making the Caped Crusader a larger-than-life figure on the silver screen, there are a few fantastic films that actually did it better than the modern day Bat-trilogy. We're talking about, of course, Tim Burton's takes on Batman and his rogues' gallery.
Burton's films Batman, Batman Returns, and Batman Forever (which Burton produced) had everything you could ask for:  appropriately cartoonish tone (yet dark and somber), realistic dialogue, and memorable actors that helped tie it all together. These creative decisions helped shape Batman's role as the iconic character he is today. 
Before Burton tried his hand at bringing Batman to the big screen, fans had to rely on the gloriously silly 1966 version. When Burton decided to completely flip the script and craft a gritty, more realistic version of the character and his universe, it was a shocking change for viewers that worked amazingly well.
The new vision of Batman and Bruce Wayne focused more on fleshing out the entire, bizarre world of Gotham City and its inhabitants, giving equal time to supporting characters and villains. When you finished viewing one of the Tim Burton Batman films, you truly felt as if you were (for at least an hour and a half or so) part of that universe.
Burton accomplished this through a number of ways. Characterization played an enormous role in making his Batman films timeless—and it shows. His first choice for Batman was Michael Keaton, who dialed in one of the greatest performances that has yet to be matched. His take on Bruce Wayne was enigmatic, brooding and even lighthearted when the situation called for it.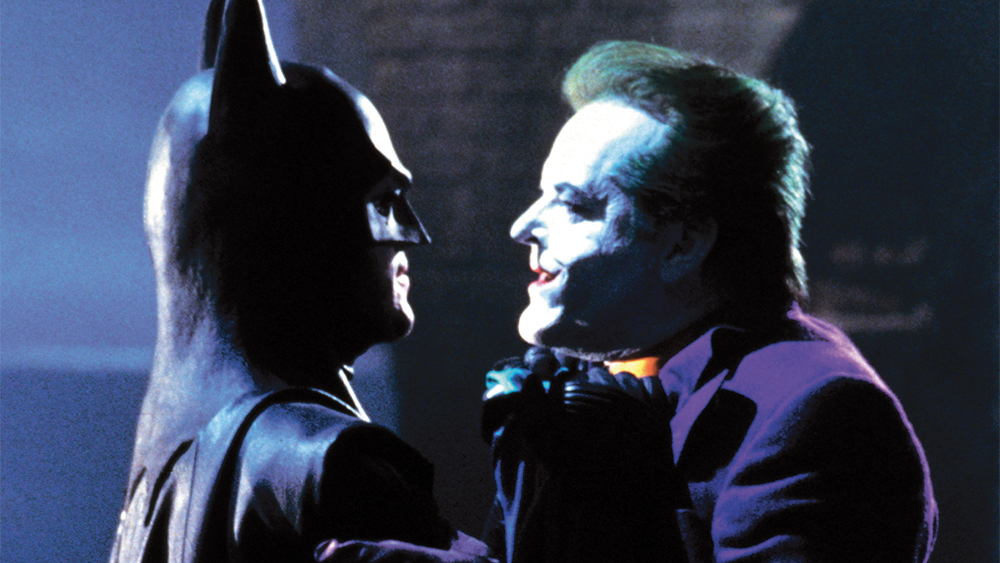 Keaton was opposite Jack Nicholson as an extremely unhinged Joker, who elevated the role beyond anything accomplished later in The Dark Knight, brilliantly playing him with a simultaneous craziness and reservedness – you all know the "Did you ever dance with the devil in the pale moonlight?" quote. Up to that point, the role was unchallenged beyond Cesar Romero's iconic portrayal alongside Adam West and Burt Ward in the Batman TV show. Burton molded Nicholson into an unforgettable villain with shades of madness and poise—and a horrifying rictus grin.
While Batman: The Animated Series went a long way in adapting the comic source material, it was ultimately aimed at children and had to skimp on some of the dicier content. Burton's films were free to approach it as he saw fit, which made them all the better.
The movies never shied away from the macabre, happily wallowing in death and darkness like Bruce in his Batcave. Burton's refusal to explain away Gotham's insanity (in terms of its villains and what they're repeatedly able to get away with) bolstered the films—you never knew what was coming next.
In one scene, the Joker splashes acid in his former model girlfriend's face and then parades her around as if she were "art" while he's dating other women. She wears a porcelain mask for the duration of her time in the movie—the Joker's been heinous in his future iterations, sure, but hardly this directly deranged.
Batman Returns was a compelling sequel for many of the same reasons, as Michael Keaton reprised his role once more and donned the Batsuit again. This time, Danny DeVito took on the iconic villain Penguin, playing to his strengths. DeVito's vision of the Penguin is a gnarled, frightening image compared to the one we were familiar with in the comics.
Michelle Pfeiffer as Catwoman stole the show for similar reasons as well, and gave the character one of the best portrayals since the likes of Eartha Kitt in the classic '60s Batman television series. Her portrayal of another figure was similar to Batman himself—a regular person caught up in a dangerous reality and double life.
Burton's vision of Batman perfectly captured the spirit of the character that was only ever previously hinted at outside of the classic TV show, which didn't dare explore the deeper aspects of the character's psyche. The same things that made parents feel as though the films were "unsuitable" (like violence, sexual situations, and disturbing content) were some of the reasons they were able to flourish as they did. 
Unfortunately, that was part of the reason we didn't get a third Batman adventure directed by Burton, though he did act as producer on Joel Schumacher's Batman Forever. It took a much more family-friendly, campy approach to the films that was curiously devoid of Burton's signature darkness and bereft of the more serious themes. 
In terms of bringing Batman and his variety of colorful personalities (be they good or bad) to life, Burton nailed it, helping to propel Batman into the cultural atmosphere. 

The content is featured on https://www.directv.com/insider/ is editorial content brought to you by DIRECTV. While some of the programming discussed may now or in the future be available affiliates distribution services, the companies and persons discussed and depicted, and the authors and publishers of licensed content, are not necessarily associated with and do not necessarily endorse DIRECTV. When you click on ads on this site you may be taken to DIRECTV marketing pages that display advertising content. Content sponsored or co-created by programmers is identified as "Sponsored Content" or "Promoted Content."