Maybe we've been listening to too many Bowling for Soup CDs, but it really does seem like high school never ends. And depending on who you were at 16, that could be a good or bad thing.
If you're someone who has fond memories of your high school experience, there's a lot to miss about what you used to have: being surrounded by friends instead of making dinner plans weeks in advance as an adult; enjoying summers and not having to worry about burning paid vacation days; getting home early each day, as opposed to burning the midnight oil on pressing deadlines.
For others, though, high school was an experience they couldn't wait to forget. However, thanks to a potent cocktail of nostalgia, brain chemistry, and emotional connections to experiences, high school never really leaves us. So we wanted to learn how self-identified high school labels evolve over the years and how past experiences shape our adult lives. We asked over 1,000 Americans to pinpoint what labels they fell into during high school. Were they part of the jock squad racking up athletic achievements? Did they have a penchant for jokes as the class clown? Were they feeling left out as a loner sitting solo in the lunch room? Were they a combination of various labels? We asked them to dig deep into their pasts – riddled with love notes, stuffy uniforms, and questionable haircuts – to find out more.
One More Time or Never Again?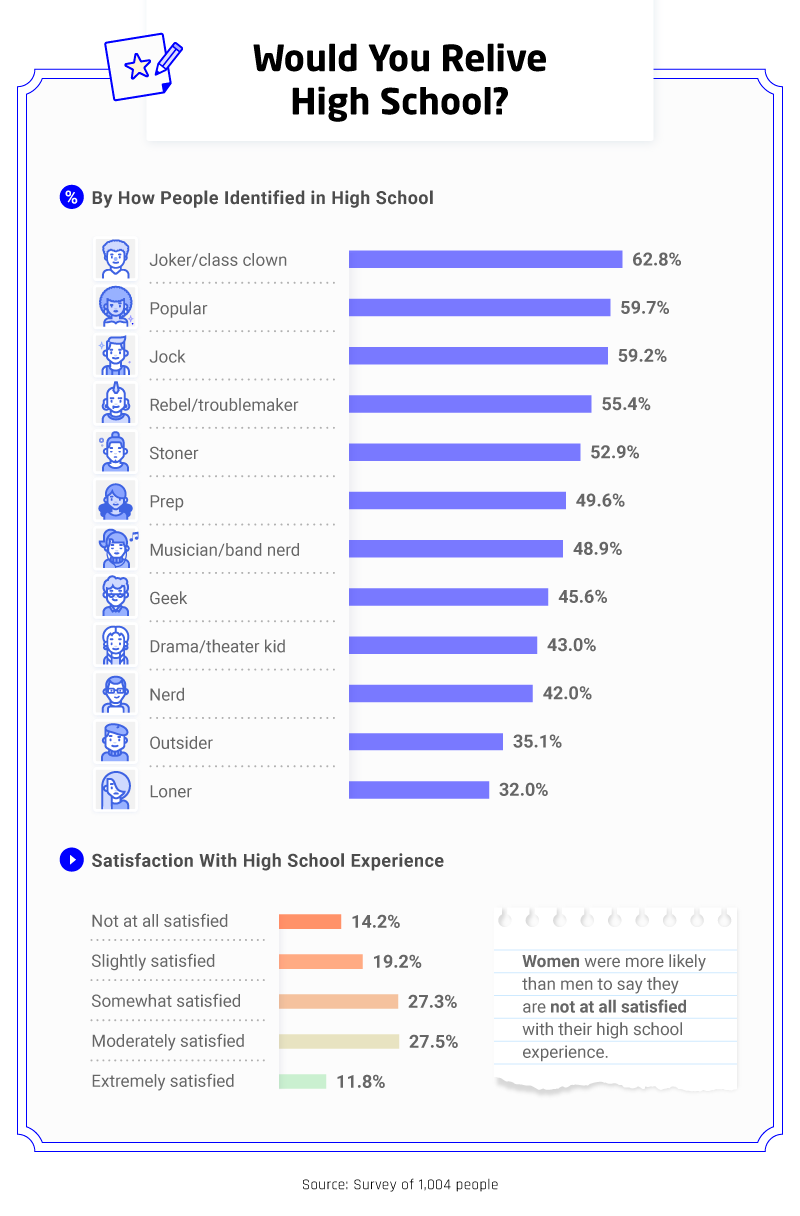 We're often told that high school encompasses the best years of our lives – but is that really true? It certainly wouldn't be the first tall tale we've been fed about what it means to be a student. Slightly more than a quarter of respondents said they were "somewhat satisfied" with their high school experience, and another quarter or so said they were "moderately satisfied." The other half was split among "not at all satisfied" (14.2%), "slightly satisfied" (19.2%), and "extremely satisfied" (11.8%).
A huge detractor for many students is the presence of bullying at school. A report released in 2018 revealed that 27% of high schoolers had been bullied (not to mention the nearly 40% of middle schoolers who said the same). Other factors, like going through puberty, finding the right friends, and encountering drugs and alcohol for the first time, can all make this time in our lives a little challenging to navigate!
Despite people's overall lukewarm feelings toward high school, some groups said they would happily relive their experience: 62.8% of respondents who self-identified as jokers or class clowns (best-known for fooling around in class) said they'd have no problem going through high school again, in addition to 59.7% of popular kids (defined as students who had "status" at school, and whose friendship was highly sought-after) and 59.2% of jocks (athletic students with exceptional physical abilities).
Education Down the Road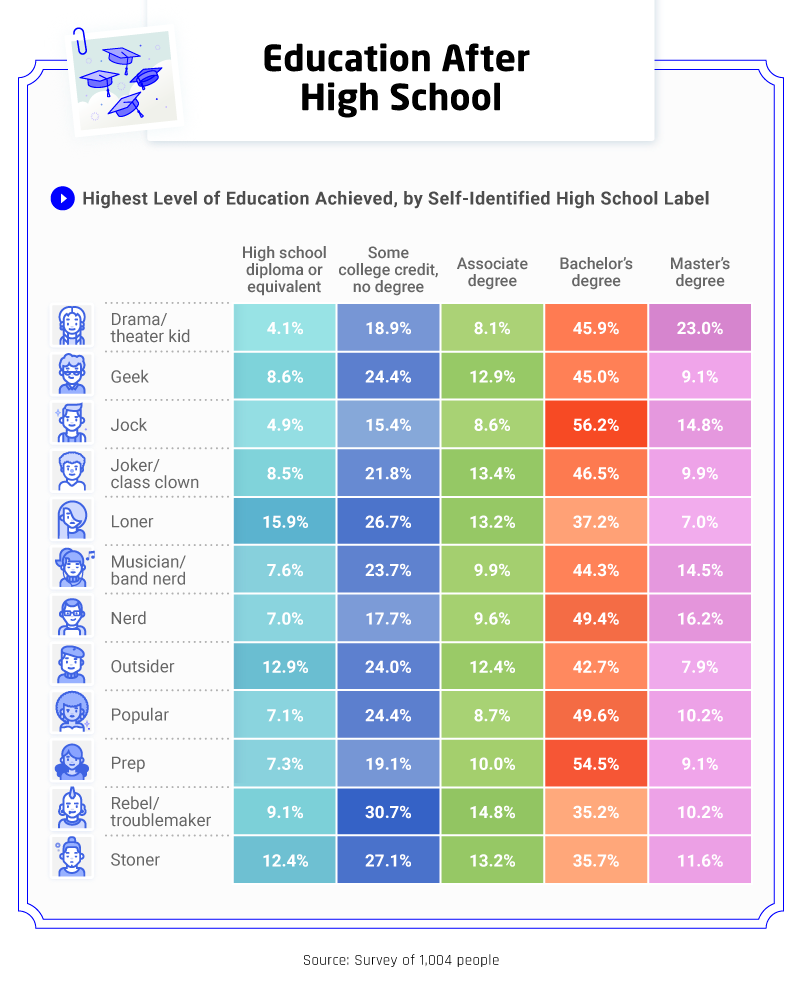 Americans' education has skyrocketed in the last few decades: In 2017, 90% of Americans aged 25 and older had obtained their high school diploma or higher levels of education. Among our respondents, getting a bachelor's degree was the most common benchmark, with the highest concentration of respondents from every self-identified high school label having reached this academic level.
High school drama and theater students (kids known for actively participating in the drama club and/or productions) were the most likely to have gotten their master's degree by a fair margin at 23%, overshadowing self-identified nerds at 16.2% (the academic high-achievers focused on getting good grades). On the flip side, 15.9% of self-identified loners (kids who generally kept to themselves) made it no further than their high school graduation, the highest concentration of the bunch.

In a number of identity categories, approximately a quarter of respondents had obtained some college credit, but no degree. These groups ran the gamut, from self-identified stoners (drug and illicit substances enthusiasts) and outsiders (kids who didn't fall into any other group and, therefore, formed their own) to popular kids and geeks (intellectually similar to nerds, but with specific niche or obscure interests). Among those earning a bachelor's degree, though, rebels (who were best-known for causing trouble), stoners, and loners were the least likely to make it across the graduation stage.
On the Job From an Early Age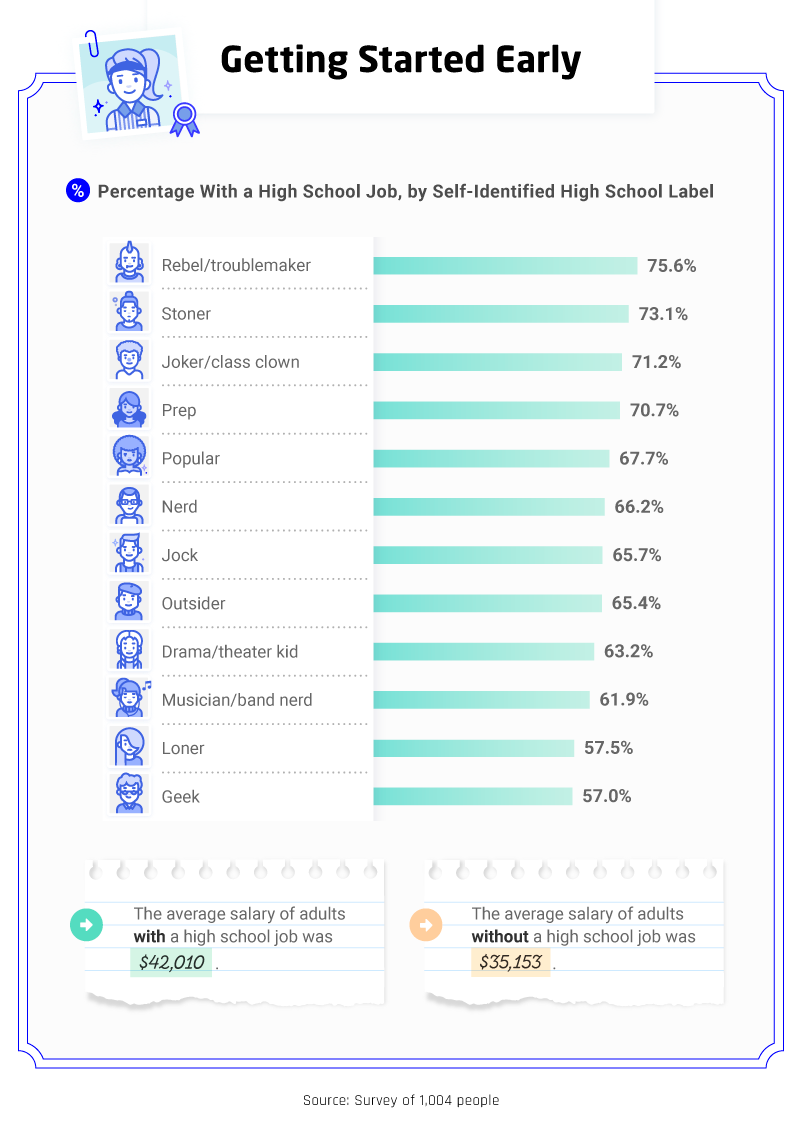 As a high school student, getting a job might influence your future success more than you realize. Students who held down a job during high school earned an average of nearly $7,000 more as adults compared to nonworkers.Gaining job experience as a teen is clearly worth more than just a paycheck: It helps build essential skills from a young age and primes your resume for internships or work experience.
While they might have expressed resistance to "the system" during school hours, the grand majority of self-identified rebels and troublemakers still understood the value of a dollar: 75.6% said they had a job during high school, followed by stoners at 73.1%. More than 70% of class clowns and preps (known for dressing well, typically wealthy and aimed for high achievement) also said they were employed while they were students.

Overall, more than half of respondents from every high school identity worked their way through school. Self-identified geeks and loners were the least likely to have an evening or weekend gig at 57% and 57.5%, respectively.
From Schooled to Salaried
Whether you're a teen, 20-something, or approaching middle age, finances are the focus of many conversations. Who earns the highest salary? What do you think they make each year? How does your income compare?
When it came to adult salaries, self-identified jocks took the cake, slam-dunking and touchdown-ing their way to an average of $50,129 per year. Continuing their reign, the popular kids came in second with an average salary of $44,034, followed by class clowns at $42,843. Preps, nerds, and geeks hovered around the middle in terms of earnings, while stoners took the bottom slot by a fair margin ($30,836).

Aside from gender, science has revealed a few key findings that challenge the assumption that smarter equals greater success. Not only is IQ not a strong predictor of eventual career success, but also extraversion and agreeableness are actually some of the traits that can better gauge how successful a person will be – traits that jocks, popular kids, and jokesters are quite likely to have. That might explain why self-identified nerds, who likely had much higher grades in high school, didn't find themselves at the top of the income food chain.
Living Their Best Lives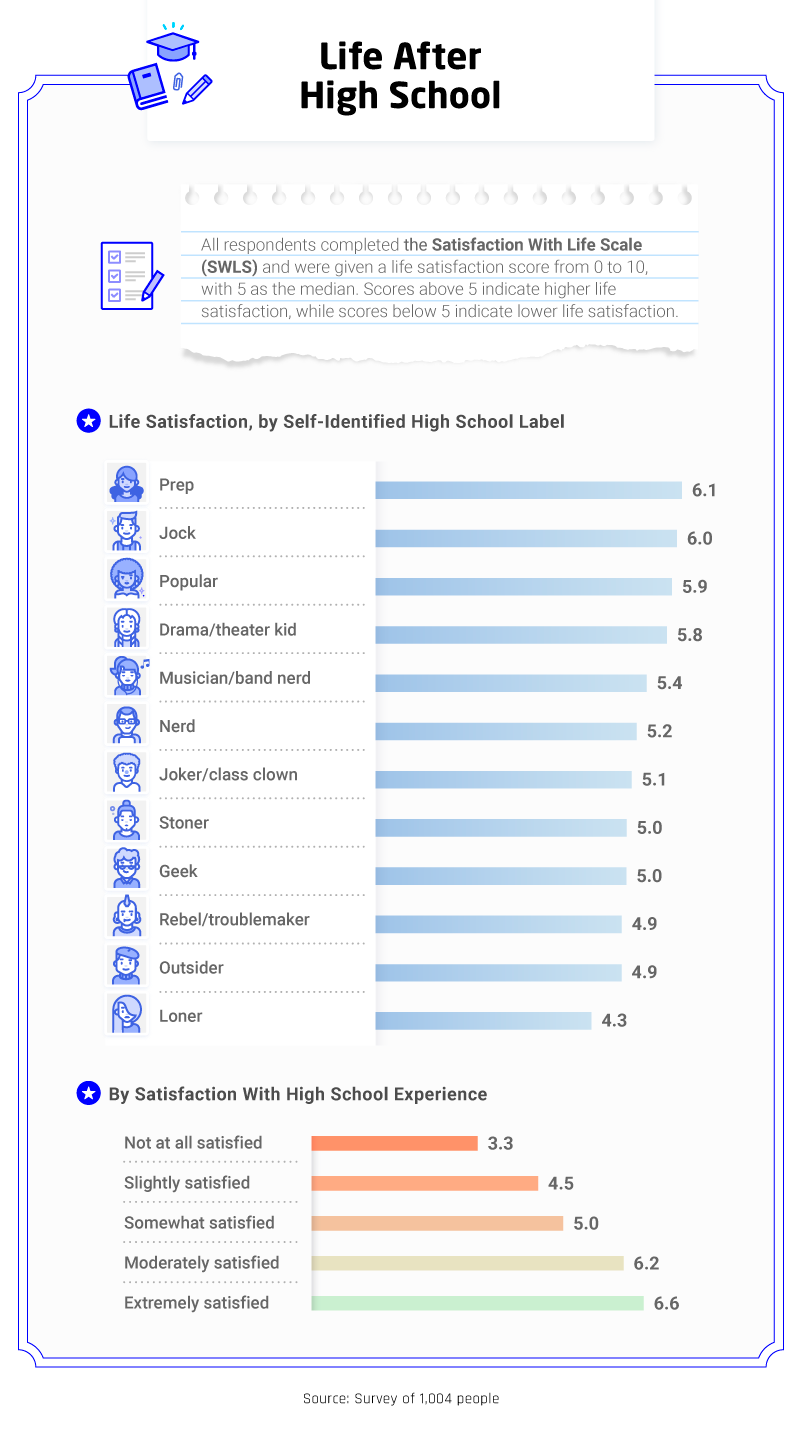 Is the way we were in high school just a blip on our radar – a moment frozen in time that we leave behind as we grow and change? Or is it something more – a predictor of future success and who we're destined to be as adults?
While it might be comforting to believe that we shed our high school selves as we age, science says otherwise. In fact, our "likability" and "status" as teens is almost certain to carry over into our adult lives. So if you were a social butterfly beloved by all during school, you're probably having a better time years down the line. On the other hand, if you were on the fringe or disengaged, you might still struggle with certain parts of your life.
Self-identified preps, jocks, and popular kids reported the highest rate of overall life satisfaction, scoring between 5.9 and 6.1 out of a possible 10. Nerds (5.2) and class clowns (5.1) found themselves somewhere in the middle, while loners, outsiders, and rebels brought up the rear (4.3, 4.9, and 4.9, respectively).
Additionally, our survey revealed yet another data point in support of the argument that people just don't change that much: The correlation between how satisfied people were with their high school experience and how happy they were with their current life was completely linear. People who were not at all satisfied as high schoolers reported a satisfaction score of 3.3 as adults, while extremely satisfied respondents were twice as happy at 6.6 points.
High School 4Ever
If you were a class clown, popular kid, or jock in high school, our survey revealed that you're likely one of the lucky few who would actually want to relive the experience. The same couldn't be said for self-identified outsiders and loners, though. While our high school experience can't be treated like a crystal ball, our data revealed that many of the same themes carry over into adulthood.
More outgoing personalities ended up earning higher salaries, while those on the fringe were more likely to cap off their education before obtaining a bachelor's degree. There was also a direct link between how much people enjoyed their high school experience and how satisfied they were with their life at the time of our survey.
It's important to note that no matter how many labels our respondents had to choose from, not everyone fits into a specific category, and some people even adopt different labels as they grow and change! These groups are simply meant to act as helpful guidelines – both in high school and later in life, you should always be who you want to be!
Feeling nostalgic? Why not scratch that itch with all your favorite teen movies on DIRECTV? The gang's all here: "Sixteen Candles," "The Breakfast Club," "10 Things I Hate About You," "Fast Times at Ridgemont High" – we've got everything you need to relive the glory days through your favorite characters' eyes. Visit DIRECTV today to choose the package that suits you best.
Methodology
We surveyed 1,004 people about their high school experiences and how they felt about them. Respondents were 50.5% women and 49.5% men. Two respondents identified as nonbinary, and one respondent identified as agender. The average age of respondents was 35.7 with a standard deviation of 11.4.
Respondents were given the following list of high school labels and definitions and asked to identify which they fell into during their high school years. Respondents could identify as more than one label (check-all-that-apply question):
Preps: Known for dressing well and modestly, they tend to be wealthy and strive for high achievement
Jocks: The athletic kids with impressive physical ability
Outsiders: Kids who don't fall into any other group and, therefore, form their own
Nerds: The academic achievers who are heavily focused on school and grades
Geeks: They are smart like the nerds, but are more defined by their interest in odd or obscure things/hobbies
Stoners: Kids associated with drug use and potentially other illicit activities
Jokers/class clowns: Kids who are always fooling around in class and cracking jokes
Loners: Kids who generally keep to themselves
Populars: Kids who have status and notoriety in the school, and a lot of people want to be their friends
Musicians/band nerds: Kids who are defined by their interest/participation in musical groups or extracurricular activities
Rebels/troublemakers: Kids known for ignoring the rules and causing trouble
Drama/theater kids: kids known for being active participants in the drama/theater club and/or productions
All respondents reported their current personal annual salary. The average salaries by self-identified label were calculated to exclude outliers. This was done by finding the initial average and standard deviation of the data. The standard deviation was then multiplied by three and added to the initial average. All data points above this sum were then excluded.
All respondents completed the Satisfaction With Life Scale (SWLS) to measure their current life satisfaction. Data were scaled using a normal cumulative distribution function. In our final visualization of the data, average life satisfaction scores are presented as a whole number between 0 and 10.
Limitations
The data being presented rely on self-reporting. Issues associated with self-reported data include exaggeration, telescoping, selective memory, and attribution. For example, respondents may have used selective memory when selecting which labels they fell into during high school, basing their answers on a selection of memories rather than their cumulative experience.
Fair Use Statement
Is it time for a high school reunion? Feel free to share this survey with your former classmates, as long as it's for noncommercial reuse. Be sure to link back here so that they can see the entire survey and methodology. Doing so also gives our contributors credit for their work.