Ever since its inception, the open-world Grand Theft Auto video game series has had a love affair with America's biggest cities.
As Rockstar Games' most enduring franchise, the cinematic, crime spree-laden titles have seen entries in fictionalized versions of cities like Los Angeles, San Francisco, New York, Miami, and Las Vegas. Each city has been lovingly crafted to faithfully resemble its real-world counterpart while giving developers the freedom to create new landmarks and locations.
These design decisions have become integral parts of the development process for each new game. Rockstar has outdone itself with each new installment of the series, making these cityscapes an essential part of GTA's addictive gameplay.
Perhaps the most popular entry in the Grand Theft Auto franchise is Grand Theft Auto: San Andreas, which features an in-game map comprised of three fictional cities that form the larger state of San Andreas: Los Santos, San Fierro, and Las Venturas. The state overall is modeled after California, divided into regions imitating Los Angeles, San Francisco, and Las Vegas. The entirety of the pan-Western Las Venturas also includes some surrounding desert areas and even some landmarks as far away as Arizona.
Fans were instantly excited at the prospect of having such a massive rendition of an in-game "California" at their disposal. San Andreas gives off the same vibe as the state does in real life, down to the inclusion of palm trees everywhere, the laid-back, carefree vibe, and plenty of beachfront views. It made for the perfect backdrop for Carl "CJ" Johnson's tale of unraveling the mystery behind his mother's murder, as well as the exploration of corrupt cops, gang-bangers, and CJ's own past.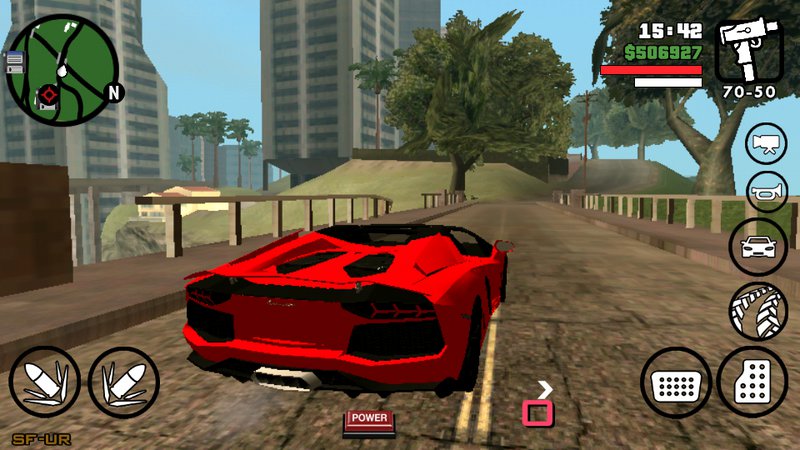 But San Andreas wasn't the last we'd see of the area. Thanks to the positive fan response to this "Californication," Grand Theft Auto V further built upon San Andreas' vision of Los Santos, offering several additional locales to explore within its city limits. Protagonists Franklin, Trevor, and Michael's paths crossed throughout a sprawling adventure set in various parts of the city.
Los Santos is split up into several major locations: Downtown, Little Seoul, South Los Santos, Vespucci Beach, Rockford Hills, and Blaine County. Most of these areas are actually based on real-world landmarks, such as the "Vinewood" sign, modeled after…well, you know. The rest are cribbed from several LA neighborhoods, including Koreatown, South Central, Venice Beach, Beverly Hills, and Downtown.
The Galileo Observatory, which can be found in the game's Verdant Bluffs area, is modeled after the Griffith Observatory, seated high atop the hills of Griffith Park, and itself a prime spot for viewing the Hollywood sign in real life. There's also The Oriental, which is based on its real-world counterpart of the TCL Chinese Theater, previously known as Graumann's Chinese Theater.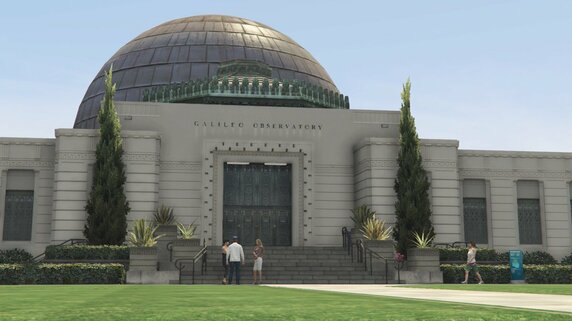 But the West Coast isn't the only setting to get such attention to detail. Grand Theft Auto: Vice City came with its own doppelgängers of iconic locales throughout Miami, Florida. Set in 1986 in the fictional Vice City, its developers did vast amounts of research to put together a "living, breathing city" inspired by films like Scarface, Miami Vice, and Carlito's Way. In addition to pastel Deco-inspired architecture, everything from the game's overall color palette to its heads-up display received a neon '80s makeover.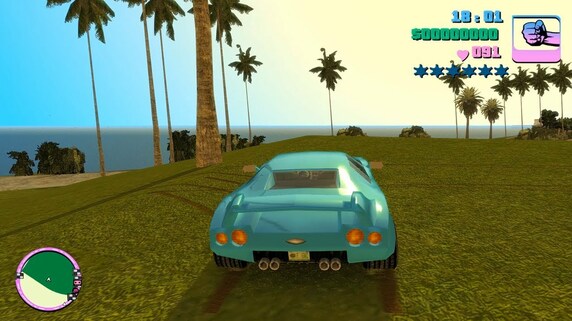 Vice City is unique from the other Grand Theft Auto entries in that it draws more inspiration from the a particular time period, rather than reflecting the realities of the era in which it was developed. It's also much more satirical than other installments, being published during the nascent 80s cultural revival as if to remind us: hey, this was actually a pretty silly decade.
And then there's New York City. As it does with movies, television, the theatre, and most other art forms, the Big Apple provided inspiration to GTA developers in two installments of the series, the transformative Grand Theft Auto III and the follow-up Grand Theft Auto IV.
The fictionalized Liberty City actually underwent some changes between the two games, introducing new visions of familiar New York landmarks that either weren't in the GTA III or were updated and renamed.
For example, the Empire State Building appears in GTA IV as Rotterdam Tower, when it was previously known as Bedford Point Tower. It remains as easily recognizable as ever.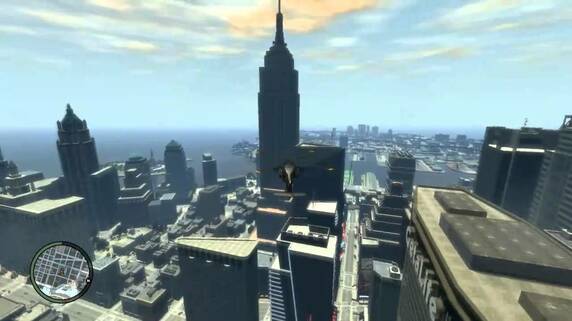 GTA III, released in October 2001, includes the World Trade Center, rendered as the Jefferson Street Credit Union Building. GTA IV would remove the towers to reflect real-world events. But the Flatiron Building remains, as the slightly less evocatively named Triangle Building. Even Trump Tower was faithfully recreated in both games, known as as Cleethorpes Tower as of GTA IV.
And, of course, there's the green lady rising over Liberty City Harbor, waiting to welcome the huddled masses yearning to breathe free. It's named the "Statue of Happiness," in case there was any doubt that this is a fictionalized version of New York City.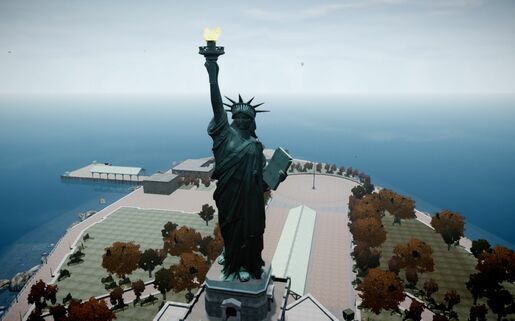 While there's been plenty of speculation about when and where the next entry in the GTA series could take place, it's safe to assume that Rockstar will stick to the franchise's American traditions. It's high time for a Chicago joint, a Detroit adventure, or even an expanded Las Vegas. It's clear the studio appreciates and celebrates the unique architecture, traditions, and exciting communities found throughout the nation.
Rockstar has yet to announce a release date for the presumed Grand Theft Auto VI. But wherever the series decides to take us next, we can expect a painstaking, lovingly rendered recreation of some of the most visually exciting places from around the country. There's nothing more American than hitting the triangle button and hopping in someone else's car for a little joyride.