Attention, Westworld fans — if you need something to tide you over between seasons of your favorite sci-fi adventure drama, we have just the thing. In partnership with AT&T, HBO is releasing seven gorgeous character posters for fans to collect, courtesy of Turkish-based illustrator and graphic artist Berkay Dağlar.
This portrait series features various host characters, from major players to supporting cast members. Today we're highlighting one of the most fun minor characters, Armistice (Ingrid Bolsø Berdal).
This badass bandit, also known as the woman with the snake tattoo, came roaring into season one as Hector's (Rodrigo Santoro) right-hand woman, helping him liberate the safe from the Mariposa Saloon in Sweetwater. But as Maeve (Thandie Newton) became more and more aware of her situation as a host, Hector and Armistice were among her closest allies in breaking free from the park.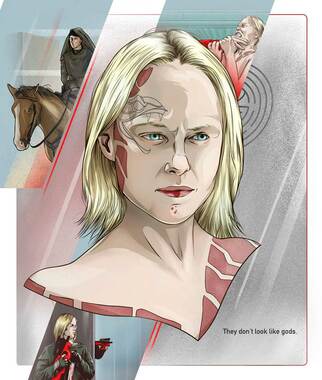 Things did not look good for Armistice in the season one finale, trapped by an automatic door and left to fend off the security team closing in on Maeve and her crew. But fans were delighted to see that she survived — with a new bionic arm, no less — and have been overjoyed to watch her in the second season, especially when she found her Shogun World counterpart, Hanaryo (Tao Okamoto). Seeing them together was hilarious and poignant: Hopefully, this isn't the last we've seen of the two gunslingers.
Armistice's portrait definitely conveys her tough-as-nails persona, right down to the quote Dağlar used – "They don't look like gods" – which Armistice sneered disdainfully at some Westworld technicians in the season one finale. As true fans no, Armistice has no time for anyone's antics, and won't hesitate to kill anyone who gets in her way.
To see all the posters, check out this composite photo — and then be sure to find your nearest AT&T retailer to pick up your favorite one (or all seven!). Here's an incentive to collect them all: See the composite below. If you hang the seven posters in just the right way, they form the Westworld park logo. Happy hunting!
Catch all of Westworld season 2 on HBO on DIRECTV.