With four seasons of deliciously addictive storytelling under its belt, Darren Star's hit Younger is back for a fifth season. Fans of the show know that there's something deeply bingeable about it, and if it's not because of its juicy storylines, it's definitely because of its stellar ensemble cast. We had the chance to talk to some of Younger's stars last week at the Season 5 premiere party, including Debi Mazar (Maggie), Nico Tortorella (Josh), Miriam Shor (Diana), and Molly Bernard (Lauren). Read our interview below, and catch new episodes of Younger, Tuesdays at 10/9c on TV Land!
There's so much incredible fashion on the show, so let's talk a bit about costuming and character. How much does costuming play into building a character for you?
Debi Mazar: Well, for me, it's actually one of the most important elements! When I build my character the wardrobe absolutely helps. Playing Maggie for this fifth season, I thought I could maybe take a break and wear more butch stuff, but Darren Star wanted me to more of like a lipstick lesbian, if you will. So I still have the heels, and the lashes. I love the fact that Jackie Demeterio and Pat Field have really found a way to make Maggie pedestrian, but she always looks cool. Maggie's wardrobe inspires me, and sometimes I even borrow it!
Miriam Shor: It's funny because in real life I don't tend to dress up. I don't wear jewelry, and comfort trumps everything in my wardrobe. So in becoming Diana, when I put on the shoes, the gear, the necklace, it's like putting on armor. It changes the way I walk, it changes how I feel, it changes everything! And it's a big part of who Diana is, and how she chooses to present herself to the world. It's so wonderful and collaborative with everybody in the wardrobe department, they're so amazing and thoughtful. It's so much fun to get to create that part of Diana, and then get to wear those clothes!
What I love so much about Diana is that she has some of the most stinging one-liners, but there are also some intense moments of vulnerability that you wouldn't expect from her. What do you get the most thrill out of playing? I'm sure it's fun to deliver those one-liners!
MS: Yeah, it's really great to get to play this kind of person with absolute impunity. You know, things you wish you could say to people, but would never. So that's great, but I do love those moments of vulnerability. They're so wonderful to play, and I love the moments between Liza and Diana that show how much they do care for each other. I also love when the rug gets pulled out from under Diana. The writers always nail those moments, and I love that they allow for that. That they don't just force her to be the same character with no change, because that isn't what human beings are like! The craziest, weirdest person you know has a moment when they're totally different—you just might never see it, so it's nice that they let us see it.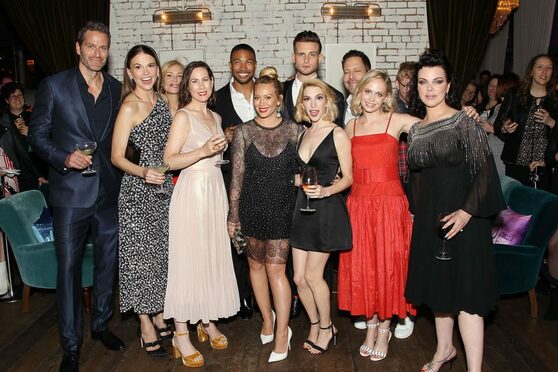 Molly, you bring a certain amount of comedic levity to every scene you're in. When does the fun kick in for you? Is it the second you get the script or are you allowed to improv in the moment?
Molly Bernard: The journey happens when I get the script, but then I think of things that I could improve or add. Sometimes the best thing I can do for the script is to do exactly what's written. Other times, it depends who I'm doing a scene with. The vibe is so different day to day, we try not to improvise too much, but we do improvise! Miriam improvises all the time, and we tend to improvise those little magic moments at the end of a scene.
Let's talk a bit about this incredibly strong ensemble cast! Can you speak a bit about the chemistry that's been built up over the past few years?
DM: Well, you know it's funny because we have millennials and non-millennials, and a mix of theater and TV veterans. I love the theater and I so respect all of what Sutton brings and how professional she is. How trained she is when she comes to set bringing her theater chops opposite Hilary Duff who's been doing TV since she was a kid.
I love people in general, and I always find something to really like about whoever I work with. I always find the positive—I can nurture, inspire, learn from, share, it's a real work community. To be honest with you, it's not like we're running to get together for dinner after we wrap. We all have our own lives, families, and stuff. But we all text each other and stay in touch, and always support each other. I've been on many, many TV shows over the past 30 years, and this is one of my favorites because I really feel supported as a woman. As an actress who's 53, I don't feel my age in my life, and on this show, I get to be a little bit younger, which is really fun!
Nico Tortorella: None of us knew each other or had any sort of relationship before the show started, and it's really been this slow, burning love. We've spent five years together—it's total summer camp! Every year, we spend three solid months together, and we've created this family unit that's really powerful.